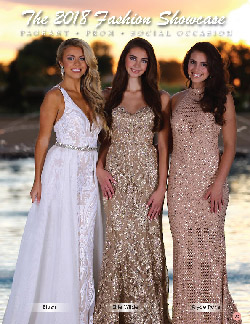 This 2018 prom season offers a most elegant array of timeless textures and fabrics woven into today's cutting-edge prom fashions. Find that perfect Prom Dress, Pageant dress, or Red Carpet Gown! Find everything from the haute couture influences from the Hollywood red carpet to the dramatic head-turning looks for Prom. Save time and find exactly the look you want for prom, pageant or any social occassion as you browse our exclusive fashion showcase photo shoot.
Enjoy our award winning 27th annual Fashion Showcase staged at the opulent Omni Championsgate in Orlando. The world's largest on-location fashion photo shoot features 40 eye-popping pages of the season's most glamorous gowns and dresses from the industry's hottest designers in Prom, Pageant, Red Carpet and Social Occasion fashions.
Pageantry & PromTime 2018 Fashion Showcase: Slideshow
Prom, Pageant, and Social Occasion Gowns from the
Glamour Industry's Best Fashion Designers.
Prom Features 2016
2016 Fashion Showcase
PROM, PAGEANT, AND SOCIAL OCCASION GOWNS FROM THE INDUSTRY'S BEST DESIGNERS
Enjoy our award winning 25th annual Fashion Showcase staged at the luxurious Westgate Lakes Resort in Orlando, Fl. The world's largest on-location fashion photo shoot features 32 eye-popping pages of the season's most glamorous gowns and dresses from the industry's hottest designers in Prom, Pageant, Red Carpet and Social Occasion fashions.
SADD
A Night to Remember
Make no mistake about it, there is absolutely no difference between driving under the influence of alcohol or driving under the influence of drugs—both are terrible ideas.
Hairstyles
The Ponytail Express
Start the spring season in glamorous style by expressing yourself with a fresh twist on the classic ponytail.
By Wilmariel Lozano
Makeup
Becoming A Muse
Hit the red carpet in elegant stride with this one of a kind smoky cat eye that will set you apart from the rest of the crowd.
By Yulia Konstantinova-Riebman
Prom Hairstyles
Prom Hair Perfection
The Pageantry Beauty Team has created eight great and easy-to-replicate hairstyles for you to make a Prom-perfect impression on your big day.
Prom Jewelry
Red Carpet Revival
Look no further than the awards season's red carpets for the hottest accessories this spring, as worn by your favorite A-list superstars.
Fashion Forecast
New and Next for 2016
Checking in on the top trends from the World of Prom Market for this year's biggest high school event.
By Kaye Davis
Fitness
Common Core
No matter what you're doing your core is probably hard at work, so it's time to focus on making that your top priority in the New Year.
More Prom Features
SADD
Having the Time of Your Life
When it comes to prom, don't let your friends make the decisions that will affect you for the rest of your life.
Hairstyles
It's Time for a Spring Fling
With a few simple steps, you can achieve the perfect hairstyle for this season's important events and even the biggest moments of your life.
By Hillary Stone
Prom Makeup
Awakening Your Beauty
Achieving the perfect natural spring look can take some work, but once you've done it, you'll be set for almost any occasion.
By Yulia Konstantinova-Riebman
Prom Hairstyles
Your Handy Prom Hairstyle Guide
Our expert hair stylists create nine sophisticated yet easy-to-replicate looks for you to make an impact at your Prom.
By Yulia Konstantinova-Riebman
Prom Jewelry
Bigger, Better, & Bolder than Ever
Leading designers have left simplicity behind and are delivering new jewelry styles that are more dynamic and even technologically advanced.
Fashion Forecast
Emphasize Individuality
Innovative approaches in showcasing unique looks and style trump clichéd designs for Prom and Pageant 2015.
By Kaye Davis
Fitness
A New Year's Revolution
When it comes to losing weight, make your new year's resolutions realistic and set your weight loss goals accordingly.
SADD
Keep Living for the Future
You can live while you're young, but taking care of your responsibilities on prom night should always be your first priority.
Hairstyles
A Real Show Stopper
Up is the key word for spring's hottest hairstyles, as we're offering a modern take on the classic French twist.
By Yulia Konstantinova-Riebman
Prom Makeup
Big Eyes, Big Results
Color is your greatest ally in your springtime quest for the perfect makeup look.
By Sommer Isdale
Prom Hairstyles
Head Turners
Our fabulous hair stylists create eight great easy-to-replicate looks for your Prom, Pageant or any glamorous event this year.
By Yulia Konstantinova-Riebman
Prom Jewelry
Welcome to the Golden Age
From chains to cuffs, gold jewelry is going to be huge again this spring, so don't be afraid to experiment with a variety of new, bold accessories..
Prom Fashion Forecast
Spring Styles Reign
This spring's hottest looks are bold and plenty, with everything from risky and colorful to subtle and understated ready to help you wow at your biggest occasions.
By Kaye Davis
Body Sculpting
Winning Your Own 'Hunger Games'
Hollywood's greatest stories and literature's grandest adventures all carry a parallel to your competitive quest, so use the morals to your advantage.
By Dr. Harvey C Jenkins, PhD, MD
Prom Fitness
What Good Things Fitness Brings
Getting started with a fitness routine is always the hardest part, so it's important to remember the benefits that you'll reap from a healthier lifestyle.
SADD
Making the Right Choices
Carrie Louise Sandstrom is SADD's student of the year and she shares her Prom experience as she sets an example for her peers.
Hairstyles
Tressed to Impress
This season, be adventurous with your hairstyles and try something that you've never tried before, because after all—it's just hair.
By Kristy Schanel
Makeup
Vintage is SO IN Right Now
Some of the best makeup looks for spring will involve combining popular looks from the past, present and even the future.
By Shantell Tavarez
Prom Hairstyles
The Showcase Showdown
With so many new looks and styles to choose from this year, your options are limitless for your Prom or any formal event this year.
By Kristy Schanel
Prom Jewelry
Step up your Game
Jewelry will always be the best way to enhance your wardrobes for any occasion, from the casual and confident to the luxurious and daring.
Prom Fashion Forecast
Accentuate the Positive
This year's prom styles and glamorous looks will come as the result of a variety of beautiful and simple fashion accessories.
By Kaye Davis
Body Sculpting
Defrosting Your Winter Body
Keep your body in shape during the cold months by following this Fitness Survival Guide.
By Dr. Harvey C Jenkins
Prom Fitness
The Packing Order
You don't have to be discouraged by the hard work it takes to get perfect abs, but you do have to be committed to following each step.
SADD
Your Times To Remember
Prom is about creating a lasting memory through expressing responsibility, invoking maturity and setting examples for all of your peers.
Hairstyles
Wave After Wave
Soft waves can provide just the right playfulness to perfect your spring season prom or runway ready hairstyle.
By Whitney Weatherington
Makeup
The Season to Sparkle
Glitter is this season's key to giving your eye lashes a look that will make everything about you sparkle.
By Yahaira Rosario
Jewelry
Courting Spring's Heart
It's time to ignite a new love affair by leaving behind the cold styles of winter.
By Catherine Potgieter
Hairstyles for Prom
Tressed to the Nines
Our hair stylists developed nine incredibly easy-to-replicate looks for you to shine at your Prom, Pageant or glamorous formal event.
By Whitney Weatherington
Ask the Smile Dr.
What's your smile Worth?
Compared to the costs of styling your hair or protecting your skin, managing and correcting your smile will seem like an incredible value.
By Dr. Mark Falco
Prom Hairstyles
Bringing Back the Buns
Carrying over from the success of the fall season should be no problem for this convenient and classic hairstyle.
By Cari Redington
Prom Makeup
Check your Head
Turn your day makeup into a sophisticated, dramatic night look by following a simple list of helpful tips.
By Myriam Fux
Prom Hairstyles
Borrowing from the Classics
For this prom season, our style experts called on some past successes and combined them with fresh new twists.
By Paulo Figueiredo
Prom Jewelry
Sparkle with hot fix Rhinestones
When you don't have the resources for a top dollar designer gown, you can always just take your rhinestone matters into your own hands.
By Alisa Mandel Nogen
Prom Fitness
Drink up to Slim Down
One of the most important aspects of your workout involves simply having enough water in your diet.
By Mike Mauney
Hairstyles
Straight to the Curls
While a sleek, long hairstyle sounds simple, it could be a girl's most important accessory in capturing the Judges' attention.
By Paulo Figueiredo
Makeup
Redefining Perfection
Taking advantage of your own unique facial features allows your makeup style to set you apart from everyone else.
By Myriam Fux
Hairstyles
Putting the YOU in Unique
Our hair experts developed incredibly creative and simple looks for you to shine at your prom and all of your most important formal events.
By Paulo Figueiredo
Makeup
Playing the Match Game
Even if your eyes aren't your best feature, choosing a successful makeup style only works if all of your features are in sync.
By Myriam Fux
Fitness
Winter's Body Wonderland
IBy combining two strong workouts with dedication, you can cut an hour's routine in half.
By Mike Mauney
Hairstyles
Hot and Healthy
Backstage experts leak the styles and products for the hottest homemade looks.
By Christina M. Kane
Prom Makeup
Prom Night Makeup Magic
The greatest trick you can perform is making it look like you're not wearing any makeup at all.
Prom Hair
Fashion Forward Prom
There are a variety of hot styles for 2009, so why not infuse your prom look with some Fashion Week glam?
By Lilliam Penaloza
Fitness
Losing Weight, Eating Great
A healthy nutrition routine doesn't have to mean an evil diet when it comes to building and maintaining strong muscle.
Prom Checklist
Be organized and prepared for your Prom this year with this downloadable, can't-miss checklist.
Caitlin's Closet
Caitlin Brunell, Miss America's Outstanding Teen 2008, contributes more than 80 prom dresses to give girls the chance to attend prom feeling special and beautiful.
Fashion Forecast – Hollywood Has Legs
Like much of the rest of our fashion world, prom styles continue to be strongly influenced by the world's glamour capital.
By Kaye Davis
Hairstyles
You Say You Want an Evolution?
By Christina Kane
Makeup
The Pampering Touches
By Christina Kane
Fitness
Your Loss Is Your Gain
By Mike Mauney
Etiquette
Old Rules for the New School: Times change, and so do the social expectations at prom time. But as adults remind today's teens, proper behavior is always in good taste – no matter what generation you belong to.
By Tanya Hutchison
Communications 101
Close Encounters of the Prom Kind: When planning for your big day, don't forget to polish up your intimate conversation skills.
By Meredith Boyd
Etiquette
The psychology of social dressing: There's science behind the impressions we make, and no matter what the occasion, knowing those unconscious signals can help you make smart wardrobe choices.
By Tanya Hutchison
Makeup
The Pampering Touches
By Ernie McCraw
Hairstyles
Style-setting Sisters
By Kristianna Nichols
Shapely Tresses
Want a hairstyle that's uniquely you? Let your facial structure help determine the right 'do.
By Tracy Lange
Anything Goes
Achieving knock-out hair like red-carpet celebrities no longer requires following strict rules. Just let these easy looks—and some professional styling help—be your guide.
By Phillip Fife
Extensions That Work
Want a longer, thicker hairstyle without literally tearing your hair out? The answer is simple —use the new quick-and-easy Hot Strands kits.
Prom Hair Styles:
In Search of The Radiant Self 
By Kristianna Nichols
Achieve a hairstyle worthy of any special occasion through exploration and self-discovery.
Prom Jewelry:
Dangling Conversation Pieces
By Nilsa Algarin
Dangling Conversation Pieces: From crystal strands and hoops to boffo bohemian creations, your prom accessory options are beauty in motion.
Prom Etiquette:
Two Wrongs Don't Make a 'Mr. Right'
By Tanya Hutchison
We've found two Prince Charmings who spill their dating do's and don'ts.
Prom Planning Check List
Planning perfection: Follow these simple steps to create a classic experience.
Prom Decorating:
Reach for the Stars
By Kourtney McCarty
This year's themes and party favors ascend to new heights of subtlety and sophistication with inspiration that is heaven-sent.
Fitness:
High Time to Fight Fat before Prom.
By Mike Mauney
Your work right now will determine how small a size you'll fit into when trying on those gorgeous gowns.
---
Pageantry Magazine: So Many Reasons to Subscribe
To access the rest of the Pageantry magazine web site, and to see what type of articles we cover in print each month, click to view our current Contents page. Pageantry offers many other helpful resources for teens covering a wide variety of areas, such as beauty and scholarship information. That's why we say, "A subscription to Pageantry pays for itself with every issue."
Here's what you'll receive and how you'll benefit:
+ Hip color-illustrated hair and makeup styles that will help you to look and feel like a winner
+ Scholarship and cash-award opportunities that can pay for your entire college tuition
+ Career-building advice for actors, models, and talent performers headed toward stardom
+ Profiles of successful women who share insider secrets for setting lifetime goals and achieving them
Don't Delay! Subscribe Now and Save!
A 2-year Subscription (8 issues) is only $30.00. Save 25% off of the newsstand price!
A 1-year Subscription (4 issues) is only $18.00. Save 10% off of the newsstand price