Now you're thinking, how will I fit one hour of training into only 30 minutes? You do this by combining your cardio training with your upper body muscle toning exercises. This is done by walking on a treadmill at a moderate pace. Try somewhere between 3.5 to 4.5 miles per hour. At the same time you are briskly walking you also use a set of dumbbells for exercising your upper body. Once you get your coordination under control, you'll combine upper body toning exercises to find that walking on a treadmill works fantastic. Of course you do not have to walk on a treadmill. You can also walk on a walking track in a park or anywhere around your neighborhood.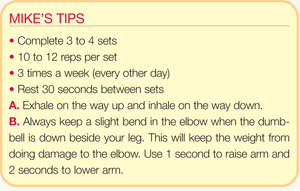 There are several good and effective upper body exercises that I have written about in previous articles that you can perform while at the same time doing your cardio training. Dumbbell Bicep Curls is a great exercise for toning the front of your arms and Tricep Extensions is perfect for training the back of your arms. For training your shoulders the Dumbbell Press, Dumbbell Lateral Raise and the Dumbbell Forward Raise are perfect to perform along with your cardio training.
Now that I have planted the seed of thought all you need to do is start combining your muscle toning and cardio training workouts. I do suggest starting off with a slower cardio pace until you feel comfortable. You can then begin increasing your pace.
You now have the perfect technique for combining cardio training and muscle toning exercises to burn fat and tone up your body all at the same time. As always, keep up the great work, train safe and train smart.