Modeling: Breaking Into The Business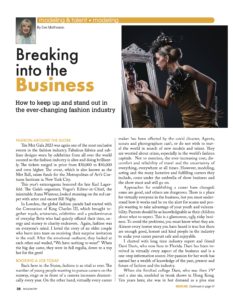 How to keep up and stand out in the ever-changing fashion industry

Fashion Around the Globe
The Met Gala 2023 was again one of the most exclusive events in the fashion industry. Fabulous fabrics and sublime designs worn by celebrities from all over the world assured us the fashion industry is alive and doing brilliantly. The tickets ranged in price from $30,000 to $50,000 and even higher. The event, which is also known as the Met Ball, raises funds for the Metropolitan of Art's Costume Institute in New York City.
This year's extravaganza honored the late Karl Lagerfeld. The Gala's organizer, Vogue's Editor-in-Chief, the inimitable Anna Wintour, looked stunning on the red carpet with actor and escort Bill Nighy.
In London, the global fashion parade had started with the Coronation of King Charles III, which brought together royals, aristocrats, celebrities and a predominance of everyday Brits who had quietly offered their time, energy and money to charity endeavors. Again, fashion was on everyone's mind. I loved the story of an older couple who burst into tears on receiving their surprise invitation in the mail. After the emotional outburst, they looked at each other and wailed, "We have nothing to wear!" When the big day came, they were in full regalia, down to a top hat for the gent!
Booking a Job Today
Back here in the States, fashion is as vital as ever. The number of young people wanting to pursue careers on the runway, stage or in front of a camera increases dramatically every year. On the other hand, virtually every career maker has been affected by the covid disaster, Agents, scouts and photographers can't, or do not wish to travel the world in search of new models and talent. They are worried about crime, especially in the world's fashion capitals. Not to mention, the ever-increasing cost, discomfort and reliability of travel and the uncertainty of everything, everywhere at all times. However, modeling, acting and the many lucrative and fulfilling careers they include, come under the umbrella of show business and the show must and will go on.
Approaches for establishing a career have changed: some are good, and others are dangerous. There is a place for virtually everyone in the business, but you must understand how it works and be on the alert for scams and people wanting to take advantage of your youth and vulnerability. Parents should be as knowledgeable as their children about what to expect. This is a glamorous, ugly, risky business. To avoid the problems, you must know what they are. Almost every horror story you have heard is true but there are enough good, honest and kind people in the industry to make your career pursuit safe and enjoyable.
To read the rest of the Modeling… Click Here
To subscribe to Pageantry magazine… Click Here
To follow Pageantry magazine on Instagram… Click Here
To follow Pageantry magazine on FaceBook… Click Here