Celebrating
Diversity
Let's take a look at the changing faces of the modeling industry, especially in the Chinese markets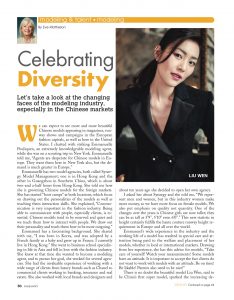 We can expect to see more and more beautiful Chinese models appearing in magazines, runway shows and campaigns in the European fashion capitals, as well as here in the United States. I chatted with striking Emmanuelle Pouliquen, an extremely knowledgeable modeling agent, while she was on a scouting trip in New York. Emmanuelle told me, "Agents are desperate for Chinese models in Europe. They want them here in New York also, but the demand is much greater in Europe."
Emmanuelle has two model agencies, both called Synergy Model Management; one is in Hong Kong and the other in Guangzhou in Southern China, which is about two-and a-half hours from Hong Kong. She told me how she is grooming Chinese models for the foreign markets. She has started "boot camps" at both locations, which focus on drawing out the personalities of the models as well as teaching them interaction skills. She explained, "Communication is very important in the fashion industry. Being able to communicate with people, especially clients, is essential. Chinese models tend to be reserved and quiet and we teach them how to interact with people. We draw out their personality and teach them how to be more outgoing."
Emmanuel has a fascinating background. She shared with me, "I was born in Korea, and was adopted by a French family as a baby and grew up in France. I currently live in Hong Kong." She went to business school specializing in life in Asia and fell in love with the fashion industry. She knew at that time she wanted to become a modeling agent, and to pursue her goal, she worked for several agencies. She had the invaluable experience of working with a wide range of clients from luxury brands such as Chanel to commercial clients working in banking, insurance and real estate. She also worked with local brands and designers and about ten years ago she decided to open her own agency.
I asked her about Synergy and she told me, "We represent men and women, but in this industry women make more money, so we have more focus on female models. We also put emphasis on quality not quantity. One of the changes over the years is Chinese girls are now taller; they can be as tall as 5'9", 5'10" even 6'0"." This new statistic in height certainly fulfills the haute couture runway height requirement in Europe and all over the world.
Emmanuel's wide experience in the industry and the working life of a model has resulted in special care and attention being paid to the welfare and placement of her models, whether in local or international markets. Drawing from her experience, she has this advice for models, "Take care of yourself! Watch your measurements! Some models have an attitude. It is important to accept the fact clients do not want to work with models with an attitude. Be on time! Be likable! Parents also need to be nice!"
There is no doubt the beautiful model Liu Wen, said to be China's first super model, sparked the increasing demand for Chinese models. Liu Wen was discovered in Beijing in 2006, whisked to Paris and was quickly seen on the runways of Milan, Paris and New York. She shot her first campaign in New York with famed photographer Steven Meisel and in 2011 was the first worldwide Asian model to be chosen for an international cosmetics contract when she signed with the famous Estee Lauder conglomerate. She was the first Chinese model to appear on the cover of American Vogue and ten years ago she became the first Asian model to be listed as one of Forbes' Highest Earning Models. A lot of firsts! Among her many other achievements, Liu Wen has appeared in the pages of Harper's Bazaar and in Japanese, Chinese, French, Italian and American Vogue. She has also starred in campaigns for Calvin Klein, Prada, Oscar de la Renta and Robert Cavalli among others. She is currently the Global Ambassador for Chanel Beauty. The late great designer Karl Lagerfeld forecasted at the start of her career, "she would become a great star." As with everything, the Maestro was right on target.
From the mystique of Beijing, the glitz of Paris and the sophistication of Milan, we now swing the spotlight on a smaller, but no less vibrant and competitive fashion market here in the States. It is sometimes easy to underestimate the generosity, impact, talent and savoir-faire of the domestic fashion markets, especially on a local level. Tampa, on the west coast of Florida where I live, is one such market. Prone to the occasional hurricane, tropical storm and tornado, Tampa is essentially a city of sun and fun. It's a sports mecca, but thanks to the generosity of the late Yankees owner George Steinbrenner and many other past and present day philanthropists, the performing arts are flourishing and the foresight of planners, developers and investors will make Tampa the greatest city in the country in the next decade.
Recently I was honored to attend a fashion extravaganza in Tampa and the dedicated St. Joseph's Hospital Foundation. This was the thirty-first annual holiday fashion show to have been produced for the hospital. The sold out audience of Tampa's savviest fashionistas were entertained by professional dancers and entertainers. Celebrity models from various walks of life as well as professional models wore an amazingly diversified range of clothes.
My daughter Tracy, a former international model and now a radiologist at the St Joseph's Women's Hospital and her 14-year-old daughter Campbell were two of the models. (I couldn't resist a tiny brag!)
Everyone loved the music for the show, which featured new versions of Christmas classics. There were both silent and live auctions and a raffle for a diamond spending spree. Of course, lunch was festive and delicious.
There were beautiful moments when it was announced all money raised would help purchase new Neonatal Intensive Care Giraffe Incubators for babies who are premature and ill in the hospital. I have been writing about the fashion and acting world for over thirty years and have always been impressed with the generosity of models, actors and other industry professionals to charities worldwide. The old adage written by Sir Thomas Brown in 1642 states, "Charity begins at home," and this was expressed in its most sincere form at the Tampa fundraiser. The caring audience listened intently to the statistics of the new life-saving machines they were helping to buy and the lives which would be saved because of their kindness.