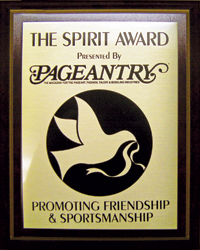 Directors: Click here to find out how to present the Pageantry Spirit Award at your event!
The Spirit of Competition:
"Make the most of yourself,
for that is all there is of you."
These simple but profound words by Ralph Waldo Emerson embody the true meaning of personal growth and character. In all that we strive to achieve and become, ultimately it is our character that will have the greatest affect on those with whom we come into contact on a daily basis. Competitive events have always offered an opportunity for personal growth and character development, not usually apparent in the everyday aspects of our life.
With this in mind, Pageantry magazine has created a remarkable award — an award that acknowledges outstanding qualities such as character, achievement, personal growth, and a willingness to promote the positive aspects of competition. The Pageantry Magazine Spirit Award best represents Pageantry's mission statement of promoting friendship, sportsmanship, and character development.
In presenting this award, Pageantry magazine strives to acknowledge those who exemplify the true "spirit" of competition and character development, whether it be individuals who compete or those who lead and direct by example. Both types share their success and triumphs with others. By bestowing the Pageantry Magazine Spirit Award, Pageantry magazine will continue to recognize and promote those deserving individuals who, by their selfless actions and deeds, have a profound and positive influence in the lives of those they touch.