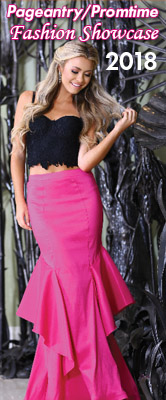 Hollywood Has Legs

Like much of the rest of our fashion world, prom styles continue to be strongly influenced by the world's glamour capital.

By Kaye Davis

T

he ladies of Hollywood are the driving force behind the fashion style for the young women shopping for prom dresses this year, and it's no secret that, as the "red carpet look" continues to become more glamorous and feminine, so will the 2008 prom fashions.

Glam Is the Word
Although it's hard to pinpoint one trend that covers prom, glamour is the overarching theme for 2008 — much of which is inspired by Hollywood and the stars we see in magazines and movies and on TV. There's no doubt that what we see in Hollywood is what we'll see on girls going to prom and other special occasions.

These trends focus on beauty from head-to-toe, and the styles are more ladylike and fitted, creating a more feminine look. A-line and strapless dresses — in both long and short lengths — are popular choices and will continue to be well into 2008. Not only are they popular, but they are also flattering on almost any body type.

The Long and the Short of It
Long, formal dresses always take center stage, but short, flirty dresses are following closely behind and growing in importance as the preferred choice. Short dresses this year will be accentuated with bubble hems, as well as asymmetrical hems — following the trends inspired by Hollywood. T-length dresses are in style for bridesmaids and are also carrying their popularity over to prom.

Another style coming back into the picture is the baby doll dress. This aligns more with everyday wear, but don't be surprised if this trend turns into formalwear for prom and other social occasions. We will continue seeing the empire waist, both in long and short dresses. As with the empire waist, there will be several trends crossing over between the long dresses and the short dresses.

For the complete behind-the-scenes story and all the details on this and other exciting competitive events from across America, as well as a wealth of advice to improve your chances of victory, be sure to Order Pageantry today.
w