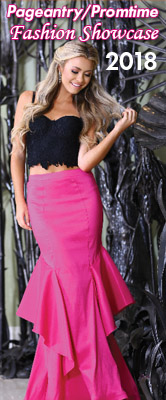 | | | | |
| --- | --- | --- | --- |
| | | | |
By Nilsa Algarin
From dazzling long thin crystal strands and hoops to boffo bohemian creations, your 2006 prom accessory options are beauty in motion.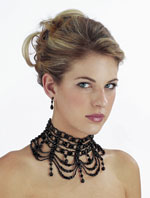 BOHEMIAN RHAPSODY: This ornate necklace pumps up the romantic volume by adding glittering highlights that flatter the face and neckline. When wearing such an eye-catcher, it is best to pair it with simple earrings, as shown here.
Prom time will soon be here —the most wonderful time of the year for a senior in high school! All the anxious anticipation and preparation will end, and soon it will be time to enjoy the party. But before we get to revel in the formal affair, much needs to happen. Choosing what you are going to wear is one of the most important decisions you will have to make. Here are some of the options you need to be considering right away.
CHOOSE YOUR LOOK – Do you want to look like a Hollywood celebrity, classic beauty, or wild woman? Maybe transforming into Cinderella is just what the doctor ordered. The Bohemian look is always popular, and the Retro trend should not be overlooked. Consider whether you want to be sexy, conservative, romantic, mysterious, or daring. Deciding what your look will be is definitely your first step.
PICK THE TYPE OF DRESS – Think about your body type and what style of dress flatters your shape the most. Some dress types suit certain body types better than others. I am sure you know whether a sheath, empire, A-line, or ball gown brings out the best in your contours. If you don't know, visit the stores and try on different dress types to determine which shape does the most for you. Hemlines choices open up more options this prom season, with formal full length, short length, shorter in the front and longer in the back, asymmetrical, handkerchief… and the list goes on and on. Skirt trains are also a hot feature; you may opt for a short or long train. One thing is for sure — trains turn any gown into a romantic fantasy.
| | | | |
| --- | --- | --- | --- |
| | | For the complete behind-the-scenes story and all the details on this and other exciting competitive events from across America, as well as a wealth of advice to improve your chances of victory, be sure to order Pageantry today. | |
w