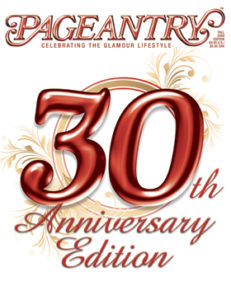 IT'S THE TRUTH! More current and former beauty queens and aspiring models the world over read Pageantry magazine more than any other industry magazine. Pageantry has been covering the world of competitions for over 42 years. Our coverage of national pageants, international pageant events, and the major modeling and talent competitions is unparalleled. Our esteemed group of expert writers will tell you everything you need to know to succeed… whether you are just starting out or sharpening your
skills for that next big competition. Order now, and find out for yourself why Pageantry is known as the "Bible of the Industry."
Read about the illustrious history of Pageantry magazine here.
With each issue, you'll be treated to information in the following areas of interest:
Fitness • Breaking into Showbiz • Modeling • Pageant coverage • Makeup tips• Interview techniques • Dance •Winning psychology • Judges' perspective• Interview •Pageant Etiquette • Coaching • Pageant news • Celebrity profiles • Success stories • Talent competitions • Inspiration to achieve • and, as always, FASHIONS GALORE!
Celebrities!
Each issue, Pageantry brings you profiles and interviews with some of today's hottest celebrities, many of whom got their start in pageants and modeling. Past issues have included: LEANN RIMES, HALLE BERRY, DICK CLARK, BARBARA EDEN, LEE GREENWOOD, ALAN THICKE, JULIE MORAN, REGIS & KATHIE LEE, PHYLLIS GEORGE, LEEZA GIBBONS, RAVEN SYMONE, CAROL ALT, MARY HART, LEANZA CORNETT, ED McMAHON, MADYLIN SWEETEN, and many more!
Children!
Do you have a child who can't wait to enter pageants? Pageantry tells you everything you need to know, from where to find that special dress to what pageants are available and which ones to select. As it has already done for many of today's winners, Pageantry will guide you to success!
Industry Experts!
Within the pages of Pageantry, you'll find information from expert writers on topics including interview tips, fitness, fashion, hair and makeup, beauty advice, competition secrets, and much more!
Meet a Few of Our Contributing Writers:
Adam Hill began his theatrical career with the renowned APA Repertory Theatre in New York. Adam acted and/or directed in New York, Los Angeles and throughout the country. Adam relocated to Los Angeles where he was Artistic Director of the Actors Alley Theatre Company. In 1980, he opened the successful Adam Hill Actors Studio and Theatre. While in Los Angeles he directed for television and stage. Adam has taught some of the bright stars of the theatre and film world including Heather Locklear, Laura Dern, Brad Garrett and Doug Savant. He successfully developed the Musical Theater degree program at Wilkes University in Pennsylvania. Adam is the author of "Beyond the Moon," an acting manual, and "You Got the Job!", a guide to getting work in the industry.
Liz Everett's second language, from an early age, was glamour. Quickly realizing she had a passion for helping others achieve their beauty goals Liz began working for the Victoria's Beauty Brand. What started as a job soon became the embodiment of Liz's desire to see glamorous women of all ages empowered by their unique beauty perspective.Eventually segueing into both the pageantry and entertainment fields, Liz has continued to develop her flair for curating gorgeous hair & makeup looks. Her keen eye for glamour has helped her land jobs in Los Angeles, Miami, New York City and Las Vegas as well as drawing clients from the U.K., Canada and beyond. In 2017 Liz also captured the "Beauty It's Everywhere" hair and makeup artist of the year award. Liz has become one of the most highly sought after artists in the pageant & glamour lifestyle industry. Through her keen sense of glamour, beauty and style, Liz brings you the very best in hair & makeup styles for stage, runway, red carpet, and every day looks through her exclusive tutorials.
Eve Matheson is the author of The Modeling Handbook, a bestseller in the industry. She has been writing about the modeling and acting world for over twenty years. Her new book Model Scoop And Acting Info provides a wealth of information on how to have a happy, successful, safe career and is now available. Eve is a journalist and the mother of a former international model. She has worked as a model, and in radio and television as a writer and presenter. Eve lives with her husband, Ian, a plastic surgeon, in Tampa, Florida.
Shannon Dey is the Founder & CEO of Bombshell Fitness — a global fitness empire that has transformed tens of thousands of women from over 30 different countries and influenced countless more. A Health and Wellness Expert, Dey helps women worldwide not just get fit, but to also grow strong. Using fitness as the catalyst for total transformation, Dey is devoted to empowering women to become physically, mentally, emotionally and even financially strong. Shannon's contributions to fitness are visible all over the world, including her renowned online training programs that specialize in shaping a lean, toned hourglass shape. Shannon and her team of expert Coaches have helped countless women, including the 2014 Miss USA and dozens of State Title Holders, sculpt winning Pageant Bodies with the Bombshell B-Crowned Program. Dey produces numerous fitness and lifestyle events, including the Ultimate Girls' Weekend BOMiCON, and developed B-Couture Fitness Fashion. At the end of 2017, Bombshell Fitness will be releasing Bombshell Nutrition—smart supplementation formulated specifically to meet a woman's health, training, wellness and beauty needs.
Pageantry is the One Glamour Lifestyle Resource You Can't Do Without!
SAVE! Up to 25% off the newsstand price:
8 editions only $68.00 (U.S.) 4 editions only $36.00 (U.S.)
DON'T MISS A SINGLE GLAMOROUS ISSUE! Subscribe to Pageantry magazine TODAY!
If you're hesitant to conduct a transaction over the Internet, or if you don't have a credit card, you may order Pageantry magazine by sending a check or money order payable to: Pageantry Magazine; P.O. Box 160307; Altamonte Springs, FL 32716-0307 Or call (407) 260-2262 M-F 9:00-5:00pm EST.
The Most Informative Resource for Finding What You Need:
Pageant and Modeling Info for All Ages/Categories • Calendar of Events • Gowns, Swimsuits, & Interview Suits • Performance Background Music • Health & Beauty Products/Information• Training and Coaching• Fashions and Accessories • Scholarship Opportunities • Personal Improvement