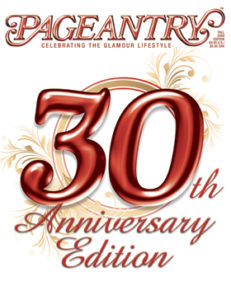 IT'S THE TRUTH! More current and former beauty queens and aspiring models the world over read Pageantry more than any other industry magazine. Pageantry has been covering the world of competitions for over 30 years. Our coverage of national and international events is unparalleled. Our esteemed group of expert writers will tell you everything you need to know to succeed… whether you are just starting out or sharpening your
skills for that next big competition. Order now, and find out for yourself why Pageantry is known as the "Bible of the Industry."
Read about the illustrious history of Pageantry magazine here.
With each issue, you'll be treated to information in the following areas of interest:
Fitness • Breaking into Showbiz • Modeling • Pageant coverage • Makeup tips• Interview techniques • Dance •Winning psychology • Judges' perspective• Interview •Pageant Etiquette • Coaching • Pageant news • Celebrity profiles • Success stories • Talent competitions • Inspiration to achieve • and, as always, FASHIONS GALORE!
Celebrities!
Each issue, Pageantry brings you profiles and interviews with some of today's hottest celebrities, many of whom got their start in pageants. Past issues have included: LEANN RIMES, HALLE BERRY, DICK CLARK, BARBARA EDEN, LEE GREENWOOD, ALAN THICKE, JULIE MORAN, REGIS & KATHIE LEE, PHYLLIS GEORGE, LEEZA GIBBONS, RAVEN SYMONE, CAROL ALT, MARY HART, LEANZA CORNETT, ED McMAHON, MADYLIN SWEETEN, and many more!
Children!
Do you have a child who can't wait to enter pageants? Pageantry tells you everything you need to know, from where to find that special dress to what pageants are available and which ones to select. As it has already done for many of today's winners, Pageantry will guide you to success!
Pageant Experts!
Within the pages of Pageantry, you'll find information from expert writers on topics including interview tips, fitness, fashion, hair and makeup, beauty advice, competition secrets, and much more!
Meet a Few of Our Contributing Writers:
Mike Mauney Owner of Body Design By Mike fitness center in North Carolina, Mike is a Personal Fitness Trainer certified by the National Federation of Professional Trainers. He has trained dancers, cheerleaders, models, and pageant and swimsuit contestants of all ages and competition levels.
Myriam Fux resides as a Master Makeup artist and co-owner of M and E Image & Design, a photography and makeover firm based out of Lake Mary, Florida. Myriam has accrued over 20 years of experience in the field of artistry makeup for photography. Her work has been featured in and on the covers of magazines, including Shape, Lake Mary Life, Hispanic Image and Broker Agent. Myriam's amazing level of expertise includes studying under beauty icon Kevin Aucoin. She has been commissioned for the Latin Grammys, as well as makeup art for Salma Hayek and other celebrities. Myriam can be reached at myriamfux@msn.com.
Eve Matheson is the author of The Modeling Handbook, a bestseller in the industry. She has been writing about the modeling and acting world for over twenty years. Her new book Model Scoop And Acting Info provides a wealth of information on how to have a happy, successful, safe career and is now available. Eve is a journalist and the mother of a former international model. She has worked as a model, and in radio and television as a writer and presenter. Eve lives with her husband, Ian, a plastic surgeon, in Tampa, Florida.
Pageantry is the One Pageant Resource You Can't Do Without!
SAVE! Up to 25% off the newsstand price:
TWO YEARS is $30.00 (U.S.) ONE YEAR is $18.00 (U.S.)
DON'T MISS A SINGLE ISSUE! Subscribe to Pageantry NOW!
If you're hesitant to conduct a transaction over the Internet, or if you don't have a credit card, you may order Pageantry by sending a check or money order payable to: Pageantry Magazine; P.O. Box 160307; Altamonte Springs, FL 32716-0307 Or call (407) 260-2262 M-F 8:00-5:30pm EST.
The Most Informative Resource for Finding What You Need:
Pageant Info for All Ages/Categories • Calendar of Events • Gowns, Swimsuits, & Interview Suits • Performance Background Music • Health & Beauty Products/Information• Training and Coaching• Fashions and Accessories • Scholarship Opportunities • Personal Improvement