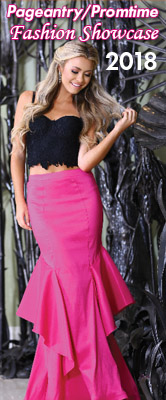 Prom-decorating themes and party favors ascend to new heights of subtlety and sophistication with inspiration that is heaven-sent.

By Kourtney McCarty
OUT OF THIS WORLD: A sparkling graphic theme reaches new heights of sophistication.
Students look to prom as a night they will always remember, which means they want a theme that will stand the test of time. This year, expect to see prom themes that are classic, subtle, and sophisticated. Loud and flamboyant colors are out, while subtle yet rich tones with sparkly accents are in. And the beauty will lie in the details.
Theme kits are as hot as ever, but students are now paying more attention to the finer points — think invitations, favors, table settings, and centerpieces. Theme kits are used to lay a necessary foundation and coordinate a theme throughout the event room. Students will then expand upon their theme and show their creativity in those other areas to make their prom truly unique.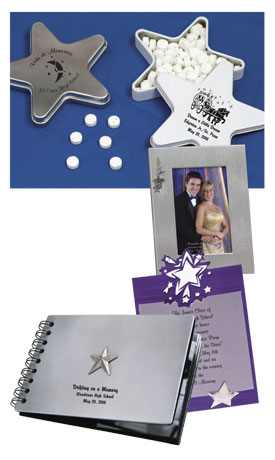 SEEING STARS: Star shapes work their way into dramatic entrances, silvery table settings, soaring backdrops, and beyond to the invitations, photo-album and portrait frame favors — even the mint cases take a star turn.
This is why star and celestial themes will be huge this year. The star theme is romantic, versatile, affordable, and really, the sky — ahem — is the limit when it comes to decorating.
Prom committees love star themes because they make a huge decorating impact regardless of budget or room size. And just like the stars themselves, no two star themes are alike. Simply follow the steps below to guarantee a romantic, successful prom with little hassle and lots of glamour.
Foundation
Transform your walls and ceilings in no time with star-patterned poly vinyl or gossamer. Poly vinyl is durable and re-usable. Gossamer, which comes in hundreds of styles and colors, can be easily transformed into elegant curtains, bows, drapes, swags, and more. Glitter gossamer is ideal for a star theme. Create a romantic atmosphere by draping gossamer over twinkle lights. And, for the perfect touch (if your location allows it), sprinkle confetti or sparkle powder on the floor.
Theme Kit and Accents
When choosing a theme kit, keep in mind your event location. Is there a height restriction? If your prom will not be held at your school, will you have ample time to set up and decorate beforehand, or do you have to build your kit elsewhere and transport it to the location? The great thing about theme kits is that they're a complete decorating solution, which can easily be accented. Use the columns to dress up boring corners and the entrance for a quick and elegant photo op or an opening to the dance floor.
Adorn your room with stars. Hang stars (glitter-covered stars are especially sparkling) in all different sizes from the ceiling and on the walls. Create huge bouquets of star latex balloons accented with the occasional star Mylar balloon. For a quick and easy decoration, check out three-dimensional pop-up stars (in both five-point or six-point configurations). The come in three different sizes and are a cinch to assemble.
Tables
Even if you're not hosting a sit-down dinner, tables are still a necessity and a prime decorating opportunity. Place two or three tables about the room, or section them off into their own secluded area separate from the dance floor. This season, forget the plain-colored table cover and skirt. Jazz it up a bit by using a staple of parade float decorating, table floral sheeting, to give your tables unique texture and fashionable flair.
Your options are endless when it comes to centerpieces. Star-themed props, cardboard stars, star-stemmed glassware accented with star garlands — the choice is yours. For added elegance, matching tableware imprinted with your event details makes a fabulous touch to use for serving punch, hors d'ouevres, and crudités. And don't forget about your chairs. Cover the backs with easy-to-make gossamer bows using star-patterned gossamer in one of your theme colors.
The Finer Details
This season, forget the plain-colored table cover and skirt. Jazz it up a bit by using a staple of parade float decorating, table floral sheeting, to give your tables unique texture and fashionable flair.
From the beginning to the end, give guests a little something to treasure. Start with an invitation that matches your theme, printed with your event details. A beautiful invitation card makes the perfect memento. For tickets, instead of using the standard paper fare, imprint those trendy rubber bracelets with your prom theme and date — those not only will get them in the door but also make for a fabulous favor. And speaking of favors: candles, frames, and glassware are the tried-and-true favorites, but your options beyond those evergreen gifts are endless, with CD cases, mint and candy tins, and key tags being some alternative hot picks for this year's prom galas.
Over the years, trends and tastes in prom decorating have changed with the times. This year, the trend will defer to classical elegance and tastes — with a night among the stars perfecting filling the bill.
w