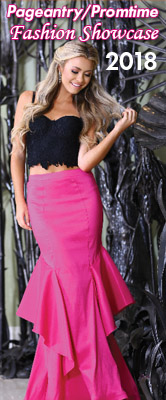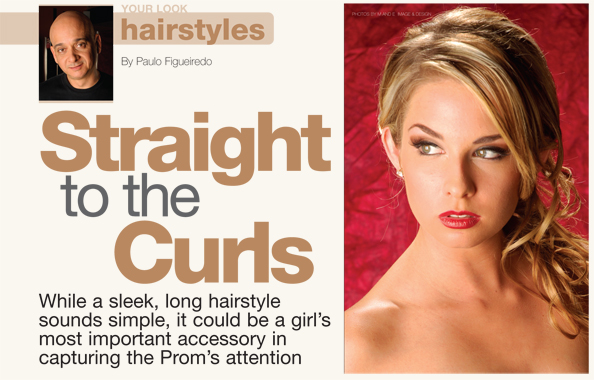 For this creation we kept model Briana Lupo's naturally straight hair in front and on top and added a long flowing cascade of curls in the back to drape off of her shoulder.
The Fourth of July may be months away, but it's never a bad time to celebrate America. After all, one of the great things about being an American is the wealth of traditions that we have at our disposal. For instance, on Thanksgiving we eat turkey, and at the ballpark we eat hot dogs. For a long time we never wore white after Labor Day, and if you're caught wearing anything but green on St. Patrick's Day, you're bound to be pinched.
But traditions aren't always about what we eat or what we wear. One of our favorite traditions happens annually on the Red Carpet at the biggest awards shows. It started with Joan Rivers, was passed down to her daughter Melissa, and has been imitated by many and talked about by more. Of course I'm talking about the Red Carpet fashion critics, who have long praised and admonished the winners and losers of Academy Award, Grammy, Emmy and Tony broadcasts. This rite of passage that all celebrities go through—a gauntlet of berating, if you will—shows us, though, that everyone is watching. And as we always try to tell our readers, always act as if all eyes are on you.
With Prom season here, it's important for girls—and guys aren't off the hook either—to remember that on their special night everyone will be watching to see who has the hottest styles, the latest looks, and the most beautiful gowns. As always, there are some simple yet breathtaking looks for every girl out there and this season, we turn straight to the curls.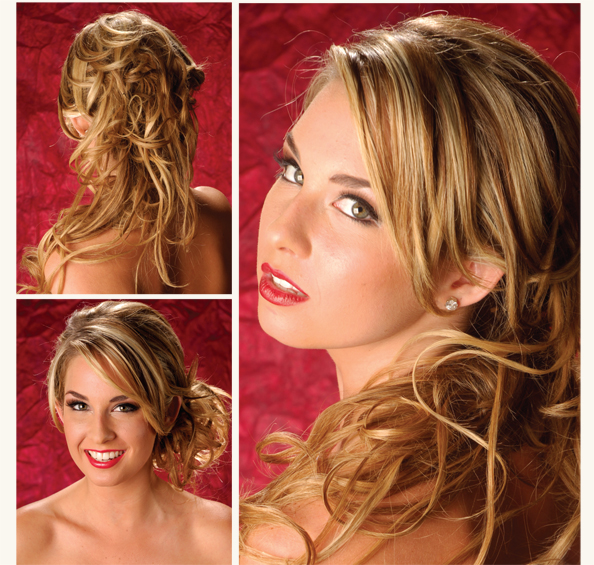 Pure Abundance Shampoo and Conditioner was first used to provide volume. Afterwards, Volumizing Tonic was applied to towel dried hair by spraying directly to the roots. The hair was blow-dried completely and some soft curls were put in using Pure Abundance Hairspray for maximum hold. Briana's hair was then put up to create a loose, tousled, yet elegant and sophisticated appearance.

Our favorite look this year is long hair with curls for accent, because there's nothing easier, more functional, and especially more dependable than a girl's curling iron. Especially with a plain color, strapless gown, long straight hair commands attention because it is the most flattering accessory to a long neck and the beautiful skin showcased by a gown with no straps. However, with straight hair comes straight talk. And let's be honest—your hair isn't naturally straight. Chances are you've had some curls in there, or even worse you're a long-running victim of frizzy hair and stragglers, or those hairs that seem to have minds of their own.

If you choose to go with a long, straight look this year, then your best friend is preparation. We're talking days in advance, too, because that's how important your style is. The key to keeping a long, straight style starts with a trim. One of the most useful hairstyling tips that most women don't adhere to nearly as much as they should is the regular trimming of their hair. We're not talking about chopping inches off at a time. It's a matter of having the ends of your hair trimmed consistently in order to stave off split ends, which are, of course, the most notorious cause of frizziness. By trimming less than a centimeter at a time, you're allowing your hair to grow in even and free off ugly splits.

Another popular yet mistake-riddled step in creating sleek and straight long hair is with a blow dryer. Most women make a very simple mistake when using a blow dryer to create straight hair, and that is holding the appliance at the wrong angle. When using a dryer to straighten, the air needs to be blowing down the hair from the roots, so the dryer needs to be held at a higher angle above the head. This can be a daunting task, though. It's annoying to hold a clunky hair dryer in the air for an extended amount of time, and it can really wear on the arms. When using a dryer to straighten hair, the best way to make sure it's done properly is to have a friend hold the dryer for you. However, if you don't have a friend handy when you're preparing your hairstyle, the best method might be to kneel or sit on a chair. This will provide your arms a little relief and leverage.

For the absolute best straight result, apply a leave-in conditioner to your hair before using the blow dryer. You can simply use your hands to separate your slightly wet hair into three or four inch sections and then apply the conditioner to each section from the roots to the ends, just like with the aforementioned dryer method. The best results, however, come from the combination of a dryer, conditioner and a brush. But that takes serious concentration and talent. It's an acquired skill, but the results are incredibly worth it.

Adding curls to a long, straight style is only one of many that can make your Prom experience remarkable and memorable. If your hair is naturally curly and bouncy, even better. Your classic look will never go out of style either. Whichever hairstyle you decide is right for your Prom experience this year, you only have to make sure that you've followed one step—be yourself.

Paulo Figueiredo is currently the Aveda Institute Director. Before joining the Aveda/TSP family in 2008, he collaborated in many fashion/hair shows, photo shoots, and seminars throughout the United States and many other countries. He graduated with honors from Middle Georgia Technical Institute, and has received numerous awards for his contributions to the profession. His art, passion and technical skills, have inspired many people in the beauty industry. At the Aveda Institute he guides a team of the top beauty industry professionals. Paulo has collaborated with designers such as Prada, Gi Gang, Nicole Miller, Erin Wasson and Tuleh to name a few. He is also active in a variety of social and cultural organizations including Habitat for Humanity, Red Cross, Locks of Love, and NAHA.

w