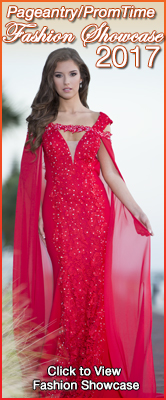 Volume 36, Issue 3 - Fall 2015

Click Here for contents.

It's Here!

Pageantry Fall 2015

Featuring: The Miss USA 2015 pageant, Around the USA photos. Pageant coverage of this summer's events; Miss Jr. High, High School and Collegiate, Royal International Miss, and Mrs. Florida. Outgoing Queens say their final goodbyes in exclusive interviews with Pageantry magazine including; Miss Yeen USA, MAOTeen and Miss America. Hairstyles and Makeup tips and so Much More!

Miss Teen USA 2015

The New Miss Teen USA 2015 is
Katherine Haik - Miss Louisiana Teen


The Miss Teen USA 2015 pageant was the system's 33rd event, held at the Atlantis Paradise Island in Nassau, Bahamas on August 22, 2015. Outgoing titleholder, Miss Teen USA 2014 K. Lee Graham, crowned her successor Miss Louisiana Teen Katherine Haik after the 51 state delegates [including the District of Columbia] competed for the prestigious title

If you miss the LIVE streamed broadcast, you can view it here.

The 15-year old is an avid sports and music lover — playing softball, basketball and piano in her downtime. She wowed judges in the evening gown and swimwear competitions, but really stole the show with her interview answer. When asked which historic woman she'd like to see on the new $10 bill, Haik answered that she'd like to see Rosa Parks because she was a woman whose bravery Haik admires and she wishes her generation could stand up for things that are right the way Parks did during the Civil Rights Movement.

Katherine also impressed judges and the audience when she was able to name every U.S. president in order with a cute little song.

Top 15:
Alabama Teen - Taylor Ryan Elliott
Arizona Teen - Neda Danilovic
Arkansas Teen - Arynn Johnson
Missouri Teen - Christina Stratton
New York Teen - Geena Cardalena
Oklahoma Teen - Cherokee Pearce
Pennsylvania Teen - Jasmine Daniels
South Carolina Teen - Wesley Mitchell
Texas Teen - Chloe Kembel
Vermont Teen - Alexandra Marek

Top 5:
Winner — Louisiana Teen - Katherine Haik
1st Runner-Up — California Teen - Melanie Mitchell
2nd Runner-Up — North Carolina Teen - Jane Axhoj
3rd Runner-Up — Tennessee Teen - Hannah Faith Greene
4th Runner-Up — Massachusetts Teen - Sophie Baird

Miss America's Outstanding Teen Pageant

Miss America's Outstanding Teen 2016 is
Allie Nault of New Hamphire


Miss New Hampshire's Outstanding Teen, Allie Nault was crowned Miss America's Outstanding Teen 2016 at the Linda Chapin Theater in the Orange County Convention Center in Orlando. Allie becomes the 11th tilteholder of Forever MAOTeen queens in the pageants 10 year history.

Allie will begin an amazing journey taking her across the country during her year of service as Miss America's Outstanding Teen 2016. She will travel speaking to audiences about her platform "Making Sense: Becoming Financially Responsible" and acting as the official National Teen Goodwill Ambassador for Children's Miracle Network Hospitals, a non-profit organization dedicated to saving and improving the lives of children by raising funds for children's hospitals. CMNH is the national platform partner of the Miss America's Outstanding Teen Organization.

Allie is a 17-year-old student from Gilford, New Hampshire and wowed the audience and judges with her Baton Twirling routine, juggling up to 3 batons at once.

Top 10:
South Carolina - Sarah Hamrick
Georgia - Victoria Smith
New Jersey - Shereen Pimentel
Nebraska - Steffany Lien
Nevada - Lauren Watson

Top 5:
Winner — New Hampshire - Allie Nault
1st Runner-Up — Texas - Addy Jackson
2nd Runner-Up — Indiana - Audrey Ferguson
3rd Runner-Up — Arizona - Jessi Gradillas
4th Runner-Up — Oklahoma - Carrigan Bradley

Miss USA 2015

The New Miss USA 2015 is
Miss Oklahoma - Olivia Jordan


The Miss USA 2015 pageant was the system's 64th event, held in Baton Rouge, Louisiana, at the Baton Rouge River Center. Outgoing titleholder, Miss USA 2014 Nia Sanchez of Nevada, crowned her successor Miss Oklahoma Olivia Jordan after the 51 state delegates [including the District of Columbia] competed for the prestigious title, televised live on Reelz and streamed live on the web via YouTube.

Congratulations to our former Pageantry and PromTime models Renee Wronecki and Laura Puelo for making the Top 15!!

Top 15:
Miss Arizona - Maureen Montagne
Miss Illinois - Renee Wronecki
Miss New York - Thatiana Diaz
Miss Virginia - Laura Puleo

Top 11:
Miss Alabama - Madison Guthrie
Miss Delaware - Renee Bull
Miss Hawaii - Emma Wo
Miss Louisiana - Candice Bennatt
Miss Kentucky - Katie George
Miss Michigan - Rashontae Wawrzyniak

Top 5:
Winner — Miss Oklahoma, Olivia Jordan
1st Runner-Up — Miss Texas, Ylianna Guerra
2nd Runner-Up — Miss Rhode Island, Anea Garcia
3rd Runner-Up — Miss Nevada, Brittany McGowan
4th Runner-Up — Miss Maryland, Mamé Adjei

Pageantry Video

Pageantry & PromTime 2015 Fashion Showcase: Slideshow

Prom, Pageant, and Social Occasion Gowns from the Glamour Industry's Best Fashion Designers.

Your browser does not support the video tag. Internet Explorer 8 and earlier versions, do not support the video element.

View the Large Photo-Shoot Slideshow

Pageantry & PromTime

The PageantryDigital.com Spring 2015 edition features the record breaking 2015 Fashion Showcase.

This year's picturesque location was the Historic Downtown Bradenton area on the gulf coast of Florida and featured beautiful Marinas and scenic sunsets to-die-for.

Log on to PageantryDigital.com now and click the Spring 2015 issue of Pageantry magazine or PromTime magazine to see the world's largest on-location fashion photo shoot for Prom, Pageant, Red Carpet and Social Occasion gowns.

Who's Who in Pageantry

It's Who's Who In Pageantry: Recognizing Outstanding Personalities within the Glamour Lifestyle Industry...
and it's by referral only!

Do you know someone who is deserving of recognition within Who's Who In Pageantry? Titleholders, models, photographers,directors, producers, agents, recognized personalities, and more. If so, send their name, contact information (email address, mailing address phone number) and a brief description (500 words maximum) of why they should be recognized within Who's Who In Pageantry to editor@pageantrymag.com with the subject line: "Who's Who In Pageantry".

Pageantry... Celebrating the Glamour Lifestyle and Recognizing Outstanding Personalities Within the Glamour Lifestyle Industry!

And no... you cannot nominate yourself :)




Let Your Soul Glow: Creating a sun-kissed, glowing look is the perfect way to give the illusion of tanned and dewy skin for the summer.

There is no debating that your skin looks its best in the summer. Why not make it look even better by adding a bit of glow? Your summer makeup style should be all about looking naturally radiant, but unfortunately most of us don't wake up with perfectly dewy skin. Luckily, mastering that look is just a few brush strokes away if you are equipped with the right products. The key to achieving this effect is to keep your skin looking glowing, but not greasy.

Read More about Summer Makeup for 2015

Check out our archives for some of the techniques that inspired the hot and trendy Hairstyles of 2015 HERE.




The secret to becoming a movie star is never being afraid to leave Hollywood for the spotlight of the theatre.

Years ago, a young actor in training told me she only wanted to be a soap opera actor. With a straight face I said I understood that if she were offered a starring role in a feature film, she should state emphatically, "I'm sorry, I only do soap operas." Of course, she should also reply in a similar fashion if offered a role in a Broadway Show or a TV situation comedy. I respond with little difference when young actors tell me they only want to do movies.

Read More about broadening your Showbiz skills.

Check out our archives for some more tips on how to break into Showbiz.




No one should need a reminder that IMTA remains the place to be seen and heard for every aspiring model and entertainer looking for a big break.

If it's January in Los Angeles, home and playground of the world's biggest stars, it must be time for the 2015 IMTA L.A. modeling and talent convention. IMTA—the International Modeling and Talent Association— is the most recognized and respected modeling and talent showcase of its kind, providing a first-class opportunity for fashion and talent agents, personal managers, scouts, casting directors, network representatives and music producers to find the next supermodel or rising star. The IMTA L.A. convention perennially kicks off the new year of success stories and the realization of starry-eyed dreams for many.