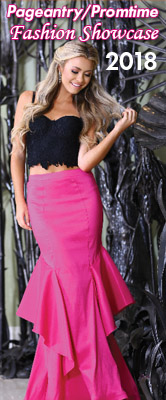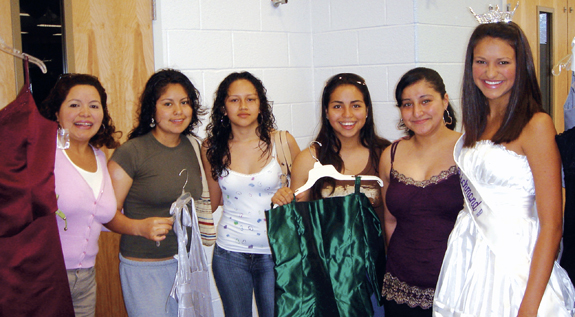 CAITLIN DELIVERS: Miss America's Outstanding Teen for 2007 distributes gowns at Old Dominion High's "Prom Dreams 2007" event.
Dresses to the Rescue
Caitlin Brunell, Miss America's Outstanding Teen 2008, organized and founded Caitlin's Closet to help those young women who would love to attend extracurricular school functions but many times find it difficult because of financial restraints. Last spring, the organization was able to give more than 80 girls the chance to attend prom feeling special and beautiful.
W

e're all familiar with the annual rites of spring — flowers bloom, birds sing... and mothers and their teenaged daughters descend on boutiques and shops in search of the perfect prom dress! But what if your dreams of feeling like a princess on prom night are squashed by your budget?
Caitlin Brunell to the rescue! She's not your typical teen. She's an outgoing, outstanding teen who helps make dreams come true for others. That's why at 14 years old she founded Caitlin's Closet, a non-profit organization that collects gently used special occasion dresses and distributes them to prom-hopefuls.
Making Happiness Happen
Why does she do it? Caitlin says, "I wanted to do something to help other teens. I realized that every girl should be able to attend school events and feel good about herself, and I thought I might be able to help make that happen."
While her friends are heading out to the mall to find that one perfect dress, Caitlin is traveling the country in search of hundreds of gowns. She has sponsored events in Washington, D.C., and northern Virginia and plans to distribute gowns in Jacksonville, Florida, and Santa Maria, California, in the spring.
Since it was founded in 2006, Caitlin's Closet has collected more than 200 prom gowns and special occasion dresses. Partnering with Children's Services in Washington, D.C., and Old Dominion High School in Sterling, Virginia, Caitlin was able to give more than 80 girls the chance to attend their proms last spring feeling and looking like the belle of the ball. After receiving their new dresses, the girls modeled them in a fashion show where they were greeted with applause and cheers.
"It's amazing to be able to encourage others and make them feel special and beautiful," says Caitlin.
Giving as Good as She Gets


Her hard work hasn't gone unnoticed. Caitlin is the current Miss America's Outstanding Teen, representing the Commonwealth of Virginia. She won more than $30,000 in college scholarships at the Miss America's Outstanding Teen competition in Orlando, Florida, in August 2007. The "little sister" pageant to the Miss America Scholarship Organization, this not-for-profit program has provided more than $2 million in college scholarships nationally to young women from 13 to 17 years of age. The title has given Caitlin a nationwide vehicle to promote Caitlin's Closet.
What can you do to help? Caitlin says, "You can partner with me and host a dress drive, a Caitlin's Closet event, or just go through your own closet and send me your dresses!"
So pull out that stunning blue sequined gown, grab those crystal earrings, and box up that hot little red number you wore to Homecoming last year and send them to Caitlin. She'll put them to good use.
"What is a tired old gown to you might be a newfound treasure to another young lady," says Caitlin.
For more information: To find out how to contribute to Caitlin's Closet, visit www.BrunellFamilyFoundation.com. To learn more about Caitlin Brunell, go to www.MAOTeen.org.
w