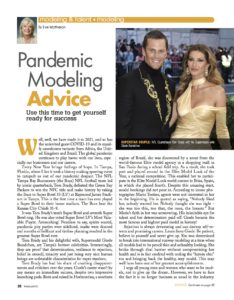 Well, well, we have made it to 2021, and so has the uninvited guest COVID-19 and its equally unwelcome variants from Africa, the United Kingdom and Brazil. The global pandemic continues to play havoc with our lives, especially our businesses and our careers. Time for pandemic modeling advice.
Every New Year brings feelings of hope. In Tampa, Florida, where I live it took a history making sporting event to catapult us out of our pandemic despair. The NFL Tampa Bay Buccaneers (the Bucs) football team led by iconic quarterback, Tom Brady, defeated the Green Bay Packers to win the NFC title and make history by taking the Bucs to Super Bowl 55 (LV) at Raymond James Stadium in Tampa. This is the first time a team has ever played a Super Bowl in their home stadium. The Bucs beat the Kansas City Chiefs 31-9.
It was Tom Brady's tenth Super Bowl and seventh Super Bowl ring. He was also voted Super Bowl LV's Most Valuable Player. Astonishing! Needless to say, spirits soared, pandemic pity parties were sidelined, masks were donned and months of brilliant and tireless planning resulted in the greatest Super Bowl ever.
Tom Brady and his delightful wife, Supermodel Gisele Bundchen, are Tampa's hottest celebrities. Interestingly, they are proof that determination, resilience to rejection, belief in oneself, tenacity and just being very nice human beings are unbeatable characteristics for super stardom.
Tom Brady has had his share of crushing disappointments and criticism over the years. Gisele's career wasn't by any means an immediate success, despite two impressive launching pads. Born and raised in Horizontina, a southern region of Brazil, she was discovered by a scout from the world-famous Elite model agency in a shopping mall in San Paolo during a school field trip. As a result, she took part and placed second in the Elite Model Look of the Year, a national competition. This enabled her to participate in the Elite Model Look world contest in Ibiza, Spain, in which she placed fourth. Despite this amazing start, model bookings did not pour in. According to iconic photographer Mario Testino, agents were not interested in her in the beginning. He is quoted as saying, "Nobody liked her, nobody wanted her. Nobody thought she was right – she was too this, too that, the nose, the breasts." But Mario's faith in her was unwavering. His inimitable eye for talent and her determination paid off. Gisele became the most famous and highest paid model in history!
Rejection is always devastating and can destroy self-esteem and promising careers. Learn from Gisele. Be patient, believe in yourself and never give up. She was determined to break into international runway modeling at a time when all models had to be pencil thin and unhealthy looking. She broke through that barrier without compromising her health and is in fact credited with ending the "heroin chic" era and bringing back the healthy, sexy model. This may well have been one of her greatest accomplishments.
I urge all young men and women who want to be models, not to give up the dream. However, we have to face the fact it is no longer business as usual in the industry. Modeling jobs have diminished, and models are concerned about their financial commitments. Also, under the best of circumstances, it can take six months to a year to build the basic foundation for a successful career. Overheads have skyrocketed and adhering to safety regulations is a major and costly concern. Everyone wants to hear good news about the future and that is impossible to predict at the moment.
However, this is an excellent time for newcomers to read and study as much as possible about a career in modeling. On a personal note, there may be changes you want to make in your appearance and habits. If you are inclined to have weight problems, ditch the snack packs immediately. Get some expert advice on an ideal food plan which will stabilize your weight. Grab a mask and start walking. Get advice on a sensible exercise routine. If you have dental problems, or want a mega-watt smile, take this time to talk to a dentist. Models must have perfect skin. Now is the time to deal with acne or other problems. A professional model must be ready to go on a go-see or interview at a moment's notice. Develop the habit of having hair freshly washed and nails in excellent condition. Use your pandemic downtime to your advantage and turn this nightmare into your future dream.
Here is some uplifting advice from Sandi Bass, scouting director for Red Model Management in New York City, "In light of coronavirus, we are all challenged to stay positive that this worldwide pandemic will be under control very soon, hopefully as you are reading this issue of Pageantry magazine. The Modeling/Beauty and Entertainment business is an important industry to the world, providing light and hope to everyone."
Red Model Management is a full-service agency, which represents male and female models. Females must be 17 years and over, height 5'8"-5'11"; males 17 years and over, height 6'-6'3". Sandi also told me they are looking for females, dress size 14-18 for their Curve division. The agency's client list is extensive and includes Prada, Ralph Lauren, Celine, Versace, Dior, Tiffany & Co, Vogue, Burberry and Mac Cosmetics.
Congratulations and fingers crossed for longtime friend David Vando. David owns Models Mart Ltd., New York which is known the world over as a one stop shopping service for models, actors, agents, school directors and virtually anyone interested in learning about the industry. What many people do not know is that David is a teacher, drama coach, lecturer and playwright whose plays have been performed in London, Germany, and Chicago. He is a Shakespearean scholar and his current work, Hamlet/Horatio, in which he also acts, has been selected as a finalist in the Big Apple Film Festival 2021. It is a truly remarkable and brilliant project.
The modeling and entertainment world has lost two of its most celebrated personalities. Supermodel Stella Tennant died on December 23, 2020. She was 50. A true aristocrat, she was the granddaughter of the Duke and Duchess of Devonshire. Her grandmother was Deborah Devonshire, the youngest of the legendary Mitford sisters, and her grandfather was Andrew Cavendish, the 11th Duke of Devonshire. Stella was loved by all. Despite her background, she had no delusions of grandeur and was the ultimate professional. She had been married to and separated from photographer David Lasner. They had four children.
Stage, screen, television star, and model Cicely Tyson passed away at the age of 96 on January 28, 2021, two days before the release of her memoir, Just As I Am.
Cicely was born in Harlem in 1924. Always a fashionista, she was scouted in Manhattan by a photographer. She went to Barbara Mae Watson's Modeling School, the first in New York for African Americans. Within a year she had become one of the top black models in the world and appeared in Ebony, Jet and Vogue. As is often the case, modeling led to a stellar career in acting. Cicely was the first black actress to win a Primetime Emmy—for her role in the Autobiography of Miss Jane Pittman—and won 16 other Emmy nominations during her career. She also won a Tony and an honorary Oscar. Cicely was married to the late Miles Davis, jazz trumpeter, composer and bandleader.
To read the entire Modeling feature… Click Here