Natural
Glam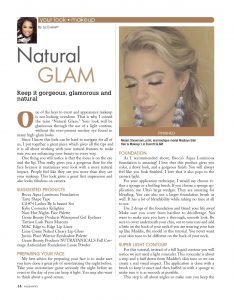 One of the keys to event and appearance makeup is not looking overdone. That is why I coined the term "Natural Glam." Your look will be glamorous through the use of a light contour, without the ever-present smokey eye found in many high-glam looks.
Since I know this look can be hard to navigate for all of us, I put together a great piece which gives all the tips and It is all about working with your natural features to make sure you are enhancing your beauty in every way.
One thing you will notice is that the focus is on the eye and the lip. This really gives you a gorgeous flow for the face because it maximizes your look with a more natural impact. People feel like they see you more than they see your makeup. This look gives a great first impression and also looks fabulous on camera.
Suggested Products
Becca Aqua Luminous Foundation
Tarte Shape Tape
Cil #74 Lashes By la beautÈ Soi
Kylie Cosmetics Kylighter
Nars Hot Nights Face Palette
Genie Beauty Products Waterproof Gel Eyeliner
Tartiest Lash Paint Mascara
MAC Edge to Edge Lip Liner
Lime Crime Naked Cherry Lip Gloss
Juvia's Place Warrior Eyeshadow Palette
Genie Beauty Products NUTRATANICALS Full Coverage Antioxidant Foundation Loose Powder
Preparing Your Face
My best advice for preparing your face is to make sure you have done a great job of moisturizing the night before. Take your moisturizer game seriously the night before an event so the day of you can keep it light. You may also want to think about a good serum.
Foundation
As I recommended above, Becca's Aqua Luminous foundation is amazing! I love that this product gives you color, a dewy look, and a gorgeous finish. You will always feel like you look finished. I love that it also pops in the camera light.
For your application technique, I would say choose either a sponge or a buffing brush. If you choose a sponge application, use Ulta's large wedges. They are amazing for blending. You can also use a larger foundation brush as well. It has a lot of blend-ability while taking no time at all to use.
Use 2 drops of the foundation and blend your life away! Make sure you cover from hairline to décolletage. You want to make sure you have a thorough, smooth look. Be sure to cover underneath your chin, out to your ears and add a little on the back of your neck if you are wearing your hair up like Maddie, the model in this tutorial. You never want your skin tone to be different on the back of your neck.
Super Light Contour
For this tutorial, instead of a full liquid contour you will notice we just used a light concealer. This concealer is about a step and a half down from Maddie's skin tone so we can create a real visual impact. The application is done with a brush to keep it exact and then buffed in with a sponge to make sure it is as smooth as possible.
This step is all about angles so make sure you keep the angle on a high diagonal when it comes to your cheek area. You want to hug the top of the cheek bone. Be sure to get over near the tear duct and by the temple as well so you can really pop the eye. When we apply concealer this way, it sets the stage for the focus to be on the eyes. It is as if you are literally building the face around the eye.
Powder and Highlight
This process is imperative to sealing your smooth application. You want to make sure you use a well-milled powder, so I always suggest a loose powder. That will keep it light on the skin. I love Genie Beauty's powder foundation. It's all about great coverage. You want to seal the foundation, while adding a lasting layer. This will help you keep your look fresh.
I suggest using a stipple stroke even with a brush. If you swipe, you will be taking the product off, so buff it in instead. This will add a next level coverage which looks light, while also giving you a great lasting powder for your look.
After powder comes bronzer and highlighter. You can apply the bronzer with the side of a beauty blender to amp up the finish. Simply press the bronzer into your skin. It gives you tons of pigment with not a ton of effort. Then you are ready for a light dusting of highlighter. I love the Kylighter for this look because it will keep it more naturally focused.
To pop the cheek, I am loving Nars Hot Nights Face Palette. The color Tautra will give you just the flair you need for a cheek which is slightly flushed, yet effortless. Remember to sweep this color on with a smaller blush brush. It will aid you in keeping the angle up, while thinning the cheek.
Eyes and Lashes
The eye for this look is simple because it is all about the lash. You notice we kept the eye super light. It looks frosty in the photo, but it actually leans more towards the matte side. I love Juvia's Place Warrior Eyeshadow Palette for this look because of the color range.
For the entire eye from brow to lash use the Ahosi color. Then for the crease, combine Amina with Nars Hot Nights Face Palette's color Pacific. This will give the look a pop and adds a tone to the crease which is warm. Be sure the crease is not harsh. Blend it out with your brush by using windshield wiper strokes. Back and forth with softened hand pressure.
You can also check out Nars Ignited palette. That palette has some additional rose-toned colors you may love depending on your skin tone. It is always important to select the look you want to create through the eyes of what works best for your skin tone. For this look, it is most important to keep the colors toned back so the eye can take center stage.
Once you have applied your eyeliner, it's time for the lash! I say go for it with the lash. When I want drama, I am always a big fan of la beauté Soi's Cil #74. I love that it really opens the eye. This lash is a power pop ready to happen.
Lips
The lip for this look can either verge on pink or move into a super neutral. For Maddie, I wanted to make sure she had a classically gorgeous tone, so we went for a pinker tone. Lime Crime's Naked Cherry is perfect for this.
Now I will tell you a little secret, I always take the pencil and carve out the lip. Then I cover at least half of the lip with pencil before I apply the lip color. This gives the color a little more staying power. If you are going to be in front of the camera, you always want to do this, even if you are rocking a gloss. Cover the lip with the color from end to end. Make sure you also get the side cracks of your lips. You want the coverage to be as smooth and even as possible. You will now be naturally glamorous for any event or camera appearance.
To read the entire feature in PageantryDigital, Click Here