Features
---
20 iPOP!

California Dreamin'

The bright-eyed talent of the iPOP! Modeling and Talent Convention traveled to Los Angeles to experience the California Dream.
32 Miss Earth USA

Protecting the Earth

An emotionally intelligent approach to pageantry and environmentalism.
40 Circling the Earth

#beautiesforacause

Pageantry brings you the red carpet extravaganza of the Miss Earth USA pageants.
46 Ms. Senior USA & Universe Pageants

Overcoming Obstacles

With a lifetime of experience, Senior Pageants Group proves anything is possible.
54 Miss Teen USA Homecoming

Florida's Finest

Pageantry magazine had the unique opportunity to celebrate the homecoming gala of Miss Teen USA 2021 Breanna Myles.
64 Miss & Mr. iPOP!

They're Live

Tamara Khatib and Jacque Lariviere ventured to iPOP! and left the convention earning the accolades of Miss and Mr. iPOP!.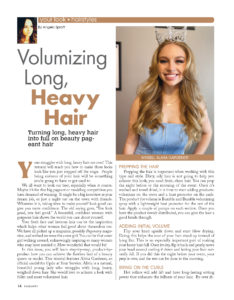 Your Look
---
14 Hairstyles

Volumizing Long Heavy Hair

Turning long, heavy hair into full on beauty pageant hair.
By Angela Spratt

42 Makeup

Up Close and Personal

Get the fresh face you deserve.
By Angela Spratt

58 The Smile Dr.

Alignment 101

A superb smile statrs with straight teeth.
By Dr. Mark Falco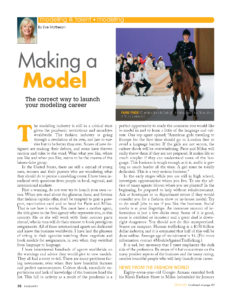 Modeling & Talent
---
26 Modeling
Making A Model
The correct and best way to launch your modeling careeer.
By Eve Matheson
44 Showbiz
An Actor's Guide
Everything you need to know about the audition process: Part 1.
By Richie Walls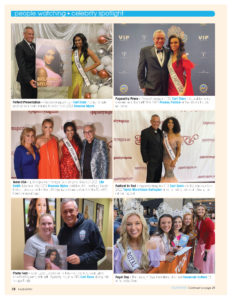 People Watching
---
18 Celebrity Spotlight
30 Pageantry Personalities
38 Pageantry Spirit Awards

68 Pageantry Patter
76 Competition Clips
News & Views
---
10 EDITORIAL
12 SCOOPS
16 SOCIALLY SPEAKING

56 YOU BE THE JUDGE

62 THE SILENT PANDEMIC

Your Feedback
On Pageantry magazine's Facebook page [facebook.com/Pageantrymag] we receive a lot of your comments, letters and questions and we read and appreciate every one of them.
In each issue
---
71 Pageantry Subscription
75 Pageantry Overview

81 Major Display Advertisers

82 Pageantry Classifieds
* Pageantry Gift Shop
Offering a full line of NEW items as well as products emblazoned with the Pageantry logo. Find that perfect accessory for Prom. From T-shirts and crown pins to garment bags and luggage tags, etc…
* Pageantry Library
Find a wealth of information at your fingertips. Pageant and modeling books and videos.
To subscribe to Pageantry magazine… Click Here
To follow Pageantry magazine on Instagram… Click Here
To follow Pageantry magazine on FaceBook… Click Here