Features
---
20 Miss Fashion Global

Real Models and Role Models

Maria Hageli talks about her bright future in modeling after winning the crown.
34 Miss Earth USA 2021

Earth's Elements Align For A cause

Miss Earth USA 2021 Marisa Butler proves these ladies have a passion for environmentalism.
46 Miss USA 2020

Magic In Memphis

Miss USA 2020 Asya Branch, of Mississippi, enjoyed some Southern Hospitality as she captured the Miss USA crown in Memphis.
58 Miss Teen USA 2020

A Heavenly Image

Hawaii's Island Girl, Ki'ilani (meaning Heavenly image) Arruda lives up to her namesake by capturing the crown of Miss Teen USA 2020.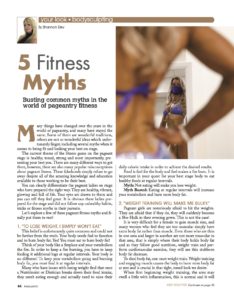 Your look
---
14 Hairstyles

TAMING HEAVY WAVES

A tutorial for gorgeous, light waves on even the heaviest hair.
By Liz Everett
36 Makeup

PRETEEN MAKEUP GUIDE

A daytime look for the preteens.
By Liz Everett

44 Body Sculpting

5 FITNESS MYTHS

Busting common myths in the world of pageantry fitness.
By Shannon Dey
Modeling & Talent
---
26 Modeling
PANDEMIC MODELING ADVICE
Use this time to get yourself ready for success.
By Eve Matheson
40 Showbiz
BLAH! BLAH! BLAH!
The right word makes all the dirrerence.
By Adam Hill
People Watching
---
18 Celebrity Spotlight
28 Pageantry Personalities
32 Pageantry Spirit Awards

70 Pageantry Patter
News & Views
---
10 EDITORIAL
12 SCOOPS
16 SOCIALLY SPEAKING

54 YOU BE THE JUDGE

68 THE SILENT PANDEMIC

Your Feedback
On Pageantry magazine's Facebook page [facebook.com/Pageantrymag] we receive a lot of your comments, letters and questions and we read and appreciate every one of them.
In each issue
---
* Pageantry Gift Shop
Offering a full line of NEW items as well as products emblazoned with the Pageantry logo. Find that perfect accessory for Prom. From T-shirts and crown pins to garment bags and luggage tags, etc…
* Pageantry Library
Find a wealth of information at your fingertips. Pageant and modeling books and videos.
6 Pageantry Overview
81 Major Display Advertisers

82 Classified Advertisers

87 Pageantry Subscription