Features
---
20 iPOP!

Awakening The Dream

The iPOP! Modeling & Talent Convention is the place dreams are made of.
32 Universal Miss

Season 2 Perfection

The Universal Miss Pageant celebrates a successful Season Two in Orlando, FL.
42 Royal International Miss

Let The Royal Party Begin!

The ladies of the Royal International Miss Pageant enjoy a week of competition & world class parties.
64 US American Miss

An Inaugural Celebration

US American Miss Pageant celebrates a successful and glamorous beginning.
64 Mr. & Miss iPOP!

A Perfect Pair

Owen Vollendroff and Grace Toomey speak about their winning iPOP! experience.
Your Look
---
14 Makeup

Golden Glamour

Amp up your next photo shoot style with this glamorous look.
By Alison Weyrick

38 Hairstyles

Celebrating Celebrity Hair Trends of 2022

Even though you may not be rich, you can still rock the celebrity hairstyles you love.
56 The Smile Dr.

Laser Dentistry

From fighting cavities to fighting wrinkles.
By Dr. Mark Falco
Modeling & Talent
---
26 Modeling
A Future In Fashion
Not every modeling career is on the runway.
By Eve Matheson
50 Showbiz
An Actor's Guide
Everything you need to know about the audition process: Part 2.
By Richie Walls

People Watching
---
18 Celebrity Spotlight
40 Pageantry Personalities
48 Pageantry Spirit Awards

63 Club Pageantry Winners Circle: Aziza Howard

69 Club Pageantry Winners Circle: Pinky Guerrero

74 Pageantry Patter
80 Competition Clips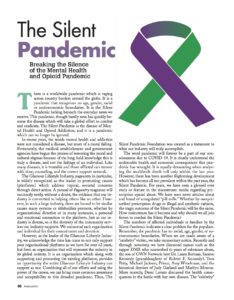 News & Views
---
10 EDITORIAL
12 SCOOPS
16 SOCIALLY SPEAKING

28 THE SILENT PANDEMIC

66 YOU BE THE JUDGE

Your Feedback
On Pageantry magazine's Facebook page [facebook.com/Pageantrymag] we receive a lot of your comments, letters and questions and we read and appreciate every one of them.
In each issue
---
78 Pageantry Overview
79 Pageantry Subscription

83 Major Display Advertisers

84 Pageantry Classifieds
* Pageantry Gift Shop
Offering a full line of NEW items as well as products emblazoned with the Pageantry logo. Find that perfect accessory for Prom. From T-shirts and crown pins to garment bags and luggage tags, etc…
* Pageantry Library
Find a wealth of information at your fingertips. Pageant and modeling books and videos.
To subscribe to Pageantry magazine… Click Here
To follow Pageantry magazine on Instagram… Click Here
To follow Pageantry magazine on FaceBook… Click Here