Features
---
34 Queen Beauty USA

The Perfect Storm

Washington's Stormy Keffeler weathers the storm of competition in New York City to capture the crown of Queen Beauty USA.
46 Miss America

Science Wins

Camille Schrier, of Virginia, dazzled the Mohegan Sun Casino Arena and her competitors with science, as she captured the crown of Miss America 2020.
Your look
---
14 Makeup

Photo Perfect Makeup

See how to create your makeup style for a polished photo-shoot look.
By Liz Everett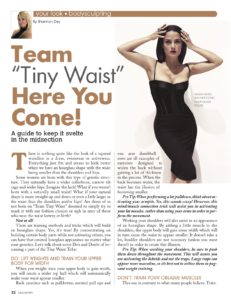 22 Body Sculpting

TEAM "TINY WAIST" HERE YOU COME1

A guide to keep it svelte in the midsection.
By Shannon Dey

40 Hairstyles

PLAN FOR PERFECT PAGEANT HAIR

How to take care of your pageant hair on and off the stage.
By Liz Everett

42 Skin Savvy

TOP 10 TIPS FOR SMOOTH & SILKY SKIN
Follow these Top 10 tips for maintaining perfect skin, and put your breakout worries to bed.
54 Jewelry

JEWELS FOR THE ELEGANT WOMAN
Going from runway to interview to special appearances will be easy with Swarovski's Touchstone Crystal.
By Renee Carbone Fleming

Personal Advice
---
28 Photography
PICTURE PERFECT
Now that you're ready to take professional headshots, you should follow these easy steps to prepare for them.
52 Communications
CHOOSING YOUR IDEAL CHARITY
Many charitable organizations are in real need, and that can make choosing the right service platform an arduous task.
Modeling & Talent
---
20 Modeling
MODELING TODAY
Learn a few tips on how to navigate the ever-changing world of modeling.
By Eve Matheson
30 Showbiz
WHY SCRIPT ANALYSIS?
Script analysis leads to better acting.
By Adam Hill
People Watching
---
18 Celebrity Spotlight
24 Pageantry Personalities
56 Pageantry Patter
74 Competition Clips
News & Views
---
10 Editorial
12 Scoops
16 Socially Speaking
26 Advertorial: Senior Pageants Group

32 You Be The Judge

Winners Circle
---
61 Grace Edwards
Who's Who
---
25 Phyllis George
65 Belta Perez
Your Feedback
On Pageantry magazine's Facebook page [facebook.com/Pageantrymag] we receive a lot of your comments, letters and questions and we read and appreciate every one of them.
In each issue
---
* Pageantry Gift Shop
Offering a full line of NEW items as well as products emblazoned with the Pageantry logo. Find that perfect accessory for Prom. From T-shirts and crown pins to garment bags and luggage tags, etc…
* Pageantry Library
Find a wealth of information at your fingertips. Pageant and modeling books and videos.
6 Pageantry Overview
73 Major Display Advertisers

74 Classified Advertisers

79 Pageantry Subscription