Features
---
22 World Championships of Performing Arts

An Olympic Event On A Global Scale

34 Queen Beauty Universe Pageant

The Beauty Pageant For Models Proclaims "Beauty Is Back"!

46 Miss America's Outstanding Teen

MAOTeen Payton May Places The Focus On Teens
Your look
---
14 Hairstyles

Catch the Wave

Great Curls for a Day or Night look is as easy as 1-2-3-4!
By Jamie Stacy

30 BodySculpting
Bombshell Booty Training
Finding the time to workout isn't always easy, unless you have an exercise routine ready anywhere, anytime
By Shannon Dey

42 Makeup
Fall In Love!
Autumn's Unique Palette inspires this season's colorful makeup look
By Jamie Stacy

54 Fitness
Living The Physical Fitness Lifestyle
Learn how to achieve your goals through nutrition, aerobic activity and strength training
By Sharon Turrentine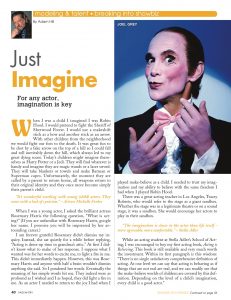 Modeling & Talent
---
28 Modeling
Model Management
Take a look at the modeling industry from those who know
By Eve Matheson
40 Showbiz
Just Imagine
For any actor, imagination is the key
By Adam Hill
People watching
---
18 Celebrity Spotlight
32 Pageantry Personalities

44 Pageantry Spirit Awards
58 Pageantry Patter
64 Competition Clips
News & views
---
10 Editorial
12 Scoops
16 Socially Speaking
Your Feedback
On Pageantry magazine's Facebook page [facebook.com/Pageantrymag] we receive a lot of your comments, letters and questions and we read and appreciate every one of them.
In each issue
---
* Pageantry Gift Shop
Offering a full line of NEW items as well as products emblazoned with the Pageantry logo. Find that perfect accessory for Prom. From T-shirts and crown pins to garment bags and luggage tags, etc…
* Pageantry Library
Find a wealth of information at your fingertips. Pageant and modeling books and videos.
6 Pageantry Overview
7 Pageantry Subscription
73 Major Display Advertisers

74 Classified Advertisers