Queen Beauty Universe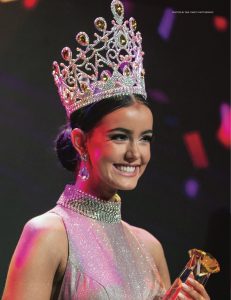 To subscribe to Pageantry magazine… Click Here
The "Pageant For Models" Proclaims Beauty is Back
Promoting an audacious motto such as "Beauty Is Back" can be a daunting job within the Glamour Lifestyle Industry, but the Queen Beauty Universe Pageant not only encourages it, the system incorporated the ideals of its bold proclamation throughout the international pageant finals.
For the first time in history, Queen Beauty Universe, the "Pageant for Models," was held in the United States, and of all places, in the modeling mecca, Miami, Florida. Before the event could showcase the thirty international models and delegates from around the world, several challenges were quickly addressed in an extremely short time frame.
Queen Beauty Universe has been perennially produced in Spain, but due to unforeseen circumstances, found itself in the unenviable position of postponing or even canceling the event. With many countries having already crowned their respective queens, decisions had to be made quickly and in the best interests of the brand. Due to the passion and belief in the Queen Beauty Universe brand, the United States directorship consisting of Thom and Tavit Brodeur-Kazanjian and team, purchased the company, assumed control of its operations, moved the international finals to the United States, and produced a world class event. This was not a decision for the weak of heart. With travel visa procurements, location confirmation, sponsorship acquisitions, staging, and all the other nuances of production needed, it was an intimidating feat. And this was all accomplished in the mere time frame of only six weeks!
After only six weeks of international preparation, the thirty women vying for the Queen Beauty Universe Pageant crown and the $50,000 in cash and prizes, began to arrive in Miami for a week of competition, beauty, and glamour. With numerous fittings, competitions, and special events, it was the week of a lifetime for many of these international delegates. Notwithstanding the compulsory competitions of Interview, Swimsuit, Runway, and Spokesmodel, everyone enjoyed the hospitality of Miami and its eclectic ambiance. The Queen Beauty Universe contestants and team were treated to a swimwear photo shoot and filming on the Miami River along with special V.I.P. treatment as guests of the ILOV305 Club in South Beach, owned by media mogul Pitbull, where they were treated to a performance by J. Severin Talent Management talent and Queen Beauty Universe finals' performance artist Estacks.
Although the excitement of Miami and its veritable call to explore the multiculturalism it offers was enticing, the spotlight of the week was Queen Beauty Universe. Throughout the competition, there was a noticeable difference within the judging process. Whereas the majority of competitions isolate the contestants and their judges, Queen Beauty Universe promoted the opportunity for the judges to view the women off-stage as well as on-stage. Thusly, judges attended meals with the delegates, interacted with them during rehearsals, and even attended the special events throughout the week. It was an opportunity not seen often in the Glamour Lifestyle Industry, but one the young women and judges both welcomed.
Following the week of rehearsals, competitions, and special events, the moment everyone traveled to Miami for had arrived, the Queen Beauty Universe finals, streamed live from the Hyatt Regency & James L. Knight Center. As the attending live crowd of friends, family members, country directors, and pageant supporters filled the auditorium, the nervous energy was palpable with the impending arrival to the stage of the Miss Queen Beauty Universe delegates.
As the lights dimmed, the stage came alive with the special opening performance of Puerto Rican Hip Hop artist Estacks and his backup dancers from the award-winning NDC dance company. Estacks performed a remake of his YouTube release "No One" which garnered over 1.5 million views before and another 200,000 views since the pageant. With Estacks and NDC as the backdrop, the stage was set for Queen Beauty Universe and the contestants did not disappoint as they took center stage.
Stage lights flashing and music thumping like the kind you hear in a South Beach club, the Queen Beauty Universe representatives received an appreciative standing ovation as they took to the stage in the Parade of Nations introductions. There was overwhelming appreciation in the knowledge that for the first time in its eight years of existence, Queen Beauty Universe was being held within the United States and had been produced from beginning to finale in only six short weeks. What an accomplishment for both the delegates and the Queen Beauty Universe team.
With the audience still on its feet, the hosts of Queen Beauty Universe were welcomed to the stage, pageant emcees EVTV personality and Telemundo star Willie Martin, and to thunderous applause, Venezuelan model, actress and Miss Universe 2008 Dayana Mendoza. Then, on to the judges and who would be making the decisions as to whom would capture the crown of Queen Beauty Universe. An enviable collection of celebrities and pageant royalty consisting of Miss Universe 1992 Michelle McLean-Bailey; Miss USA 1989 and 2nd runner-up to Miss Universe Gretchen Polhemus-Jensen; Miss United States 2014 and 2nd runner-up Miss World Elizabeth Safrit; Venezuelan Brand Builder and Creative Director, Luis Serrano; Bravo TV star Kasey Cohen; Supermodel Kim Alexis, and Celebrity Fitness Expert & Trainer to the NFL's New England Patriots Cheerleaders, Andy Berler. Which delegate had impressed her abilities to represent Queen Beauty Universe upon the judges? The answer would soon be revealed.
The moment everyone was anticipating had arrived with the announcement of the Top Ten finalists: QBU Guatemala Paulette Samayoa, QBU Spain Mara Rodriguez, QBU Iceland Sunneva Sif, QBU Argentina Brisa Yanet, QBU U.S. Virgin Islands Joane Jeffers, QBU Ukraine Anna Kostenko, QBU USA Alexia Rae Castillo, QBU Canada Kathryn Kohut, QBU Slovakia Katarina Talanova and QBU Czech Republic Lucie Janosova. One of these young ladies would soon be known as Queen Beauty Universe 2019.
The Top Ten, competing in alphabetical order, would complete the quest for the crown. It was only fitting this "Pageant for Models" would begin with Swimsuit. Next, it was time for the Spokesmodel competition with the delegates promoting the virtues of their home countries, replete in their National Costume attire. With these two competitions in the hands of the judges, the Top 10 would now be winnowed to a Top 5.
However, before the announcement of the Top 5, an extremely important and poignant award was bestowed, The Chelsi Smith Kindness Award. Unlike Miss Congeniality, which is voted upon by the winner's peers, this award is voted upon by everyone: from the hair and makeup team, to chaperones, the pageant staff, the production crew, and by the hospitality teams from the host hotel and venue. Their vote reflects who they believed had the kindest demeanor and was the friendliest of the contestants. In actuality, over 20% of the contestants were within mere points of each other for this award. In honor and remembrance of Miss USA (where she won Miss Congeniality) and Miss Universe 1995 (where she also won Miss Congeniality) Chelsi Smith, her namesake award was presented to Queen Beauty Universe Costa Rica Nadia Flores.
Following this moving moment, the Top 5 finalists of Queen Beauty Universe 2019 were announced; QBU Czech Republic, QBU Iceland, QBU USA, QBU Canada, and QBU Spain. The Top 5 were ready for the final competitions and judges' decision. The two final competitions consisted of a Q&A regarding the photographs displayed on the stage's LED screens and an explanation of the accompanying video montage from the finalists' in-person interviews conducted earlier in the week.
A lot had transpired in only six short weeks. An international pageant had been rebranded, moved to the United States, discovered a venue, gained the trust of the delegates, and produced a glamorous and professional event. All that awaited was the proclamation of the finalists: 4th runner-up Queen Beauty Universe Spain, 3rd runner-up Queen Beauty Universe Canada, and 2nd runner-up Queen Beauty Universe Czech Republic.
Finally, the last two models were standing center stage. With the announcement of the winner, Queen Beauty Universe USA captured 1st runner-up and Queen Beauty Iceland, the first Icelandic woman to capture an international title in over fifteen years, would now be forever recognized as Queen Beauty Universe 2019, Sunneva Sif.
Following her crowning, Pageantry magazine had a chance to visit with Queen Beauty Universe 2019 Sunneva Sif and learn more about her capturing the title and her plans for her exciting year.
Pageantry magazine: What went through your mind when you realized you were Queen Beauty Universe 2019?
Sunneva Sif: Wow, so many thoughts! To begin with, my team and I thought I wouldn't make it to Miami because of my work and flight issues. So the first thing I thought when I heard them say my country is that the phrase "everything happens for a reason" is not a myth. I just felt so much gratitude for my team and family and of course I was over the moon.
PM: Do you have a favorite memory or experience from the Queen Beauty Universe competition in Miami, Florida?
SS: For sure, it was the moment I was crowned. But I would probably have to say meeting everyone in the Queen Beauty family was my favorite memory. They are the most loving team you could find and they made this journey extra special.
PM: What does #beautyisback mean to you?
SS: To me, it means we are bringing more of a modeling aspect to the pageant world, bringing more high glamour! This is a platform which helps women get into the modeling and entertainment industry. It also has another meaning to me, at least because in my opinion beauty comes from within, so my take on #beautyisback is that it's reminding us to stay humble.
PM: How has the home country reaction been with you being the first Icelandic woman to capture a major crown in over 15 years?
SS: I feel like this has changed the perspective of so many people regarding pageantry. The field is not that big in Iceland and because of that, there has been a lot of judgement. I feel like this pageant and me taking home the crown has had good effects on our country. For me personally, it's been weird in a good way. I'm from a small town in Iceland and now I'm getting recognized on the streets and having people take pictures with me. It is so strange, but kind of funny.
PM: We understand you love gymnastics. What do you love most about it?
SS: I grew up in the gym. It taught me so many things and the biggest lesson I learned was that you have to put the work in yourself because no one else can do it for you. If you fail, you get back up and try again.
PM: Tell us about your first photo shoot as Queen Beauty Universe the morning after your crowning.
SS: To begin with, the whole thing had definitely not hit me yet at that moment! But the shoot was so nice and I had the best team by my side. Tavit and Josie—the pageant Beauty Bosses—stayed over to make sure my hair and makeup were perfect. Neil Tandy was our photographer and then Carl, you found the perfect location! Thom Brodeur-Kazanjian was my stylist—that guy's got an eye for bringing it all together. And Manuela was my right hand like always.
PM: You've already experienced the glamour of Queen Beauty Universe. What are some of the highlights you've enjoyed since capturing the crown?
SS: The biggest highlight for sure was walking in New York Fashion week! Walking for famous Filipino designer Albert Andrada felt like a dream. Also, I've done a couple of photo shoots here in Iceland and I did one in New York as well. We are in the process of so many things which I'm excited for. Lastly it's a highlight in itself to get to work with Thom Brodeur-Kazanjian, he is one-of-a-kind.
PM: What do you hope to accomplish as Queen Beauty Universe?
SS: I want to use this platform to inspire women to find their inner beauty and encourage them to follow their heart. I feel like it's so important for young people in general to realize that they are enough exactly the way they are, they just need to be true to themselves and do what makes them happy regardless of what others think.
PM: Do you have any advice for other women who dream of becoming Queen Beauty Universe?
SS: Just go for it, I know it's a cliché, but it's the truth. You can achieve anything you want to in life if you put your mind to it. Go for it, meet new people, open new doors and have fun while you're at it. Bottom line is you are only going to get good things out of this regardless of the outcome. Just remember that this is an adventure you should be heading into for yourself and no one else. Be you and let your light shine!
PM: Any additional thoughts?
SS: I just want to use this opportunity to thank the Queen Beauty family for creating this one-of-a-kind platform for women around the world. They've created such a loving thing and every single person in the team is amazing. I look forward to seeing what next year's pageant will be like.
PM: Is there anyone you would like to recognize?
SS: My national directors Jorge Esteban and Manuela Ósk. You two are a dream team. Manuela is like my sister and she made this experience a thousand times better. She taught me that being a strong minded woman comes with a price, but that's not something that can ever stop you from achieving your dream. Also my family for being my biggest supporters and always reminding me to stay humble and enjoy every moment.
To subscribe to Pageantry magazine… Click Here
To read the entire Queen Beauty Universe feature, click here for PageantryDigital
To learn more about Queen Beauty Universe… Click Here