National American Miss Pageant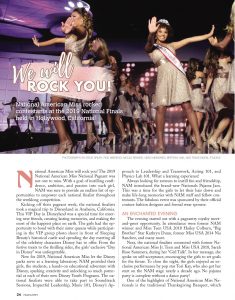 National American Miss will rock you! The 2019 National American Miss National Pageant was not one to miss. With a goal of instilling confidence, ambition, and passion into each girl, NAM was sure to provide an endless list of opportunities to empower each national finalist throughout the week-long competition.
Kicking off their pageant week, the national finalists took a magical trip to Disneyland in Anaheim, California. This VIP Day in Disneyland was a special time for meeting new friends, creating lasting memories, and making the most of the happiest place on earth. The girls had the opportunity to bond with their sister queens while participating in the VIP group photo shoot in front of Sleeping Beauty's historical castle and spending the day meeting all of the celebrity characters Disney has to offer. From the festive treats to the thrilling rides, the girls' exclusive "Day in Disney" was unforgettable.
New for 2019, National American Miss let the Disney parks serve as a learning laboratory. NAM provided their girls, the students, a hands-on educational adventure with Disney, sparking creativity and unlocking so much potential at each of their new Disney Youth Programs. The national finalists were able to take part in Soundtrack Sessions, Impactful Leadership, Music 101, Disney's Approach to Leadership and Teamwork, Acting 101, and Physics Lab 101. What a learning experience!
Always looking for avenues to instill fun and friendship, NAM introduced the brand-new Nationals Pajama Jam. This was a time for the girls to let their hair down and make life-long memories with NAM staff and fellow contestants. The fabulous event was sponsored by their official couture fashion designer and formal wear sponsor.
An Enchanted Evening
The evening started out with a pageantry royalty meet- and-greet opportunity. In attendance were former NAM winner and Miss Teen USA 2018 Hailey Colburn, "Big Brother" Star Kathryn Dunn, former Miss USA 2014 Nia Sanchez, and many more.
Next, the national finalists connected with former National American Miss Jr. Teen and Miss USA 2018, Sarah Rose Summers, during her "Girl Talk". In her message, she spoke on self-acceptance, encouraging the girls to set goals for the future. To close the night, the girls enjoyed an exclusive performance by pop star Tori Kay, who also got her start on the NAM stage nearly a decade ago. No pajama party is complete without a dance party!
One of the highlights of National American Miss Nationals is the traditional Thanksgiving Banquet, which opened in true National American Miss style with the drawing of a brand-new FORD MUSTANG Convertible! Girls from around the nation gathered in the Platinum Ballroom for the chance to win the coveted prize. This year's Mustang was awarded to Sophie Lansell, Miss Tupelo All-American Jr. Pre-Teen.
A "Queen's" Banquet
After the big giveaway came the family-friendly Thanksgiving Banquet, and it would be a banquet unlike any other in the 17-year history of National American Miss. Donned in black, white, and rose gold attire, the contestants and their families gave thanks with their friends, both new and old. During the Thanksgiving Banquet, this year's contestants were in a for a BIG treat—a surprise rock concert lead by NAM National Director Steve Mayes on electric guitar, NAM State Director Ryan Ewing on vocals, and the twelve national queens on drums and chorus. As this was a national pageant where queens would be crowned, in an homage to classic rock icons, Queen, the audience beamed and sang along as they jammed out to "We Will Rock You" and "We Are the Champions."
Contestants Compete
The national finalists competed in five required areas of competition: Formal Wear, Personal Introduction, Interview, Resumé, and Community Service. Each element of the competition is specifically designed by National American Miss to equip each contestant with the confidence to achieve their dreams. In the Formal Wear competition, each contestant walked down the runway in the gown of their choosing, emulating confidence and poise. In Personal Introduction, the girls competed within public speaking while sharing their future hopes and ambitions in front of an audience. For Interview, the contestants sat down with each of the prestigious judges to share their personalities and test their communication skills. The delegates were also scored in Resumé, where they showcased not only their grades, but also their interests and passions. And finally, the girls submitted their Community Service Project, which encourages them to volunteer in their communities. Through this competition, contestants willingly and unselfishly donate hundreds of hours with select organizations, or even start their own non-profits. NAM's primary goal is to create future leaders by instilling real life skills through these five pillars of competition.
So Many Options
National American Miss also offered several optional contests during NAM Nationals. Many of these Optional Contests focused on the performing arts and the entertainment industry. Contestants practiced how to audition in the Actress contest, address the public in Spokesmodel, and even work the camera in a photo shoot for the Top Model Search Contest. A favorite of the Optional Competitions was Runway Model, a high fashion catwalk contest. Staying true to pageantry, NAM also offered a Talent and Photogenic contest.
An exciting new addition to NAM Nationals 2019 was the Red Carpet Correspondent contest, which gave delegates the opportunity to learn how to report live from an event. Finally, two national finalists were selected to be the "Face" of their boutique sponsor throughout the year. Each of these optional competitions provided the contestants the opportunity to not only hone their skills, but also discover new and exciting passions.
Capturing the Crown
The National Finalists are truly leaders within the Glamour Lifestyle Industry, as each contestant had to qualify in her specific age group in order to compete. Girls, ages 4-24, can receive their "Rose Gold Ticket" to Hollywood by either excelling at their state pageant or applying to the appointed representative program. In order to compete for the National American Miss title, one must capture the crown at her state pageant.
In order to compete in the All-American Miss division, young ladies can qualify by placing as a runner-up to the state queen title, excelling in optional contests, or participating in the Spotlight Contest program. Six National American Miss and six National All-American Miss titleholders make up the twelve National sister queens.
Each of the newly crowned queens walks away with one of the largest prize packages in the nation. The prize package consists of a large cash prize, complimentary travel throughout her year of service, a trip to the national queen's photo shoot, a Carribean cruise, custom jewelry, gift cards, luggage, appearance gown certificates, hair, makeup, and wardrobe consultations, and much more. The National American Miss national prize package is made possible thanks to all of their amazing sponsors.
Visiting Disneyland, dancing at the Pajama Jam, partying at a rock concert, giving thanks at the Thanksgiving Banquet, honing important life skills, and practicing their passions through the optional competitions, the hundreds of nationwide delegates who went to NAM Nationals 2019 had a meaningful and unforgettable experience with other goal-oriented young ladies from across the country.
We can't wait to see how NAM girls will rock 2020, on and off the stage!
To learn more, please visit National American Miss