Miss Universe 2019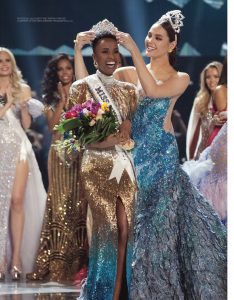 To subscribe to Pageantry magazine… Click Here
Miss Universe 2019 returned to the United States and it was a spectacular extravaganza. Televised worldwide on the FOX network and Telemundo, the global event was broadcast from an expansive soundstage at the new Tyler Perry Studios in Atlanta, Georgia, the same production lot where such renowned names as Oprah and Whoopi are proudly displayed for all to see. Miss Universe brought her crown and title to this illustrious venue in what would be a historical night.
In an explosive opening number featuring the ninety beautiful and intelligent country representatives, the Miss Universe delegates and pop sensation Ally Brooke brought the live audience to their feet with an undeniable energy which only the Miss Universe pageant possesses. Hosted by the witty and self-deprecating Steve Harvey, along with Miss Teen USA 1998 and television personality Vanessa Minnillo Lachey and Miss Universe 2012 and social media influencer Olivia Culpo, viewers from around the world were initially treated to the delegates featured in their national costumes as they took to the Miss Universe 2019 stage.
Within the Miss Universe competition, the top twenty finalists would come from the regions of the Americas (five), Europe (five), Africa and Asia Pacific (five), with the remaining five finalists coming from any region. Taking the stage to compete for the title of Miss Universe 2019 from Africa and Asia Pacific: Miss South Africa Zozibini Tunzi, Miss Indonesia Frederika Cull, Miss Vietnam Thuy Hoang, Miss Nigeria Olutosin Araromi, and Miss Thailand Paweensuda Drouin. The ladies representing Europe: Miss Albania Cindy Marina, Miss France Maëva Coucke, Miss Iceland Birta Abibi, Miss Croatia Mia Rkman, and Miss Portugal Sylvie Silva. Followed by the Americas' Miss Puerto Rico Madison Anderson, Miss Peru Kelin Rivera, Miss Dominican Republic Clauvid Daly, Miss Mexico Sofía Aragón, and Miss USA Cheslie Kryst. To begin the competition for the Miss Universe 2019 title, all that was left was the announcement of the final five from various regions: Miss Philippines Gazinni Ganados, Miss Venezuela Thalia Olvino, Miss India Vartika Singh, Miss Brazil Julia Horta, and Miss Colombia Gabriela Nader.
With the twenty finalists recognized and after the presentations of a fifteen second Opening Statement and Personal Introduction, the Miss Universe field was narrowed to the Top Ten of Miss USA, Colombia, Puerto Rico, South Africa, Peru, Iceland, France, Indonesia, Thailand, and Miss Mexico. The outstanding Top Ten were diverse and represented all the regions within the competition.
Embracing the beauty, as well as the empowerment of women worldwide, the Top Ten country contestants displayed confidence, self-awareness, and commitment to a healthy and fit lifestyle during the Swimwear Competition.
Always graceful, poised and beautiful, the Evening Gown Competition would winnow the field to the Top Five. Throughout the appreciative applause and support of the live studio audience, each delegate was exquisite in her personal choice of evening wear which displayed her personal sense of style and elegance. With the final presentation, the Top Five of Miss Mexico, Miss Thailand, Miss Colombia, Miss Puerto Rico, and Miss South Africa would continue to the crown of Miss Universe 2019.
Next, was the Final Question Round with each contestant answering a socially current and pertinent question. The questions presented were, "Is protest a positive way to create change? (Mexico); What is more important, privacy of security? (Thailand); What do you feel is the most important issue in women's health? (Colombia); Should social media platforms restrict free speech or regulate what people post? (Puerto Rico); Are leaders today doing enough to protect future generations from climate change?" (South Africa). Thought provoking and appropriate in today's environment, each contestant was able to succinctly and eloquently answer the question presented to her, and all in front of a worldwide live audience! That's extreme pressure and each one received the rousing applause and congratulations she deserved.
With each round of competition completed, another reduction of the field was announced, this time to the Final Three. They would each answer the same question to separate them from the others. The Final Three consisting of Miss Mexico, Miss South Africa, and Miss Puerto Rico would address the Final Word question, "What is the most important thing we should be teaching young girls today?"
As the Miss Universe Selection Committee pondered the answers, a new Miss Universe opportunity presented itself with the Final Three finalists giving a Closing Statement as to why she would be the right choice for Miss Universe 2019.
After three hours of intense competition, the Selection Committee had come a conclusion and the ballots were cast. Miss Mexico Sofía Aragón was announced as 2nd Runner-up. With the final two standing center stage, the universe awaited the decision.
With the proclamation of Miss Universe, Miss Puerto Rico Madison Anderson placed 1st Runner-Up and from South Africa, Zozibini Tunzi captured the crown of Miss Universe 2019. She is only the third woman from the country to do so, and the first woman of color to capture the crown for South Africa. Miss Universe 2019 Zozibini Tunzi is truly a reflection of the universe.
Pageantry magazine: You're only the third woman from South Africa to capture the crown of Miss Universe. What has the reaction been from home?
Zozibini Tunzi: I think everyone is still losing their minds. It's been a week, but it's still fresh in their minds because I think everyone is just so proud. South Africa is a country which celebrates each other's victories because when we go out to represent our country, it's never really about ourselves, but about everyone else. So everyone has been excited about it.
PM: Much has been made of your decision to compete with natural hair. What would you say to those who recommended otherwise?
ZT: For me, it's just been such a crazy conversation to have because this is my hair. This is how I was born to look. When I had those conversations, I was taken aback a little because it is the way I look and it's who I am. I did get advice to put on a weave, or to put in extensions because I guess it is the standard norm of what beauty has been seen to be in the past.
I would tell them being your authentic self is really the best thing you can do for yourself. This is not to say anything about people who do put on extensions because if they feel like they identify best with themselves, then I think that's absolutely perfect too.
PM: You mentioned you wanted other young women to see their reflection in you. Can you explain that a little more?
ZT: We cannot be what we cannot see. When I grew up, I didn't really see women who looked like myself represented as much in media, in corporate or in politics. It does something to your self-confidence as a child when you cannot relate to people.
So that's what I meant when I said I wanted them to see their faces reflected in mine. I want them to know they are capable of achieving great successes in life, regardless of their background, regardless of how they look. It doesn't even have to be an issue of race, it just has to be an issue of feeling different and feeling like you don't belong in spaces.
PM: We now have five major titles which are held by black women. How does that make you feel?
ZT: I feel so honored to be a part of such a fantastic group of women, especially women who have been underrepresented in the past before. Seeing as the world has always been so racially divided in the past, I think we're finally moving forward to a place of unity, and saying, "Here are women who have been misrepresented, underrepresented before, taking up these leadership positions of not only beauty, but intelligence as well." I think it's a fabulous change to be happening at this time.
PM: As one of four sisters, where do you fall in age?
ZT: I'm the second one of my sisters. So I have one big sister and two little sisters.
PM: Do any of your other sisters model?
ZT: No, they don't. None of them do. I never really modeled much either; I went to school and I was doing my internship in PR at the same time.
PM: How has your move to New York been for you?
ZT: It's been fantastic. Aside from the fact I can't feel my toes anymore because of the cold, everything else has been amazing. I love the people, I love the energy and the vibrancy of it all. It's been quite exciting to stare out of my window and watch people move up and down the streets, looking like they have somewhere to be. I think everyone looks like they're on a mission here and I love that about New York.
PM: Obviously the weather is very different.
ZT: The weather is very different, considering that back home right now we're in the middle of summer. Everyone is at the beach having a nice time. It's much colder here, but it is New York, still fantastic as well.
PM: Let's talk a little bit about your whirlwind New York media tour.
ZT: It was quite exciting for me because the world wants to find out about me, my country and what I plan to do with the platform. So for me, it's very exciting. It gives me an opportunity to be able to spread more awareness about the ideas I'm passionate about.
PM: Why is education so important to you?
ZT: I always feel like education is that one item people cannot take away from you. You can go through the worst, and you might be ripped off from everything you have, but education is something you will take with you forever. I feel like it gives you an extra advantage to be able to navigate yourself and to make it in the world.
So that's why, especially coming from South Africa where education for a lot of people is something which is quite difficult to get, it's so important to me. I see what it has done for me as a young woman and I feel like everyone deserves to have that chance as well.
PM: Your platform is against gender violence and bias. Did this come from a personal experience?
ZT: Not really a personal experience. I think because I am a woman, it is personal in a way because every woman is at a risk of, at least once in their lives, facing some sort of sexual harassment.
My gender-based violence HeForShe campaign with the United Nations is something I started back home as Miss South Africa. I'm hoping I will continue working on this campaign as Miss Universe.
It speaks about calling on men to stand with women in the fight against gender inequality and gender-based violence. This is closest to my heart because gender-based violence and gender inequality is a societal issue. It's a world issue. It's not just a woman issue, which is why I feel strongly about bringing in men to help us spread the message. Please visit HeForShe.org and pledge to support women.
PM: So we're going from top 20 to 15 to 10 to 5 to 3. What were you thinking when you kept hearing Miss South Africa?
ZT: It's so quick. You don't even have a chance to actually take it in because it's so fast-paced. You're going backstage, you're changing, they're calling your name. Next thing you know, it's interview round. Next thing you know, it's top three. You don't really get time to sit and think about it. Mainly gratitude, I really think every time they said my name, I felt so grateful.
PM: Of course everybody wants to know what was going through your mind when you're center stage with only one other contestant.
ZT: In my mind, I'm thinking, "Oh, my gosh. I mean, I made it this far. What are the chances of being in a competition with 89 other women, who are already winners where they come from, who are smart, who are intelligent and have so much to offer to the organization and to the world?" You just feel lucky in that moment.
I think we cannot take for granted that luck is a thing, because inasmuch as I'm capable, they were capable too. I guess it was my time, we have to give it to luck as well, and just the universe coming together and saying this is my time. It was quite a moment of gratitude.
PM: Are you still performing your daily affirmations in the morning?
ZT: Yes, I am. I really do. It doesn't stop just because now I won Miss Universe. I still like to wake up every day and remind myself of my purpose, and remind myself that I'm worthy of this crown and being Miss Universe. So definitely, daily affirmations are still happening.
PM: As a worldwide role model who has made history, what would you like others to know about you?
ZT: I want them to know I haven't always been this confident, because I know sometimes I do come across as confident and maybe I have it all figured out. I don't have it all figured out. I wake up every day and I try to navigate as it comes. I have my own insecurities which I've had growing up, that I still have even now. It's just to say I'm not perfect. I'm just as human as the next person.
PM: Do you have any parting thoughts, or is there anybody you would like to recognize?
ZT: I just want to recognize my mother and my grandmother because I feel like I am where I am today because they are literally the roots, and I'm the branch which grows from the roots. I'm here because of sacrifices they made. Everything they taught me brought me to where I am today. So I just want to thank them.
PM: Do you have a goal as Miss Universe 2019?
ZT: Yes I do have a goal. I just want whatever message I spread out to the universe, I hope it means something to someone. If it touches even just one person's life, I feel like I would have done half the job I wanted to do as a Miss Universe. So my goal is to be responsible with the platform, and to make sure my intentions come through.
PM: You're going to have an unbelievable travel schedule. Is there one country you would like to visit?
ZT: I've always said I wanted see India, they're so rich in culture. I'm someone who loves learning about cultures and hearing stories, and I've always felt like they had quite a rich one.
PM: Have you had very much time to spend with your sister queens?
ZT: Actually, I haven't. I live with Cheslie, Miss USA. So I've spent quite some time with her. I haven't spent time with the other sister queens, but I'm sure that's something which is going to happen during the course of the year. I cannot wait for it because I had such a fantastic time with the contestants.
To subscribe to Pageantry magazine… Click Here
To read the entire feature in PageantryDigital… Click Here
To learn more about Miss Universe… Click Here