Miss Teen USA 2020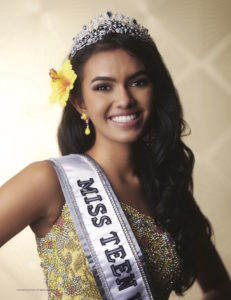 To subscribe to Pageantry magazine… Click Here
Miss Teen USA 2020 was welcomed back to the stage in the COVID-19 friendly environment of the Graceland soundstage in Memphis, Tennessee. Hosted by Miss USA 2019 Cheslie Kryst and television sports personality and Miss Teen USA 2005 Allie LaForce, the fifty-one teen representatives of Miss Teen USA would vie for the crown before a socially distanced live audience, while also enjoying the worldwide audience during the live-streamed celebration.
With the Miss Teen USA state representative introductions complete, the Top 16 finalists were announced: Miss Teen USA Arizona Molly Schwanz, Miss Teen USA North Carolina Peyton Brown, Miss Teen USA California Zoe Hunt, Miss Teen USA Oregon Shayla Montgomery, Miss Teen USA Nebraska Audrey Eckert, Miss Teen USA Louisiana Sydney Taylor, Miss Teen USA South Carolina Gracen Grainger, Miss Teen USA Ohio Lily McLaughlin, Miss Teen USA Georgia Shayla Jackson, Miss Teen USA Hawaii Ki'ilani Arruda, Miss Teen USA Arkansas Anna Hay, Miss Teen USA New Jersey Jaelynn Polanco, Miss Teen USA Oklahoma Danika Christopherson, Miss Teen USA Tennessee Ansley Ecker, and Miss Teen USA Maine Grace Morey. By the end of the evening, one of these teens would wear the crown of Miss Teen USA 2020.
The Top 16 Miss Teen USA finalists would compete on-stage in both the Activewear and Evening Gown competitions. High energy and up-tempo, the Activewear Competition showcased each contestant's goal of a healthy lifestyle. Fan favorite, Evening Gown, was poised and graceful with each delegate receiving a warm and appreciative acknowledgment from the studio audience. Activewear and Evening Gown would bring the Miss Teen USA Pageant to the Top 5 finalists representing the states of Georgia, Oregon, Nebraska, Louisiana, and Hawaii.
These Top 5 Miss Teen USA state titleholders, representing the ambitious and empowered teens of today, would advance to the Final Question phase. Displaying a knowledge of today's current events and social concerns, each delegate embodied the USA's hope for tomorrow while addressing such topics as: whether or not distance learning can be effective despite the lack of in-person engagement, what law would they like to see enacted within their home state, what one book would be a recommended read for all teens, should a college education be free for all Americans, and what has the worldwide pandemic taught them about life. Even though many adults struggle to answer these questions, each of the teens gave a heartfelt and educated response. As the Miss Teen USA 2020 Pageant was nearing the crowning moment, Miss Teen USA Washington Marianne Batista was recognized by her peers as Miss Congeniality.
Miss Teen USA 2020 was ready for her crowning, beginning with 4th Runner-Up Louisiana, 3rd Runner-Up Nebraska, and 2nd Runner-Up Georgia. Socially distanced on-stage the final two anxiously awaited the selection committee's decision. With the announcement of Miss Teen USA 2020 as 1st Runner-Up Oregon, Ki'ilani Arruda of Hawaii captured the crown of Miss Teen USA 2020. Ho'omaika'i 'ana Ki'ilani Arruda, Miss Teen USA 2020!
Pageantry magazine welcomed the opportunity to visit with Miss Teen USA Ki'ilani Arruda to discuss her plans as a representative of teens throughout the world.
Pageantry magazine: Tell us about when you were standing center stage, waiting for the announcement of Miss Teen USA 2020. How surreal was that moment?
Ki'ilani Arruda: Oh gosh. There were so many emotions building up to that moment, the whole week, the whole year of preparation, just to be standing there in the top two, a position I've always dreamed about being in was amazing. Hearing my name called was just mind blowing. I couldn't believe it. I knew everybody at home was freaking out, and my friends and family who were in the audience were freaking out, and I was freaking out. So, it was really amazing!
PM: I know it's a surreal moment, but has it become a reality? You're only the second young woman in 36 years from Hawaii to capture the Miss Teen USA crown.
KA: I know Hawaii hasn't captured the crown or even placed in the top 15 for a couple of years, so knowing that, I had this big responsibility going into the pageant. I wanted to go in and try my best and have fun. Being the second winner to take the Miss Teen USA crown for Hawaii meant a lot for me and for my home because Hawaii is where I was born and raised and where I grew up. My community means a lot to me and getting to do that for my community and bringing the crown home to Hawaii was something super humbling for me and something I'm super grateful for.
PM: I know you're relatively new to pageantry, to the Glamor Lifestyle Industry, and that you did compete for the Miss Teen USA title for Hawaii twice. What do you think the big difference was between year one and year two?
KA: The first year going into it, I was very new to pageantry and I didn't know what direction I wanted to go in. Mainly, I was doing it for experience and fun. However, going into the second year, I had concrete goals in what I wanted to do. That's what helped me, having these concrete goals and having these visions in my mind of what I would want to do with the title, and who I want to be, and what I want to get out of pageants. There's a whole world out there and pageants have helped me grow and learn as a person. Going into the second year I was confident in myself, I knew what I wanted to do, I had a plan, and that helped me accomplish my goals and become who I am today.
PM: I know you've already had a wonderful, exciting and virtual homecoming so far.
KA: Yes, it was interesting. There were a lot of Zoom interviews, which I enjoyed a lot, like what we're having here today. We're all making it work with this virus, but it's nice getting to talk and share my stories with people. Even though I couldn't fully celebrate, like hug and kiss my whole family and all my friends, it was still good to feel everybody's support.
PM: I heard you had a very special proclamation given to you when you went back home.
KA: I was completely shocked when the mayor announced he wanted to name a day after me. I was like, a day after me? What? It was like a second birthday. I was so happy, I wanted to eat cake and celebrate. It was so fun!
PM: Where's the proclamation hanging right now?
KA: It's at home. I couldn't take it to college because I packed too many bags already. I'm kind of a clothes-aholic. It's at home with my parents, so they're really proud.
PM: When people think of Hawaii, they think of the main tourist areas, what you call the Big Island. You're actually from the oldest island. Can you tell us about that?
KA: I'm from Kauai. I was born and raised in Kauai. What I love about my island is it's a really small community. I know Hawaii is small in itself, but being from one of the oldest and one of the smallest islands, it's nice getting that sense of community, and growing up in a very laid back and relaxed community. I love to go hiking. I love going to the beach. I'm a little biased and I say Kauai is my favorite island, the best island.
PM: As a freshman in college, you're studying molecular and cellular biology. What got you interested into the STEM research field?
KA: I have always loved STEM. It's something I was always really interested in. For me, I love getting to work with the microscopes, and getting to look under the cells, and with bacteria. It's something I think a lot of people are interested in and need to push more because, especially for women in STEM, I feel like we don't have enough representation. I know there's women in STEM who have been in STEM for a long time, however we haven't had the recognition we need.
PM: I do know autism awareness is very close to your heart, would you like to speak a little bit about that?
KA: My little brother, he was diagnosed with autism at the age of two. With him being on the spectrum and my family not really knowing a lot about his diagnosis, it was difficult for us to navigate through his impediments and what he needed. Over time we did figure out what he needed and got the resources that would make him thrive. I want to advocate for other families and other people who are on the spectrum to help them find the resources they need. It's important to build a sense of community for those with autism and their families, especially during the times like now with Coronavirus, having a connection with others and their support is so truly important.
PM: I'm the father of two teenage boys and this pandemic has thrown young people's lives into disarray. What do you feel is the greatest challenge facing teens today?
KA: Speaking for myself, it's been mostly about the disconnect from other teenagers. Before the pandemic, I had so many activities going on and I was so busy with school, and the pandemic slowed all of that down. I know people can feel a little isolated, a little lost at some point. It's about honing into what drives you, what makes you happy, and getting involved. Whether you can join clubs on Zoom or talk with your friends online, even though we're all socially isolated, it does not mean we have to completely isolate ourselves. Check in with your friends and family, make sure they're okay too. Use this time to have deep, connecting conversations with your friends and family.
PM: Tell me something unique about yourself that you haven't told anyone else yet.
KA: Being here in the dorm, I have gotten to love decorating my room. I am kind of obsessed with plants now. I'm starting to become a plant mom. I hope I can keep them all alive throughout the semester. That is my one goal, to keep all my plants alive.
PM: You're not only embraced by American culture, but also by the Filipino culture. A lot of people did not know that. They have some of the most passionate pageantry fans in the world. How has that been working out?
KA: The community in the Philippines, they've been so amazing. I've had a couple interviews with some people in the Philippines and they all express their support. It's heartwarming to have them support me because yes, I am half Filipina, and I know there are many previous Queens, such as Catriona Gray and Pia Wurtzbach who are my role models. Just knowing I can continue their legacy and that I have these people supporting me, is so awesome.
PM: What do you hope to accomplish as Miss Teen USA?
KA: There is a lot I hope to accomplish. For one, I know Miss Teen USA is a role model for teens. I want to inspire other teens, especially other young women to feel comfortable in their own skin, love themselves and be confidently beautiful, which is the motto for the Miss Universe organization and the Miss Teen USA organization.
Of course, I would like to continue working with organizations such as Smile Train and Best Buddies. Best Buddies is close to my heart particularly because they work with people with intellectual and developmental disabilities. Just taking this year step-by-step and day-by-day, and really enjoying everything I get to do, like talking to you. I love this so much. I've never received a lot of exposure before in the past, so being able to talk with other people, share my stories, and hear other people's stories, it's amazing what this title can do for you.
PM: How can fans follow you?
KA: They can follow me on Instagram @MissTeenUSA2020.
PM: Any parting thoughts or anybody you would like to recognize?
KA: Yes, I would like to thank my family back home for always supporting me and being my number one fans throughout the years. They encouraged me to keep up with my dreams and aspirations and pushed me never to give up. Also, everybody who has helped me in between. All of my pageant sisters from the other 50 states, that's who I dearly miss the most. The pageant was one of the best experiences of my life, getting to meet the other 50 contestants from all around the United States. I'd like to thank them for being my sisters and everybody in between, and everybody listening or reading this. Thank you so much.
To read the entire Miss Teen USA 2020 feature… Click Here
To subscribe to Pageantry magazine… Click Here
To learn more about Miss Teen USA… Click Here