Miss Earth USA 2021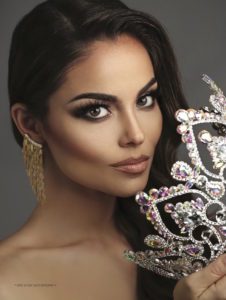 Miss Earth USA 2021 officially opened the competition season as the nationwide delegates enjoyed the 2021 Miss Earth USA finals in sunny Orlando, Florida, in quest of the title. Live-streamed from the Linda Chapin Theater, the Miss Earth USA Pageant was a beacon of beauty, hope, social distancing, and ecological awareness. The delegates were the epitome of Beauties for A Cause.
After several days of preliminary competitions including Video, Social Media, Interview, Runway, Swimwear, and Evening Gown, the Miss Earth USA grand coronation night commenced with the announcement of the Top 20 representatives, one of whom, would soon be Miss Earth USA 2021: Miss Nebraska Earth (Angel Strong), Miss  California Earth (Alyssa Klinzing), Miss Texas Earth (Ana Avila), Miss  Maryland Earth (Megan Cox), Miss Wisconsin Earth (Emma Loney), Miss District of Columbia Earth (Jessica-Lynn Carvajal), Miss Colorado Earth (Alyssa Magalong), Miss Maine Earth (Marisa Butler), Miss  Alabama Earth (Kennedy Thomas), Miss Northeast Earth (Lorreen Agandi), Miss New Mexico Earth (Bianca Wright), Miss New Jersey Earth (Katrina Albanese), Miss Virginia Earth (Eliana Mills), Miss New York Earth (Skylee Lawton), Miss New England Earth (Kathy Zhou), Miss Tennessee Earth (Brittany Burnett), Miss Minnesota Earth (Sydney Hella), Miss Arizona Earth (Adesuwa Osayaren), Miss Delaware Earth (Kayla Morgan), and Miss East Coast Earth (C'yana Denby).
Miss Earth USA began the competition in earnest with the first stage competition of the evening, Runway. Following the presentation of the initial finalists in the Runway competition, the Miss Earth USA Top 12 were announced: New York, Maine, Minnesota, Colorado, Alabama, Nebraska, Virginia, California, East Coast, Wisconsin, District of Columbia, and Texas.
As the judges focused on the stage and the live theater audience cheered on the Top 12 Miss Earth USA finalists, the stage heated up with the Miss Earth USA Swimwear competition, followed by the ever-present poise and glamour of Evening Gown. With two stage presentations complete, the Top 5 of Miss Earth USA took center stage: Colorado, East Coast, Maine, California, and Alabama.
Miss Earth USA 2021 would crown one these five remaining delegates, but not before each expressed her view regarding a current topic in the Final Statement round. Relevancy and a succinct statement would be crucial in the allotted time.
The year 2020 was addressed by Miss Earth USA Alabama, Social Justice by Miss California, Woman by Miss Earth USA Maine, Democracy by Miss Earth USA East Coast, and Mental Health by Miss Earth USA Colorado. It was a wide-ranging set of pertinent issues addressing the cultural topics of today.
The judges cast their decisions and the court consisted of the four elemental titles of Miss Earth USA. The titles represent the crucial environmental concerns facing our planet, and each title presents the opportunity to spread awareness on specific concerns. Working in tandem, all the elemental titles work together and embody Beauties for A Cause.
With the competitions complete, the elemental titles and Miss Earth USA 2021 were proclaimed: Miss Earth USA Eco—East Coast, Miss Earth USA Fire—Alabama, Miss Earth USA Water—Colorado, Miss Earth USA Air—California, and Miss Earth USA 2021 Marisa Butler (Maine), who will represent the United States on the international Miss Earth stage.
Pageantry magazine recently visited with Miss Earth USA 2021 Marisa Butler to discuss her passion for the environment and her goals as Miss Earth USA 2021.
Pageantry magazine: What was it like competing at Miss Earth USA 2021 as one of the only live events so far this year? 
Marisa Butler: There were some challenges navigating and putting together a pageant during a pandemic. As you know, it was originally supposed to be held during August in Las Vegas. Then it got moved to beautiful Orlando, which I was happy about since I have family down there, so they were able to come. The hardest part about competing was wearing a mask and keeping your makeup looking nice. As you can imagine, our lipstick was falling off underneath our mask, making a huge mess under there. So that was something new for competing in pageants this year.
Overall, it was an amazing experience getting to meet all these wonderful women from across the country.  We were so fortunate to have such a great staff who made sure it was a wonderful experience for all of us. No matter what was going on in the world pandemic-wise, they were making the pageant a happy, safe, healthy environment for all of us girls to have a great experience.
PM: What does the title of Miss Earth 2021 mean to you?
MB: For me, this was a 10-year long journey to get to this title. It was the crowning moment of the entire pageantry experience for me. Miss Earth USA just fits my personality better than any other pageant system. I've always been environmentally focused, so being able to end my pageant career on this high note with Miss Earth USA, within a system I feel has the same moral obligations as I do to the environment, is just really amazing. We have such a helpful leadership staff, and that makes all the difference as a contestant on whether or not the pageant is going to be a positive experience.
This title means absolutely everything to me. I was waiting until the right time to switch over to the system because I wanted to be ready for it when I got there. I wanted to make sure I had worked on all my weaknesses, and was ready to represent the United States at Miss Earth.
PM: With all the COVID restrictions, did you have any challenges getting to Orlando?
MB: Getting to Orlando wasn't too bad as I had a direct flight.  However, I was a little bit nervous for my parents. My dad has an auto-immune disease which affects his lungs, so it would be very troublesome if he got COVID-19. Instead of flying, they drove down which was wonderful because they were still able to go, and everyone was able to stay healthy.
PM: How did you and your sister delegates handle the social distancing protocols?
MB: Oh, it was wonderful. We all paid attention to the rules of the organization. We were making sure to keep distant and we were wearing our masks at all times. Another new thing, we had to decide whether we wanted to have our own room versus having a roommate as we would traditionally. For most of us, we did miss out on that roommate experience, but it did help us all maintain social distancing.
PM: What are some of the goals you have as Miss Earth USA 2021?
MB: One of the biggest and most obvious goals I have as Miss Earth USA 2021 is to capture the back-to-back title of Miss Earth for the United States. As we know, Lindsey Coffey was the very first United States representative to have obtained the title. I'm looking to make history yet again, by having our first back-to-back wins for the United States. Aside from that, I want to share my advocacy, The Collective Earth, which focuses on habitat restoration and preservation for endangered, at-risk plants and animals. San Diego, where I currently reside, is home to more endangered plants and animals than anywhere else in the continental United States. I have a lot of work I can do right here, in my own backyard, which is great because with COVID-19, I'm probably not going to be able to travel as much as you typically would as a Miss Earth USA during this year.
I love encouraging people to join in on the movement across the country. I have my own cleanup organization called, We Clean Trails.  I am looking to expand it, allowing other state delegates to start their own chapters in their states. I'm hoping to see We Clean Trails in all 50 states in the next couple of years.
PM: Can you give us some insight into The Clean Earth Project?
MB: The Clean Earth Project is one of our amazing sponsors. They have their own clothing line and their donations go towards causes which help our environment and our world. I have some beautiful bracelets they gave me as part of my prize package. Those bracelets go towards helping different animals. I have a turtle one and a shark one.
PM: Is there any advice you can give someone hoping to compete for the title of Miss Earth USA?
MB: Regardless of the title, you need to learn who you are first. We spend so much time trying to figure out what it is a pageant is looking for. At the end of the day, they're looking for someone who knows who they are. That is the most important piece of advice I would give to anyone entering the pageant, or even any type of job; get to know who you are as a person, what your convictions are, and why you hold those opinions first. So that way, when you get into a situation like an interview, either with the judges or the media, or even an interview for a job in the future, you can use your voice confidently. We always talk about pageants giving you that microphone to be able to share your thoughts and feelings on a much larger scale, but if you don't know what you want to share, you're wasting that platform. At the end of the day, the most important part when you are competing for a pageant is to know who you are.
PM: You have competed in other systems, what is special about Miss Earth?
MB: With other pageants like Miss America or Miss USA, you can have any type of platform you want, but with Miss Earth it must be environmental in nature. I think it is amazing we can make a big impact on the world because we have such a focus on what our mission is, and this is something that has not changed in the 20 years Miss Earth has been around. That mission is something near and dear to my heart, a huge part of who I am as a person that far predates my involvement with pageants. I found a pageant system I felt really spoke to who I was as a person and what I felt was important for our future as a community.
PM: What have you learned about yourself through competitions?
MB: I started off in pageants 10 years ago as a very shy, nerdy jock who didn't know anything about hair, makeup or styling.  I also didn't have many female friends at that point. I saw pageants as a way to grow into a confident, young woman, proud of my femininity. It's not a weakness to embrace your feminine side. I think that was a big shift mentally for me; it made me accept another part of who I was.
Aside from that, I learned how to practice for interviews.  Practice asking yourself any type of question and you have to come up with an answer for it. You must know why. I enjoyed taking the time to get to know a lot on a wide variety of subjects. It allowed me to be comfortable enough to talk to anyone.  As my dad always said, " If you can get onstage in a bikini and heels for the sole purpose of being judged, then you shouldn't have any hesitation in having a conversation with anyone because there's nothing more intimidating than that."
PM: You were quite the collegiate athlete, correct?
MB: Yeah, I played three sports in college: soccer, lacrosse and cheer. I was originally recruited for soccer, but made the switch to lacrosse in my sophomore year because I absolutely fell in love with it. Sports have always been a huge part of my life.
PM: You are quite the operatic vocalist as well?
MB: Well, my sister is far superior to me in that category. I ended up taking singing lessons when I was 13 because I would mimic my sister. She is seven years older than me and a phenomenal singer. My mom made a deal with me that I had to give singing lessons three months and if I didn't want to do it at the end of three months, I could quit.  It took almost all three months, but I ended up falling in love with singing opera because of my vocal type.
PM: Tell me something about yourself that a lot of people don't know.
MB: Maybe people might not know I was struck by lightning in sixth grade. It was a funny story where I was doing everything your mother tells you not to do during a thunderstorm. I was on the computer, I was on the phone, had big metal earrings on, had my window wide open because I love listening to thunderstorms and it ended up coming through and hitting my window. Luckily, I didn't have any severe burns, but I did pass out and have to go to the emergency room.
PM: You're Miss Earth USA! What has the reaction been from your family and friends?
MB: It's been really amazing. There has been a huge outpouring of love and support. I feel more people within my family are way more excited about this title, just because of how excited I am about this title. The way I describe it is like out of all the pageant titles and crowns I've had, this one was my Cinderella slipper, this is the one that was a perfect fit.
PM: How can your fans follow you?
MB: They can follow me on the Miss Earth USA Instagram and Facebook. Also, my personal Instagram is Marisa Paige Butler.
PM: Any final thoughts?
MB: For anyone who's interested in joining We Clean Trails, if you're in San Diego, we meet every single Saturday morning. If you are interested in starting a weekend trail cleanup in your community, please reach out. I would love to see this grow exponentially during my year. We are in the beginning process of it, but I'm really hoping to have weekly Clean Trails in all 50 states by the end of my reign.
To read the entire Miss Earth USA 2021 feature with Marisa Butler… Click Here
To learn more about Miss Earth USA… Click Here