Gorgeous hair is the best revenge! When you are on set at any photo shoot, you want to make sure that you have smooth, beautiful locks that hold their shape and elevate your look. In this tutorial, I will show you how to create a gorgeous look with long loose curls that will have you looking and feeling like a super model. After all, confidence and great hair go hand-in-hand on set as you create a fabulous photo.
Pay close attention to the section on final styling. Remember that you can create the part anywhere. I used a middle part for Chloe in this shoot, but I have also done similar styles for her with a deeper side part as well. Do what works best for your face shape. It is all about celebrating your beautiful features.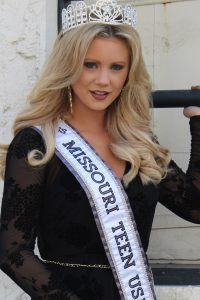 What You Will Need:
1) Teasing Brush
2) Alligator Pin Clips
3) 1 Inch Curling Iron
4) Chi Maximized Volume
5) Bed Head Headrush
Prep
Chloe is wearing tape-in hair extensions for this tutorial, but if you do not want to use them that is perfectly fine. However, extensions do help with the last part of the style. Start by combing through your hair and pin curling in 1 inch sections. Be sure that the pin curled sections are even and well sprayed so that you can minimize the hair spray in the finish of the look. You will want to lightly spray Chi Maximized Volume while curling, and we will also use that as the finishing spray.
Get Ready to Rock Your Hairstyling
Always remember to take your time as you create this style. Photographers hate fly-aways so you will want to carefully create this style. Let the pin curls set for 1-3 hours. In this case, Chloe's hair sat for about an hour and a half while we styled her clothing and applied her makeup. I went with a middle part because I wanted to really accentuate her face's symmetry while also enhancing her jawline.
Ready, Set, & GLAM!
Letting each section down and following the curl pattern is the most important part. It is really about releasing the curl and letting if flow. As you let each pinned section down, gently tease it just at the root with your brush. Then, go over the top of the hair with the Bed Head Headrush, which is a shine spray. Be super sparse with this product because you do not want oily hair. This technique is also great for styling dry hair on set, because it does renew the luster of the hair visually.
After all of the sections are out, do a light spray of Chi Maximized Volume and begin finger combing the sections to create the tousled curl. Be cognizant of where the curls lay and if you need to re-create the curls in small sections or amp it up. Do not hesitate to curl that piece again using a curling iron. Pay close attention to the direction of each piece of hair as you blend the sections. Your goal is to create a beautifully framed face.
Your finished product should result in luscious layers of loose curls that move effortlessly with you throughout your shoot, while keeping their shape and volume.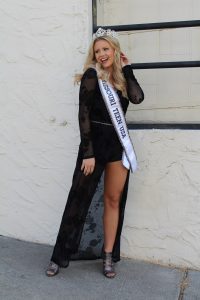 Liz Everett's second language, from an early age, was glamour. Quickly realizing she had a passion for helping others achieve their beauty goals, Liz began working for the Victoria's Beauty Brand. What started as a job soon became the embodiment of Liz's desire to see glamorous women of all ages empowered by their unique beauty perspective. Eventually segueing into both the pageantry and entertainment fields, Liz has continued to develop her flair for curating gorgeous hair & makeup looks. Her keen eye for glamour has helped her land jobs in Los Angeles, Miami, New York City, and Las Vegas, as well as drawing clients from the U.K., Canada, and beyond. In 2017 Liz also captured the "Beauty It's Everywhere" hair and makeup artist of the year award. Contact Liz at lizeverettglam@gmail.com, or visit LizEverettGlam.com