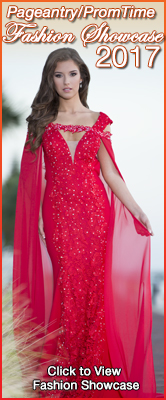 Everybody's face hits a few rough patches at some time in their lives. Here are five ways to smooth yours over.
By Ernie McCraw
Looking your best starts with taking the best care of your skin, and it doesn't take drastic measures to get radiant skin. As we age, our skin begins to lose that healthy appearance due to environmental dirt and chemicals, smoking, sun exposure, and loss of moisture. These factors can cause blemishes, wrinkles, and rough and dry skin. Sticking to a few essential steps in your daily skin-care routine will put you on the right track for beautiful skin your entire life.
Keep It Clean
Keeping your skin clean is an absolute must for great, glowing skin. There are many different cleansers available for sensitive skin, oily skin, or dry skin. But what if you have a combination — that is, your skin is part normal-to-dry (usually on the cheek area) and part oily (typically, the T-zone: forehead, nose and chin)? If so, the objective is to control oiliness without drying out the dryer areas of your face. Choose a mild cleanser such as Beyond Belief Vitamin C Splash-Off Foaming Facial Wash. It deep-cleans without drying and removes all traces of makeup, oil, and impurities.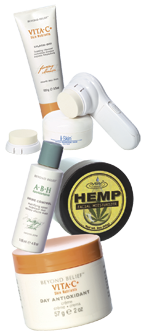 WASHING YOUR CARES AWAY:

The first line of defense when it comes to your beauty is your skin-care regimen. Choose the correct products for your type of skin, and make them part of your routine each morning and night.
Exfoliate
Exfoliation is the process of removing the dead cells on the top layer (stratum corneum) of your skin. To a lesser extent, exfoliation can help dislodge blackheads. The procedure is referred to as "exfoliation" because when a mild abrasive is used on the skin, the top layer of dead skin cells is shed or exfoliated. Exfoliators include everything from washcloths, buffing sponges, facial brushes, and loofahs to cleansing grains, sloughing cleansers, scrubs (cleansers or moisturizers that contain abrasive particles or ingredients), and alpha hydroxy acid (AHA), benzoyl peroxide, and salicylic acid formulas that exfoliate chemically. In moderation and performed gently, exfoliating can be beneficial for most skin types. Exfoliating stimulates circulation and leaves skin looking smoother and clearer. A newer form of exfoliation is called microdermabrasion. A micro-fine abrasive is suspended in a hydrating, moisturizing base that is used to polish the skin's surface. Once only offered as a salon service, microdermabrasion is now available (in products such as i-Skin Intelligent Microdermabrasion System) for home use.
Clarify & Tone
Toners and fresheners are intended to give skin a fresh, invigorated feeling, and to restore the skin's natural acidity. Toning products are generally used after cleansing and before moisturizing. One option, Beyond Belief ABH Shine Control Mattifying Toner, contains oil-absorbing mineral powder that provides an instant matte finish and refines pores.
Moisturize & Protect
Most skin types benefit from using moisturizer, but not all moisturizers are alike. Although people with oily skin may not think they need a facial moisturizer, environmental factors — heat, cold, wind, sun — as well as indoor heating and cooling deplete moisture, leaving skin dehyrated even if it's oily. The principal ingredients in most moisturizers are water and emollients — the latter act as a barrier to moisture loss. Oil-free moisturizers contain humectants such as glycerin, propylene glycol, and lactic acid that work by drawing water into the outermost layer of the skin. Some moisturizers contain both emollients and humectants. Facial moisturizers designed for daily use are usually of a lighter consistency than facial night creams or eye creams. Moisturizers are also formulated by skin type: more emollient formulas for dry skin, oil-free formulas for oily skins. Moist Hemp Facial Moisturizer is meant for dry skin, Beyond Belief Vitamin C Daily Moisture + SPF 15 (which also contains sunscreen) is meant for normal or combination skin, and Beyond Belief Oil Free Moisturizer is for oily skin.
Renew & Repair
Free radicals or oxidents are unstable oxygen molecules that can damage skin cells. Free radicals are caused by pollution, ultraviolet light, and environmental conditions. Antioxidants, including vitamin E, betacarotene (vitamin A precursor) and vitamin C may help prevent free-radical damage when taken orally as vitamins. Antioxidants can also be beneficial when applied topically. Vitamin C skin-care products are formulated by professionals to promote skin renewal by using the power of viamins to energize and clarify the skin. Beyond Belief Vita C+ Day Antioxidant Crème and Beyond Belief Vita C+ Antioxidant Serum are two such topical skin conditioners.
Ernie McCraw is director of beauty education for Sally Beauty Company, the world's largest distributor of professional beauty products. A licensed cosmetologist for more than 30 years, he is a frequent contributor to fashion and beauty publications nationwide.
PHOTOS BY JENNIFER MARKLEY/SALLY BEAUTY SUPPLY
Read More Makeup Tips
Makeup: how to, step by step, cool makeup, modern makeup application, prom makeup, fashion makeup.
Summer 2014
The popular look that blends colors into a spectacular display is back in style for everything from clothes to makeup.
By Sommer Isdale
Spring 2014
Color is your greatest ally in your springtime quest for the perfect makeup look.
By Sommer Isdale
Winter 2013
Where There's Smoke, There's Fire
Take your personal glamour to a new level with the "Smoldering Eye" look that can be perfect for your beautiful evening gown or a night on the town.
By Sommer Isdale
Fall 2013
By using a wider range of colors, including orange and gold, this season's makeup styles can make a fast and smooth transition from day to night.
By Shantell Tavarez
Summer 2013
This summer's biggest makeup styles are all about standing out by keeping your colors and accents basic.
By Shantell Tavarez
Spring 2013
Some of the best makeup looks for spring will involve combining popular looks from the past, present and even the future.
By Shantell Tavarez
Winter 2012
By accentuating either your lips or your eyes, you can create a simple, lasting look that will blow people away at any occasion.
By Shantell Tavarez
Fall 2012
Your days and nights are both set this fall when you take advantage of the alluring looks of dark, intense colors.
By Yahaira Rosario
Summer 2012
Skin tones can be kept basic this summer by simply sticking to a familiar rosey foundation.
By Yahaira Rosario
Spring 2012
Glitter is this season's key to giving your eye lashes a look that will make everything about you sparkle.
By Yahaira Rosario
Winter 2011
The winter season can seem bleak and colorless, but simple tones and styles can be your eyes' best friends.
By Yahaira Rosario
Fall 2011
Pulling it off
If you think this season's makeup styles won't fit your look, there's only one way to find out—just try it.
By Emily Saunders
Summer 2011
By focusing on your face's more subtle features, you can really add an impact to your eyes this season.
By Summer Posey
Spring 2011
Turn your day makeup into a sophisticated, dramatic night look by following a simple list of helpful tips.
By Myriam Fux
Winter 2010
The right color combinations can give you an enhanced dramatic look to master your formal evening affairs.
By Myriam Fux
Fall 2010
By recognizing your skin's undertone, you can choose the right colors to give your face an electric charge this fall.
By Myriam Fux
Summer 2010
This summer's ideal look is about creating a golden tan palette to display your light makeup style for any occasion.
By Myriam Fux
Spring 2010
Taking advantage of your own unique facial features allows your makeup style to set you apart from everyone else.
By Myriam Fux
Even if your eyes aren't your best feature, choosing a successful makeup style only works if all of your features are in sync.
By Myriam Fux
Winter 2009
Using the right angles, your favorite colors and subtle shading, you can turn your eyes into an artistic canvas to display your fun side.
By Myriam Fux
Fall 2009
By recognizing your skin's undertone, you can choose the right color makeup to give your face an electric charge this fall.
By Myriam Fux
Summer 2009
Pucker up, because beach season is coming and you're about to be kissed by the sun.
By Myriam Fux
Spring 2009
The greatest trick you can perform is making it look like you're not wearing any makeup at all.
By Myriam Fux
Winter 2008
Soft feminine is the style for the new year, and we've got the inside scoop on how you can achieve it easily.
By Christina Kane
Fall 2008
How the right colors can give you the hottest face in this cool season.
By Christina Kane
Summer 2008
You don't have to sacrifice your perfect look just because the summer sun is sizzling.
By Christina Kane
Spring 2008
5+5= A Perfect 10! These 5 foundation steps + 5 skin color choices add up to big improvements.
By Christina Kane
Winter 2007
What's My Style? That is the question.
By Christina Kane
Fall 2007
Get ready for football season and add a clean, crisp look to your cosmetics playbook by using classic accent colors.
By Ernie McCraw
Summer 2007
UV rays are bad for you—bad for your skin, your hair, and even your manicure. Chill out with these simple summer tips.
By Ernie McCraw
Spring 2007
These manicure and pedicure guidelines will turn your prom look from normal to knockout. For added glow, try the home spa treatment, too.
By Ernie McCraw
Winter 2006
Anatomy of Timeless Classics
By Ernie McCraw
Fall 2006
Beauty IS Skin Deep.
By Ernie McCraw
Summer 2006
The balmy season promises a good time to those who know how to avoid a makeup meltdown.
By Ernie McCraw
Spring 2006
Tips for glamourizing and smoothing your look for prom--the biggest night of your life.
By Ernie McCraw
Winter 2005
Just as you wouldn't expect to paint a masterpiece with a box of crayons, you can't achieve cosmetics perfection without the proper tools. This guide can help you make all the right strokes.
By Ernie Mccraw
Fall 2005
Deciphering the scientific terms for makeup ingredients can be the first step toward a more effective skin-care regimen.
By Ernie McCraw
Summer 2005
We're talking glistening, glowing, glossy, glimmery, glamorous, and gorgeous... from the face to the fingernails.
By Ernie McCraw
Spring 2005
To achieve a dazzling makeover for evening, start with your usual polished look, then add some drama.
Winter 2004
Fall 2004
Summer 2004
Spring 2004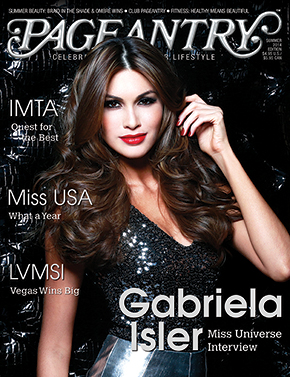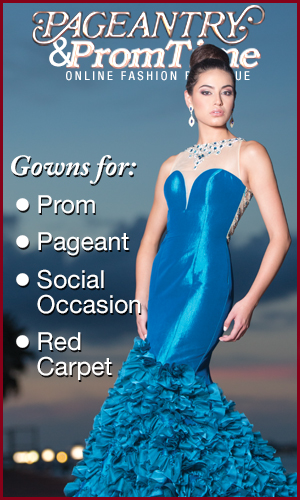 YOU CAN GET IT ALL!
Click and see for yourself!