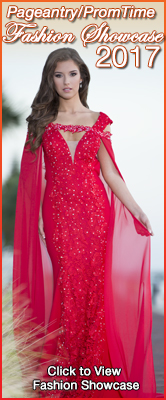 The days grow sunny and warm, while the nights are "hotter" still. The balmy season promises a good time to those who know how to avoid a makeup meltdown. Follow these expert tips and you'll never lose your cool.
By Ernie McCraw
RAYS BANNED: Using sunless tanning mousse (above) lets you avoid cancer-causing ultraviolet exposure.
1

I usually avoid exposure to the sun, but since I may go on vacation and stay at a beach resort, will it hurt to lie in the sun for just a few days? What's the best way to tan?
We may wish for a "healthy tan," but there is no such thing as safe tanning. Exposure to ultraviolet (UV) light damages skin cells' genetic material and can contribute to skin cancer formation as well as premature wrinkling. If you are concerned about UV exposure, the way to tan is sunless! Self-tanners have come a long way from those drippy lotions that turn orange and streaky.
Savage Bronze Sunless Tanning Mousse gives a deep glorious tan instantly and is easy to use. Savage Bronze has a color guide so you can see where you have applied it. It works instantly to give immediate color and dries in 60 seconds. The tan will continue to develop over three hours, turning a rich, natural, long-lasting color. Spray-on tanning products are the hottest trend in self-tanning. The unique delivery system uses air to draw the tanning solution out of the tube and turn it into a light, micro-fine mist that goes on evenly and produces a perfect, sunless tan.
The "tan" you receive with a self-tanning product offers no protection against the sun's UV rays; when you are out in the sun, you need to apply sunscreen every four hours.
2

What is the "right" way to apply bronzer? Does it matter if I use a powder or a cream? How can I get a natural look?
Bronzers simulate the look of being "sun-kissed" or lightly tanned. They are golden or bronze-toned powders or creams that work well on a wide variety of skin tones. For a "sun-kissed look," apply bronzing powder lightly over the cheekbones, the bridge of the nose, above the brows, and on the chin — all of the most prominent areas of the face that the sun would normally color first. For a tanned look, apply bronzing cream sparingly over the whole face. Powder bronzers should be applied with a professional blush brush; cream bronzers should be applied with fingers or a makeup wedge. The best application advice to achieve a natural look is: A. use natural daylight rather than indoor lighting, and B. gradually build your color with several light layers. Remember, these products don't offer protection from the sun, so before you step outside, apply an SPF-15 or greater sunscreen to help protect skin.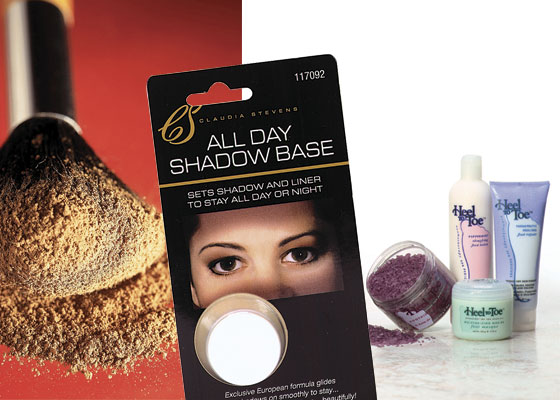 OVER-THE-COUNTER THERAPEUTICS: An easy way to achieve a sun-free tan is to use a powder bronzer applied with a blush brush (above left). As its name claims, the All Day Shadow Base (above center) works throughout the day to keep your eye shadow and liner looking fresh. The bottom line on intensive foot care is this pedicure system (above right) that includes a pair of overnight socks to lock in the effectiveness of moisture-intensive cream.
3

During last summer's heat, I noticed that my eye makeup was fading faster than normal, leaving me with virtually no eye shadow and circles under my eyes from mascara. How can I avoid this?
The primary solution to this problem is to avoid touching your eyes. All mascara will smudge if you touch or rub your eyes, and you will eventually wear off your shadow. Try Claudia Stevens All Day Shadow Base before applying your shadow. It sets the eye shadow to last without creasing, smearing, or fading — even through swimming! You can also switch to an eye shadow with more pigment or reapply your shadow as needed. To help with the dark circles, try waterproof or non-smudge professional formula mascara.
4

I love to wear sandals in the summer, but my feet look a little neglected after a winter in boots and heavy shoes. Will a home pedicure help, and how should I start?
Heel To Toe aromatherapy products are part of a complete pedicure line that provides a spa treatment at home. Start by removing dry skin and calluses. Heel To Toe Invigorating Foaming Foot Soak will soften skin and calluses making it easier to exfoliate. Follow up with the Heel To Toe Exfoliating & Polishing Loofah Foot Scrub to polish, smooth and soften feet. For stubborn rough spots, try a pumice stone. A deep moisturizer will help to take care of dry skin. If dry skin is a chronic problem, boost your moisture by using Heel To Toe Intensive Repair Overnight Treatment Sock. Apply the therapeutic healing foot repair to feet, giving special attention to callused, cracked heels and other trouble spots. Then put the socks on and, for best results, wear them overnight. Using the socks and moisture treatment twice a week will have your feet looking and feeling great in no time.
5

In summer I usually go out dressed more casually than other times of the year. I don't want to spend so much time on all of my regular beauty routines each morning. Can you suggest some way to cut down and get the same results?
Some parts of your beauty routine should never be skimped on. Don't change your cleansing routine and don't skip the moisturizing or the sunscreen. During the summer months, you can cut back on the amount of cosmetics you use, because you naturally have more color during this time. Other shortcuts: opt for a healthy natural look by sticking with a light foundation or a tinted moisturizer, keep eye makeup to a minimum, and use a sheer lip balm with an SPF ingredient to prevent your lips from drying and cracking from too much sun.
By following these tips, you'll be sure to look your best as you kick back and enjoy a carefree summer.
Ernie McCraw is director of beauty education for Sally Beauty Company, the world's largest distributor of professional beauty products. A licensed cosmetologist for more than 30 years, he is a frequent contributor to fashion and beauty publications nationwide.
PHOTOS BY JENNIFER MARKLEY/SALLY BEAUTY SUPPLY
Read More Makeup Tips
Makeup: how to, step by step, cool makeup, modern makeup application, prom makeup, fashion makeup.
Winter 2013
Where There's Smoke, There's Fire
Take your personal glamour to a new level with the "Smoldering Eye" look that can be perfect for your beautiful evening gown or a night on the town.
By Sommer Isdale
Fall 2013
By using a wider range of colors, including orange and gold, this season's makeup styles can make a fast and smooth transition from day to night.
By Shantell Tavarez
Summer 2013
This summer's biggest makeup styles are all about standing out by keeping your colors and accents basic.
By Shantell Tavarez
Spring 2013
Some of the best makeup looks for spring will involve combining popular looks from the past, present and even the future.
By Shantell Tavarez
Winter 2012
By accentuating either your lips or your eyes, you can create a simple, lasting look that will blow people away at any occasion.
By Shantell Tavarez
Fall 2012
Your days and nights are both set this fall when you take advantage of the alluring looks of dark, intense colors.
By Yahaira Rosario
Summer 2012
Skin tones can be kept basic this summer by simply sticking to a familiar rosey foundation.
By Yahaira Rosario
Spring 2012
Glitter is this season's key to giving your eye lashes a look that will make everything about you sparkle.
By Yahaira Rosario
Winter 2011
The winter season can seem bleak and colorless, but simple tones and styles can be your eyes' best friends.
By Yahaira Rosario
Fall 2011
Pulling it off
If you think this season's makeup styles won't fit your look, there's only one way to find out—just try it.
By Emily Saunders
Summer 2011
By focusing on your face's more subtle features, you can really add an impact to your eyes this season.
By Summer Posey
Spring 2011
Turn your day makeup into a sophisticated, dramatic night look by following a simple list of helpful tips.
By Myriam Fux
Winter 2010
The right color combinations can give you an enhanced dramatic look to master your formal evening affairs.
By Myriam Fux
Fall 2010
By recognizing your skin's undertone, you can choose the right colors to give your face an electric charge this fall.
By Myriam Fux
Summer 2010
This summer's ideal look is about creating a golden tan palette to display your light makeup style for any occasion.
By Myriam Fux
Spring 2010
Taking advantage of your own unique facial features allows your makeup style to set you apart from everyone else.
By Myriam Fux
Even if your eyes aren't your best feature, choosing a successful makeup style only works if all of your features are in sync.
By Myriam Fux
Winter 2009
Using the right angles, your favorite colors and subtle shading, you can turn your eyes into an artistic canvas to display your fun side.
By Myriam Fux
Fall 2009
By recognizing your skin's undertone, you can choose the right color makeup to give your face an electric charge this fall.
By Myriam Fux
Summer 2009
Pucker up, because beach season is coming and you're about to be kissed by the sun.
By Myriam Fux
Spring 2009
The greatest trick you can perform is making it look like you're not wearing any makeup at all.
By Myriam Fux
Winter 2008
Soft feminine is the style for the new year, and we've got the inside scoop on how you can achieve it easily.
By Christina Kane
Fall 2008
How the right colors can give you the hottest face in this cool season.
By Christina Kane
Summer 2008
You don't have to sacrifice your perfect look just because the summer sun is sizzling.
By Christina Kane
Spring 2008
5+5= A Perfect 10! These 5 foundation steps + 5 skin color choices add up to big improvements.
By Christina Kane
Winter 2007
What's My Style? That is the question.
By Christina Kane
Fall 2007
Get ready for football season and add a clean, crisp look to your cosmetics playbook by using classic accent colors.
By Ernie McCraw
Summer 2007
UV rays are bad for you—bad for your skin, your hair, and even your manicure. Chill out with these simple summer tips.
By Ernie McCraw
Spring 2007
These manicure and pedicure guidelines will turn your prom look from normal to knockout. For added glow, try the home spa treatment, too.
By Ernie McCraw
Winter 2006
Anatomy of Timeless Classics
By Ernie McCraw
Fall 2006
Beauty IS Skin Deep.
By Ernie McCraw
Summer 2006
The balmy season promises a good time to those who know how to avoid a makeup meltdown.
By Ernie McCraw
Spring 2006
Tips for glamourizing and smoothing your look for prom--the biggest night of your life.
By Ernie McCraw
Winter 2005
Just as you wouldn't expect to paint a masterpiece with a box of crayons, you can't achieve cosmetics perfection without the proper tools. This guide can help you make all the right strokes.
By Ernie Mccraw
Fall 2005
Deciphering the scientific terms for makeup ingredients can be the first step toward a more effective skin-care regimen.
By Ernie McCraw
Summer 2005
We're talking glistening, glowing, glossy, glimmery, glamorous, and gorgeous... from the face to the fingernails.
By Ernie McCraw
Spring 2005
To achieve a dazzling makeover for evening, start with your usual polished look, then add some drama.
Winter 2004
Fall 2004
Summer 2004
Spring 2004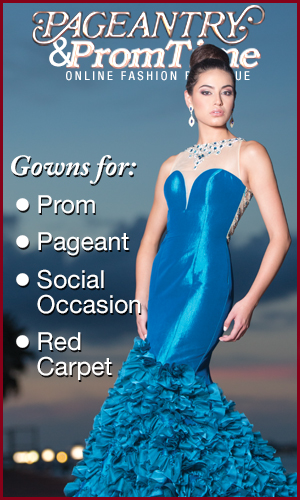 YOU CAN GET IT ALL!
Click and see for yourself!