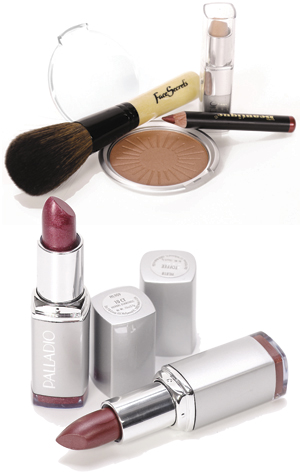 FALL'S STARTING LINEUP:

From subtle bronzers, neutral foundation, and crisp eyeliner to stronger lip coloring, a winning strategy this year puts the emphasis on subtle, autumn accents to bring out your classic good looks.
B

ack from vacation. Back to school. Back to basics. With the fall's football season fast approaching, the time is near for a change of wardrobe and a change of makeup color. You can't miss this year if you stick with classic colors. Plus, since you probably still have a little summer glow going, you can keep your makeup to a minimum. Focus on consistency by using a sheer foundation that accentuates your natural skin tone. Sheer coverage evens out skin tones and still looks natural and fresh. Here are some specifics for each facial feature.
SKIN
Palladio Herbal Liquid Foundation is a water-based makeup with a lightweight, blendable texture that contains vitamins, herbs, and aloe vera. Using a specially designed brush such as Face Secrets Foundation Brush to apply liquid or cream makeup makes application a lot easier.
Start with the T-zone and then blend to the rest of the face and neck. If you have dark circles under the eyes or red blemishes, apply a small amount of Palladio Herbal Concealer and blend it with a wedge-shaped cosmetic sponge. The wedge shape is ideal for getting close to the eyes. If you worry about shine, try using Palladio Dual Wet & Dry Foundation like a powder to set the makeup and help it last longer.
EYES
You can keep eyes warm and natural while still giving them added definition. Start with a neutral eye shadow color such as gold, copper, or sable over the entire lid. Then, using a slightly darker pencil in a similar warm shade, line the upper and lower lashes and smudge that in with the tip of your finger or a cotton swab.
Curling your lashes before applying mascara will also help define your eyes and make your lashes stand out. The biggest key to great mascara application is to brush the lashes after you have applied the mascara. This removes clumps and separates the lashes. Face Secrets makes a handy brush just for this.
CHEEKS
Give your cheeks just a hint of color by using a powder or cream bronzer in a shade just one level darker than your natural color. Apply bronzer to the apples of the cheeks and then blend it in with the rest of the face. You don't want to leave a distinctive line on your cheeks.
LIPS
For lips, we will step up the color a bit, but we suggest opting for a gloss to give a distinct sheer shine. Steer away from the bubble-gum pink colors that you may have worn this summer and go for a berry or apple-colored gloss instead. This is going to give you a clean, crisp look for fall.
If you don't like all the shine of gloss, you can go with a lip cream or lipstick, but choose a color that isn't as bright as the gloss. Anytime you are using a darker shade, it is important to keep it from bleeding off the edges of your lips. Either line your lips with a matching pencil (please don't go darker) or use a product such as Sealed With a Kiss to hold your lipstick exactly where you applied it.
Ernie McCraw is director of beauty education for Sally Beauty Company, the world's largest distributor of professional beauty products. A licensed cosmetologist for more than 30 years, he is a frequent contributor to fashion and beauty publications nationwide.
Read More Makeup Tips
Makeup: how to, step by step, cool makeup, modern makeup application, prom makeup, fashion makeup.
Spring 2013
Some of the best makeup looks for spring will involve combining popular looks from the past, present and even the future.
By Shantell Tavarez
Winter 2012
By accentuating either your lips or your eyes, you can create a simple, lasting look that will blow people away at any occasion.
By Shantell Tavarez
Fall 2012
Your days and nights are both set this fall when you take advantage of the alluring looks of dark, intense colors.
By Yahaira Rosario
Summer 2012
Skin tones can be kept basic this summer by simply sticking to a familiar rosey foundation.
By Yahaira Rosario
Spring 2012
Glitter is this season's key to giving your eye lashes a look that will make everything about you sparkle.
By Yahaira Rosario
Winter 2011
The winter season can seem bleak and colorless, but simple tones and styles can be your eyes' best friends.
By Yahaira Rosario
Fall 2011
Pulling it off
If you think this season's makeup styles won't fit your look, there's only one way to find out—just try it.
By Emily Saunders
Summer 2011
By focusing on your face's more subtle features, you can really add an impact to your eyes this season.
By Summer Posey
Spring 2011
Turn your day makeup into a sophisticated, dramatic night look by following a simple list of helpful tips.
By Myriam Fux
Winter 2010
The right color combinations can give you an enhanced dramatic look to master your formal evening affairs.
By Myriam Fux
Fall 2010
By recognizing your skin's undertone, you can choose the right colors to give your face an electric charge this fall.
By Myriam Fux
Summer 2010
This summer's ideal look is about creating a golden tan palette to display your light makeup style for any occasion.
By Myriam Fux
Spring 2010
Taking advantage of your own unique facial features allows your makeup style to set you apart from everyone else.
By Myriam Fux
Even if your eyes aren't your best feature, choosing a successful makeup style only works if all of your features are in sync.
By Myriam Fux
Winter 2009
Using the right angles, your favorite colors and subtle shading, you can turn your eyes into an artistic canvas to display your fun side.
By Myriam Fux
Fall 2009
By recognizing your skin's undertone, you can choose the right color makeup to give your face an electric charge this fall.
By Myriam Fux
Summer 2009
Pucker up, because beach season is coming and you're about to be kissed by the sun.
By Myriam Fux
Spring 2009
The greatest trick you can perform is making it look like you're not wearing any makeup at all.
By Myriam Fux
Winter 2008
Soft feminine is the style for the new year, and we've got the inside scoop on how you can achieve it easily.
By Christina Kane
Fall 2008
How the right colors can give you the hottest face in this cool season.
By Christina Kane
Summer 2008
You don't have to sacrifice your perfect look just because the summer sun is sizzling.
By Christina Kane
Spring 2008
5+5= A Perfect 10! These 5 foundation steps + 5 skin color choices add up to big improvements.
By Christina Kane
Winter 2007
What's My Style? That is the question.
By Christina Kane
Fall 2007
Get ready for football season and add a clean, crisp look to your cosmetics playbook by using classic accent colors.
By Ernie McCraw
Summer 2007
UV rays are bad for you—bad for your skin, your hair, and even your manicure. Chill out with these simple summer tips.
By Ernie McCraw
Spring 2007
These manicure and pedicure guidelines will turn your prom look from normal to knockout. For added glow, try the home spa treatment, too.
By Ernie McCraw
Winter 2006
Anatomy of Timeless Classics
By Ernie McCraw
Fall 2006
Beauty IS Skin Deep.
By Ernie McCraw
Summer 2006
The balmy season promises a good time to those who know how to avoid a makeup meltdown.
By Ernie McCraw
Spring 2006
Tips for glamourizing and smoothing your look for prom--the biggest night of your life.
By Ernie McCraw
Winter 2005
Just as you wouldn't expect to paint a masterpiece with a box of crayons, you can't achieve cosmetics perfection without the proper tools. This guide can help you make all the right strokes.
By Ernie Mccraw
Fall 2005
Deciphering the scientific terms for makeup ingredients can be the first step toward a more effective skin-care regimen.
By Ernie McCraw
Summer 2005
We're talking glistening, glowing, glossy, glimmery, glamorous, and gorgeous... from the face to the fingernails.
By Ernie McCraw
Spring 2005
To achieve a dazzling makeover for evening, start with your usual polished look, then add some drama.
Winter 2004
Fall 2004
Summer 2004
Spring 2004