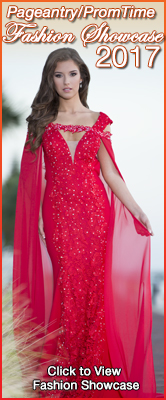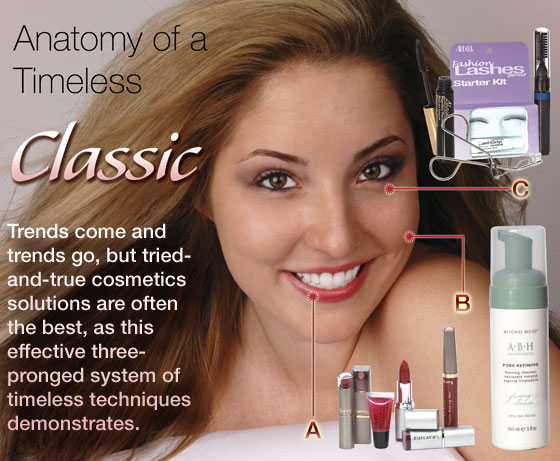 Model Photo By BRION PRICE l Product Photos BY JENNIFER MARKLEY/SALLY BEAUTY CO.
By Ernie McCraw
?
T

he little black dress, a single strand of pearls, or a beautiful shade of red lipstick — the classics never go out of style. It's the same with cosmetics. No matter what the occasion, the time of year, or the latest trendy product at the cosmetics counters, you can't go wrong with these time-tested treatment routines that never seem to fade away.
Eyes
From Brigett Bardot, Ingrid Bergman and Marilyn Monroe to Jennifer Lopez and Jessica Biel, lush lashes have always been a starlet classic. And don't fret if you weren't blessed with naturally thick lashes, because there are several tools to help volumize your eyes.
Boosting your natural lashes can be as easy as the mascara you choose. Volumizing mascara coats lashes with a thickening formula to give lashes a fuller look. With Palladio Thickening Mascara, the brush is thick and wide to quickly coat as much of the lashes as possible with just a few strokes.
Lengthening mascara contains fibers that extend the length of each lash. The brush is spiral and less dense than a volumizing mascara brush. Savvy Infinity Lash Extender Lengthening Mascara is a good choice. Lash primer is a colorless conditioner that both thickens and volumizes lashes. The brush is short and dense. Try Claudia Stevens Eyelash Thickener before you apply your usual mascara.
An eyelash curler can also help to make lashes look fuller by pressing lashes so that they curl up against the lid, giving the eyes a more open look and making the lashes appear longer.
To really pump up your lashes and give yourself the most dramatic look in seconds, you can't go wrong with faux lashes. A starter kit such as Ardell Fashion Lash contains everything you'll need: lashes; adhesive and positioning tool. For a more natural look, use faux lashes on just the outer third of the eye.
C. EYE CANDY: Faux eyelashes, lash curlers, and lash-thickening and lash-lengthening products are perennial hits in the arsenal of beauty consultants and fashionable women of all generations.
Lips
From full coverage to slightly stained, classic red lips are the perfect accent to any look. To get the results that work best for you, choosing the right formula is key.
Glosses provide the sheerest color and the most shine, but they aren't long-wearing lip color. You will need to frequently reapply a gloss. A cream has more pigment and provides full-coverage color with a semilustrous finish. It is easy to create a stained look by dabbing on a thin layer with a makeup brush.
Long-lasting colors have micro-pigments that set quickly and have a low-luster finish. They are dryer than a cream or gloss and can withstand eating and drinking. These longer-lasting lip colors generally resist bleeding and feathering, and are great because you can apply them once and go all day without a touchup. All reds are not created equal. Test out several shades to find the one that works best for your skin tone.
A. FRAME FOR A SMILE: Choosing lipstick is now and foverer shall be all about ensuring the correct color, sheen, and serviceability for your particular needs.
Skin
Speaking of skin tone: Those of us who are Caucasian do our best to imitate chameleons, changing ivory complexions to bronze during the sunny summer months, only to turn around and go back again to a more natural color with the onset of fall. No matter what the season or what your natural skin color is, clear, healthy skin is something that never goes out of style.
Bacteria that becomes trapped inside pores can cause blemishes. Acne-prone people tend to shed the cells that line the pores more slowly, which is what can lead to breakouts. To maintain clear skin, stick to a regular skin-care regimen, including products that contain ingredients like salicylic acid, which cleans out clogged pores, and benzoyl peroxide, which is an anti-inflammatory and antibacterial.
Beyond Belief ABH Pore Refining Foaming Cleanser is gentle enough for all skin types and is formulated with alpha beta hydroxy acids. Disposable wipes such as Beyond Belief Daily Exfoliating Dry Cleansing Cloths are the easy way to thoroughly cleanse your skin and remove makeup at the gym or when traveling. For severe or persistent acne, consult a dermatologist.
B. KEEPING BLEMISHES AT BAY: Chances are you'll always want to use a foaming deep-skin cleanser to zap any chances of breakouts.
Ernie McCraw
is director of beauty education for Sally Beauty Company, the world's largest distributor of professional beauty products. A licensed cosmetologist for more than 30 years, he is a frequent contributor to fashion and beauty publications nationwide.
Read More Makeup Tips
Makeup: how to, step by step, cool makeup, modern makeup application, prom makeup, fashion makeup.
Spring 2013
Some of the best makeup looks for spring will involve combining popular looks from the past, present and even the future.
By Shantell Tavarez
Winter 2012
By accentuating either your lips or your eyes, you can create a simple, lasting look that will blow people away at any occasion.
By Shantell Tavarez
Fall 2012
Your days and nights are both set this fall when you take advantage of the alluring looks of dark, intense colors.
By Yahaira Rosario
Summer 2012
Skin tones can be kept basic this summer by simply sticking to a familiar rosey foundation.
By Yahaira Rosario
Spring 2012
Glitter is this season's key to giving your eye lashes a look that will make everything about you sparkle.
By Yahaira Rosario
Winter 2011
The winter season can seem bleak and colorless, but simple tones and styles can be your eyes' best friends.
By Yahaira Rosario
Fall 2011
Pulling it off
If you think this season's makeup styles won't fit your look, there's only one way to find out—just try it.
By Emily Saunders
Summer 2011
By focusing on your face's more subtle features, you can really add an impact to your eyes this season.
By Summer Posey
Spring 2011
Turn your day makeup into a sophisticated, dramatic night look by following a simple list of helpful tips.
By Myriam Fux
Winter 2010
The right color combinations can give you an enhanced dramatic look to master your formal evening affairs.
By Myriam Fux
Fall 2010
By recognizing your skin's undertone, you can choose the right colors to give your face an electric charge this fall.
By Myriam Fux
Summer 2010
This summer's ideal look is about creating a golden tan palette to display your light makeup style for any occasion.
By Myriam Fux
Spring 2010
Taking advantage of your own unique facial features allows your makeup style to set you apart from everyone else.
By Myriam Fux
Even if your eyes aren't your best feature, choosing a successful makeup style only works if all of your features are in sync.
By Myriam Fux
Winter 2009
Using the right angles, your favorite colors and subtle shading, you can turn your eyes into an artistic canvas to display your fun side.
By Myriam Fux
Fall 2009
By recognizing your skin's undertone, you can choose the right color makeup to give your face an electric charge this fall.
By Myriam Fux
Summer 2009
Pucker up, because beach season is coming and you're about to be kissed by the sun.
By Myriam Fux
Spring 2009
The greatest trick you can perform is making it look like you're not wearing any makeup at all.
By Myriam Fux
Winter 2008
Soft feminine is the style for the new year, and we've got the inside scoop on how you can achieve it easily.
By Christina Kane
Fall 2008
How the right colors can give you the hottest face in this cool season.
By Christina Kane
Summer 2008
You don't have to sacrifice your perfect look just because the summer sun is sizzling.
By Christina Kane
Spring 2008
5+5= A Perfect 10! These 5 foundation steps + 5 skin color choices add up to big improvements.
By Christina Kane
Winter 2007
What's My Style? That is the question.
By Christina Kane
Fall 2007
Get ready for football season and add a clean, crisp look to your cosmetics playbook by using classic accent colors.
By Ernie McCraw
Summer 2007
UV rays are bad for you—bad for your skin, your hair, and even your manicure. Chill out with these simple summer tips.
By Ernie McCraw
Spring 2007
These manicure and pedicure guidelines will turn your prom look from normal to knockout. For added glow, try the home spa treatment, too.
By Ernie McCraw
Winter 2006
Anatomy of Timeless Classics
By Ernie McCraw
Fall 2006
Beauty IS Skin Deep.
By Ernie McCraw
Summer 2006
The balmy season promises a good time to those who know how to avoid a makeup meltdown.
By Ernie McCraw
Spring 2006
Tips for glamourizing and smoothing your look for prom--the biggest night of your life.
By Ernie McCraw
Winter 2005
Just as you wouldn't expect to paint a masterpiece with a box of crayons, you can't achieve cosmetics perfection without the proper tools. This guide can help you make all the right strokes.
By Ernie Mccraw
Fall 2005
Deciphering the scientific terms for makeup ingredients can be the first step toward a more effective skin-care regimen.
By Ernie McCraw
Summer 2005
We're talking glistening, glowing, glossy, glimmery, glamorous, and gorgeous... from the face to the fingernails.
By Ernie McCraw
Spring 2005
To achieve a dazzling makeover for evening, start with your usual polished look, then add some drama.
Winter 2004
Fall 2004
Summer 2004
Spring 2004