Hair To Be Remembered

The au naturel '60s fashion influences may be back in vogue. But when it comes to a thoroughly modern prom hair style, today's creations add a few new twists.

Prom Hair Styles by Tami Crosby

Hair... long, beautiful hair, shining, gleaming, streaming flaxen... For the lyricist of the classic rock opera Hair, those words must have evoked the essence of true romance for a 1960s era known for its "let it be" philosophy. Back then, a young woman's hair was usually worn long, straight, and parted in the middle. But for the new millennium, a girl heading off to dance the night away in a glamorous gown definitely doesn't want to let her freak flag fly. So here's the real deal for the modern prom occasion: Definitely 'do it up right. What style is best for you will depend on how you see yourself, and how you want others to view you. You may ask: "What can I do to make heads turn when I walk into that ballroom?" Here's the long and the short of it.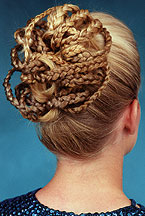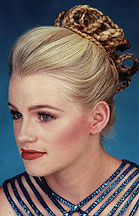 Callie's Golden Crown
Callie Cummings is 16, with natural long blond hair. This gave us plenty of hair to work with in these two up-do styling treatments.
In the first example, we recommended cleansing shampoo and conditioner. As each section was divided and secured, we used a lift and shine product to get lift at the base and for a healthy shine.
First we teased Callie's hair lightly at the base for a soft lift. We pulled Callie's hair back into one large ponytail, and then divided that into three smaller ones. Next, we made small braids from each section and wrapped them around and secured them with hair pins.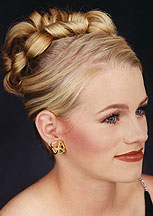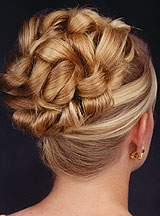 With the front section of Callie's hair, we did a crisscross part and wrapped the hair around to the back and up into a ponytail. The hair was divided into sections and twisted up and down, then secured at different areas to achieve this look. We finished it off using a super hold hair spray.
In the second example, Callie's hair again goes into an up-do. This one started with a zig-zag part, with her hair brought around to the back in a French twist. After the hair was secured, we took smaller locks of hair, twisted them, and secured them in sections with hair pins; the sections were determined by the length of the hair. The final touch is to apply an overall hairspray to take away the fly-aways and to provide a firm hold for a long night on the town.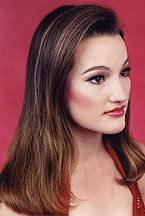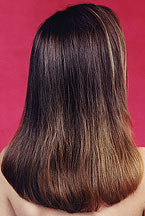 Jessie's Up & Down
Jessie Cummings is a 17-year-old high-school senior. Her long brown hair with blond highlights could go either up or down. We decided to try both. For the down style, we used a large curl set. With each section we sprayed from end to end with a thermal setting spray. We teased at the base to allow a little lift. We then sprayed at the base of the hair with a strong setting spray and left light movement at the ends.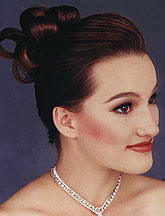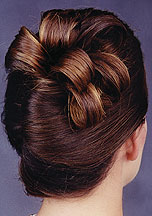 In Jessie's upswept second example, we did a French twist and turned the ends under in various ways to create this updated look. We secured the ends with hair pins and bobbie pins. Then we used the super hold hairspray for a firm hold. This style will allow anyone to dance the night away.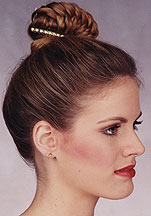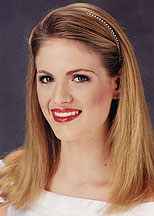 Brooke's Double Twist
Brooke Seeley has dark blond hair that falls just over her shoulders. After washing and blow-drying her hair, we used styling mousse and a large round brush to lightly curl under the ends. With the long front bangs pulled back and held in place with the addition of a rhinestone headband, we were able to add a touch of glitter and keep her hair out of her face.
Once we saw Brooke's edgy off-the-shoulders gown, we decided to do something a little different with the hair. We teased at the base for slight lift. Then we put her hair into a high ponytail. Next, we created a long braid and twisted it under. The finishing touch seemed obvious — a rhinestone clip to match the dress.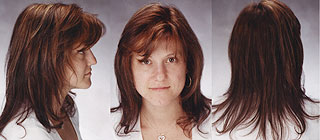 Tracy Takes on Hair
Tracy Oliver doesn't have a hair problem. So why add hair with extensions? One look and you will see why. Applied correctly, hair extension add length, fullness, shine, and lots of body. Also, with extensions, your hair can actually become healthier, because you are not pulling and teasing as much on your own hair. Styling is much easier, too.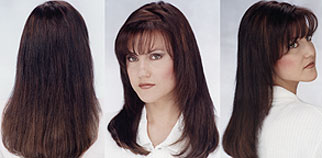 If you want to try extensions, three choices are available to you: clip-in, glue-in, or woven-in extensions. There are pros and cons for each product. Discuss with your stylist which technique would work best with your hair. Most who try extensions love them.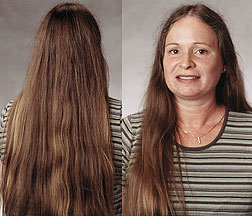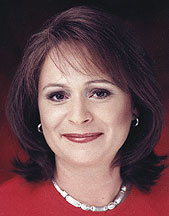 Hello, Dolly!

Let's not forget prom moms. When Dolly's two daughters came up with the notion of donating her waist-length hair to the "Locks of Love" program, we knew instantly what we would love to do. But first Dolly needed to be convinced. We looked through some magazines, and showed her some ideas on cuts and color. She eventually said, "Let's do it." We visited hair stylist Debra Thomas, who cut and colored her hair. Dolly was nervous at first, but very excited. Next, we applied her makeup and chose an outfit and jewelry to complete the makeover. Dolly beamed with confidence upon seeing the new "Dolly." She also felt good about donating her cut hair to a good cause — to be used to give a young "Locks of Love" recipient a new look and renewed confidence.
Tami Crosby is the founder of TamiCosmetics.com, located in Bradenton, Florida. She has been a makeup artist and hair stylist for 20 years. She has been the stylist for Julie Moran of Entertainment Tonight, Julianne Morris of Days of Our Lives, tennis pro André Agassi, as well as many contestants in Miss America, Miss USA, Mrs. Winners, and other competitions. Tami travels extensively to events, doing makeup and hair styling, giving imaging seminars, and teaching privately. Her artistry has appeared on television, in theater, and in the work of world-renowned photographers.

Additional Hair Tips and Articles

Making Waves by Kristianna Nichols
You are sure to have fun investigating these styles, with options that range from ponytails and braids to slick pin-ups and long straight looks. Which one is right for you? Experiment!

Investigate These Hairstyles For Prom by Tami Crosby
Waves are making a strong comeback for the warmer months ahead.

Hair To Be Remembered by Tami Crosby
These hairstyles and makeovers add a new twists to retro styles. Follow these steps to look great for prom.

In a Prom Panic? Hair's Help by Kristianna Nichols
Help for the harried hairdo.

Prom Hair Style Makeovers by Kristianna Nichols
8 Ways to become the 'mane' attraction.

Isn't It Ionic by Ernie McCraw
Ionic products produce quick hair straightening.

Prom Makovers
These styling tips will help you to bring out your personality.

Prom Do's by Tammi Crosby
These hair styling tips will help you change your image.

Prom Hairstyles: Tips & Tools by Tammi Crosby
Profiles of our Prom fashion shoot models, and how we did their looks.

The Right Tresses For Prom Dresses by Kristianna Nichols
Long and lush looks are the glam alternative to everyday practical ponytails.

Hair Updo's: Kicking It Up A Notch by Kristianna Nichols
Here's the lowdown for spicing up your styling techniques from the "Updo King."

Hair: The Cutting Edge by Kristianna Nichols
Expressing yourself is easy this fall with these worldly, vibrant new looks.

Hair: Turn Same-Old Looks Into Sunny New Styles by Kristianna Nichols
Little adjustments can lead to big improvements. Turn same-old looks into sunny new styles with these hot tips.

In a Prom Panic? Hair's Help by Kristianna Nichols
Five simple ways to head off disasters on your big night.

Achieving Beauty That's All Yours by Kristianna Nichols
Remember the old saying, "Beauty lies within?" Still true, but adding a little makeup and a great haircut doesn't hurt.

A Breath of Fresh Hair by Kristianna Nichols
Endlessly captivating, flawless, and always in style.

Hair Styles for Summer by Kristianna Nichols
Hey, Sunshine! Your hair style says a lot about you... so why not be "cool" when the temperature is on the rise?

Back to Glamour: Hair Styles for Prom by Kristianna Nichols
Whether you have ultra short hair or a mane to your waist (or anywhere in between), look to the young stars of Hollywood for the hottest trends.

| | | | |
| --- | --- | --- | --- |
| | | For the complete behind-the-scenes story and all the details on this and other exciting competitive events from across America, as well as a wealth of advice to improve your chances of victory, be sure to order Pageantry today. | |
---
Home I Subscribe I In This Issue I Fashion Shoots I Classifieds I Links I To Advertise I Pageantry Mall
About Us I Our Writers I Newsline I Picture of the Week I Contest I Feedback | Join Club Pageantry
© Pageantry magazine 2004
Pageantry magazine contact and copyright information.








---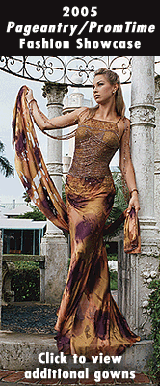 Crown/Heart Necklace Offer!

Click image for more information.