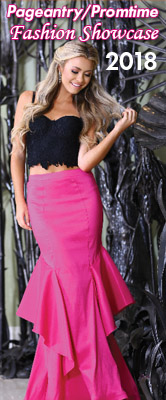 To meet all these needs, Pageantry is bringing you this select list of nationally recognized fashion design and retail shops that provide shoppers a chance to preview their offerings on their web sites.
How does our web site attract up to 32 million hits per month? Let our own webmaster take you on an Internet tour.
Creative fashion innovations from award winning design fims are making sure today's women have a broad selsction of styles from which to choose.
By Rafi Pérez
With the convenience of the Internet, you are more likely to find your perfect gown, narrowing your choices, without using your valuable time in vain. You can spend more time trying on the gowns you've chosen.
By Deborah Richardson
From tiaras to pins to jewelry and gifts and more, these online outlets put the finishing touches at your fingertips.
By Deborah Richardson
Event directors prove the value of staying in touch with contestants and supporters via their web sites.
By Deborah Richardson
These sites will make your prom, pageant, and social occasion gown shopping a breeze.
By Bill Ernst
Online sites let you go global while shopping for that perfect outfit.
By Bill Ernst
If a career in modeling is your aim, point your browser to these sites.
By Bill Ernst
As the busy summer pageant season approaches, choose your suit now.
By Bill Ernst
These sites will get you physically and mentally prepared for that next big competition.
By Bill Ernst
| | | | |
| --- | --- | --- | --- |
| | | For the complete behind-the-scenes story and all the details on this and other exciting competitive events from across America, as well as a wealth of advice to improve your chances of victory, be sure to order Pageantry today. | |
w