Prom Makeovers: Prom Do's

Have you decided yet on your gown, shoes, jewelry, and HAIR? Well, here are a few easy-to-do hair styles to turn any ordinary look into a head-turning, glamorous one that will keep all eyes on you!

Hair Styles by Tammi Crosby
Photos by Ted West

We chose one model to show you three different hair styles. We did this to show you that you should decide on the image you want to portray well ahead of time. Do you want to look like youíre on the edge? Very stylish? Or maybe just fun and comfortable with easy-moving hair? Or how about like Cinderella? What is your image? Once you decide, select your gown and jewelry, and show your stylist your dress and accessories and any photos of hair styles you like. Do a practice run, so on that special day, you will look absolutely terrific!

| | |
| --- | --- |
| | On this up do, we did a crisscross part and then put it in a high pony tail, wrapped hair around the band, and then wrapped a beaded bracelet around that. Then we curled the hair with a large barrel curling iron. |
| | |
| --- | --- |
| This hair style requires a light layer cut on the bottom so hair will flip both ways. We used large hot rollers on the whole head then French braided a section the size of a headband from ear to ear. | |
| | |
| --- | --- |
| | Here we did a low ponytail, wrapped hair around the band, then sectioned off the hair and made curves all over - securing the ends with hair pins and accessorizing with butterfly clips. |
| | |
| --- | --- |
| | For Prom or Mom! |
Additional Hair Tips and Articles

Making Waves by Kristianna Nichols
You are sure to have fun investigating these styles, with options that range from ponytails and braids to slick pin-ups and long straight looks. Which one is right for you? Experiment!

Investigate These Hairstyles For Prom by Tami Crosby
Waves are making a strong comeback for the warmer months ahead.

Hair To Be Remembered by Tami Crosby
These hairstyles and makeovers add a new twists to retro styles. Follow these steps to look great for prom.

Prom Hairstyles: Tips & Tools by Tammi Crosby
Profiles of our Prom fashion shoot models, and how we did their looks.

The Right Tresses For Prom Dresses by Kristianna Nichols
Long and lush looks are the glam alternative to everyday practical ponytails.

Hair Updo's: Kicking It Up A Notch by Kristianna Nichols
Here's the lowdown for spicing up your styling techniques from the "Updo King."

Achieving Beauty That's All Yours by Kristianna Nichols
Remember the old saying, "Beauty lies within?" Still true, but adding a little makeup and a great haircut doesn't hurt.

Back to Glamour: Hair Styles for Prom by Kristianna Nichols
Whether you have ultra short hair or a mane to your waist (or anywhere in between), look to the young stars of Hollywood for the hottest trends.

| | | | |
| --- | --- | --- | --- |
| | | For the complete behind-the-scenes story and all the details on this and other exciting competitive events from across America, as well as a wealth of advice to improve your chances of victory, be sure to order Pageantry today. | |
---
Home I Subscribe I In This Issue I Fashion Shoots I Classifieds I Links I To Advertise I Pageantry Mall
About Us I Our Writers I Newsline I Picture of the Week I Contest I Feedback | Join Club Pageantry
© Pageantry magazine 2004
Pageantry magazine contact and copyright information.








---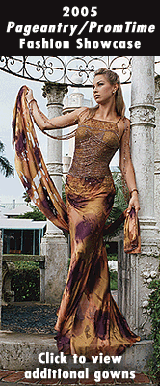 Crown/Heart Necklace Offer!

Click image for more information.