Achieving Beauty That's All Yours
Remember the old saying, "Beauty lies within?" Still true, but adding a little makeup and a great haircut doesn't hurt. The holiday season presents opportunities to try some totally new looks and revamp some old favorites. Updating your hair and wardrobe for all your celebrations — from Black Tie to casual — will help give you a hip and polished look that will turn heads at any party.
Hair Styles by Kristianna Nichols
Simple yet sophisticated snappy bobs, exotic side-swept bangs, and sleek chignons are not difficult to achieve. All it takes is a little imagination and know-how. Using makeup that is correct for your coloring and skin type will enhance the beauty of your face. Adding healthy, shiny hair with the right cut completes the package.
To be beautiful, you must tell yourself you are beautiful... and believe it. Find a look you are comfortable with and perfect it. Add great posture and a sincere smile. It's amazing how your attitude can change your look from average to sensational. It's all about believing in yourself.
Here are six looks to consider:


1 Stephanie's tresses are full and luxurious... why not show them off with this 21st-century Farrah Faucet "do." Her updated style was created by adding long layers from midway down and undercutting for thickness (layers add dimension and movement). This "angel" look is flirty and fun.
2 Stephanie's refined good looks are accentuated by the simple elegance of this rich brown upsweep. The curls add height and glamour to her petite frame. This fantasy style is a sophisticated and versatile way to celebrate this season. Add a shine enhancer for extra "dazzle."
3 Take advantage of your classic bob and turn it into an eye-catching, side-swept style. The severe side part adds drama while the fresh flip highlights her hair's potential. Colleen's incredible "coif" is a perfect front view. Her super-polished look is office-party chic, or just right to help ring in the New Year at a fancy gala.
4 A vivacious, beautiful blonde always brightens up a holiday party. Once again, Colleen's natural beauty shines through with this "not-so-classic" upsweep. Her hair is gently pulled into a ponytail, then flipped forward to form a loop. Razor-cut bangs are spiked into her face for extra pizzazz.
5 Girls with healthy long locks can wear this hip, new look and be the life of the party. It's a glitzy way to add sparkle to your evening without a lot of hassle. Marsanne's trendy style is designed by simply pulling the sides of her hair (teased then smoothed) into a ponytail, splitting the tail into two sections and securing. We added hair "gems" to help attract those second glances.
6 Sleek and dark (with some bold highlights and lowlights) is a stunning way to achieve a "high-maintenance" appearance. Looking like you spent a ton of time on your hair is wonderful as long as you didn't have to do the time. Marsanne has an understated style that is brought out with this no-fuss look. Her ultra-long hair is positioned into a low pony, flipped up towards the crown of head, and secured with a barrette. Simple elegance reigns supreme.

TIPS FOR SHINE

1. Use a low-sudsing shampoo.
2. Rinse hair in cool water after conditioning.
3. Add shine enhancers: pomade for frizzy hair, lightweight spray for thin, fine hair, and serum for coarse, thick hair.
Models:
Marsanne Kunzer (former NFL cheerleader), Colleen Bartel (former Mrs. Indiana Int'l), and Stephanie Wells (current Mrs. IN Globe, 1st Runner-up Mrs. U.S. Globe, and former NBA cheerleader) .
Photographer:
Jim Yee
Hair and makeup:
Kristianna's Design House


Kristianna Nichols
is one of the country's new beauty experts. She is a former Mrs. America, NFL cheerleader, professional model and commercial actress. Kristianna has had her own TV talk show and was a popular entertainment reporter for the NBC affiliate in Indianapolis before moving to Vail, Colorado. She has hosted many TV shows, from
Mainstreet USA
to
On The Move.
She is the president and CEO of Noble Tress beauty company and the inventor of "Kristianna's Crown."
| | | | |
| --- | --- | --- | --- |
| | | For the complete behind-the-scenes story and all the details on this and other exciting competitive events from across America, as well as a wealth of advice to improve your chances of victory, be sure to order Pageantry today. | |
---
Home I Subscribe I In This Issue I Fashion Shoots I Classifieds I Links I To Advertise I Pageantry Mall
About Us I Our Writers I Newsline I Picture of the Week I Contest I Feedback | Join Club Pageantry
© Pageantry magazine 2004
Pageantry magazine contact and copyright information.








---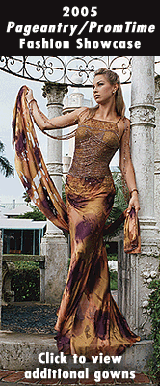 Crown/Heart Necklace Offer!

Click image for more information.