8 Ways to Become the 'Mane' Attraction
Prom is no time to make do with a plain-Jane 'do. Celebrity style guru Kristianna Nichols suggests these romantic hairstyles to set yourself apart from the rest of the pack.
Hair Styles by Kristianna Nichols
Are you stuck in a beauty rut? Now is the time to take action. Whether your hair is long, short or always in a ponytail, you can become the one to watch on your special night. We invited three friends (who are gearing up for prom) to spice up their looks with princess-worthy styles. We highlighted the features they loved and camouflaged the ones they didn't. First rule: Break prom rules. Don't be afraid to stand out!
Romantic Classic

Mr. Blackwell will be proud... glamour and elegance are back! If you have great hair, show it off with this easy and "Romantic Classic" style. Using your fingertips comb through and lightly spray. Go with a golden blond color (blondes are as strong as ever). Add shimmer cream on cheekbones and tip of nose. Pale pink powder creates a Cinderella-type look as if you've been kissed by fairy dust.
TIP: Get rid of the messy look...tame your curls!
Trendy

Whoever thought a ponytail could look so good! This "Trendy" hairdo is flashy and dramatic all at the same time. Just wrap "underneath" hair around cord and secure (multi-colored hair adds dimension). Shine hair spray illuminates this sleek style. Glitter eyeliner transforms Elizabeth from radiant to gorgeous.
TIP: Drop earrings are best when hair is up or pulled back.
Retro

Wow!!! Never underestimate the power of a few strands of hair. This "Retro" beauty shows us what a simple half up, half down (plus strands) can do. Full, fun hair with great shape makes you the ultimate "glam girl." Accents like these will definitely make you steal the scene from the prom queen.
Super Long

Almost everyone wants a change of pace for prom...but not everyone wants to make it permanent. Sylvia's short hair is amazingly transformed to a "Super Long" super sexy style with extensions. Faux hair is an ultra hip must-have this season. They say your eyes are the window to your soul...why not sparkle them up with face jewels. These clear gems make your eyes more dazzling. Red lips perfectly complement the ultra-feminine fashions this year. (For darker skin tones, stick to red lipstick with an orange or yellow hue in them.)
TIP: For shimmering lips add gold or silver eye shadow to the middle of the lips and blend to appear translucent.
Beautifully Manicured

Be memorable! Slick it back for a "Beautifully Manicured" look that stays in place all evening. Put hair in ponytail (on top of head if you want height). Place the "wiglet" over hair cord and secure. Mist with glitter hair spray. Flecks of sparkle give your hair a soft glow when the lights hit them. Go ahead and shimmer...be a "shining" star!
Forget-Me-Knots

This legendary beauty will never be forgotten with "Forget-Me-Knots". Simply pull hair into sections, twist tightly and secure (let hair flare out for extra drama). This soft style accents the face and neck. A classic look with a new twist. Top it off with a light reflecting bronzer...it gives a healthy glow to the face and body. Dust on sparingly.

TIP: For super skin, drink lots of water.
Elegant Flower Child

If there is such a thing as an "Elegant Flower child," this is it! The long, loose, spiral braids are sassy and sweet all in one. We traded in Ashley's wrist corsage for a more "eye-catching" take on flowers...we put them in her hair. Her makeup is "candy-inspired." These colors create a light, bright, youthful look. Add Vaseline to lipstick to soften color and add shine.

Sprouts and Greens

Funk up your night with "Sprouts and Greens." This playful style will help boost your confidence. Ashley's look is two ponytails wrapped and pinned for a flirty, fun do. This style requires you to dust off that once undesirable blue or green eye shadow and wear it proudly. Don't forget your eyebrows; they frame your face, make the eyes look bigger and the cheekbones higher.
TIP: Tweeze stray eyebrows. Brush brows up to find natural arch and carefully pluck away.
With the right style, makeup and techniques, you'll be a show stopper. Don't just look pretty — look pretty amazing!
Models: Elizabeth Berens, Ashley Lindquist and Sylvia White
Photography and Hair: J.C. Adkins Makeup: Coralie Davies


Kristianna Nichols
is one of the country's new beauty experts. She is a former Mrs. America, NFL cheerleader, professional model and commercial actress. Kristianna has had her own TV talk show and was a popular entertainment reporter for the NBC affiliate in Indianapolis before moving to Vail, Colorado. She has hosted many TV shows, from Mainstreet USA to On The Move. Kristianna produced the (televised) Indianapolis "500" Queen Pageant and has appeared on TV stations throughout the country as a style expert. She has had the opportunity to interview stars from Chris Rock and Fabio to Brooke Shields and several Miss Americas. She is the president and CEO of Noble Tress beauty company and the inventor of "Kristianna's Crown."
PAGEANT-WINNING PROM INSPIRATION
Read about how pageant winners are shaping and influencing popular styles. See their looks and learn the most important attributes posess.
Additional Hair Tips and Articles

Making Waves by Kristianna Nichols
You are sure to have fun investigating these styles, with options that range from ponytails and braids to slick pin-ups and long straight looks. Which one is right for you? Experiment!

Investigate These Hairstyles For Prom by Tami Crosby
Waves are making a strong comeback for the warmer months ahead.

Hair To Be Remembered by Tami Crosby
These hairstyles and makeovers add a new twists to retro styles. Follow these steps to look great for prom.

In a Prom Panic? Hair's Help by Kristianna Nichols
Help for the harried hairdo.

Prom Hair Style Makeovers by Kristianna Nichols
8 Ways to become the 'mane' attraction.

Isn't It Ionic by Ernie McCraw
Ionic products produce quick hair straightening.

Prom Makovers
These styling tips will help you to bring out your personality.

Prom Do's by Tammi Crosby
These hair styling tips will help you change your image.

Prom Hairstyles: Tips & Tools by Tammi Crosby
Profiles of our Prom fashion shoot models, and how we did their looks.

The Right Tresses For Prom Dresses by Kristianna Nichols
Long and lush looks are the glam alternative to everyday practical ponytails.

Hair Updo's: Kicking It Up A Notch by Kristianna Nichols
Here's the lowdown for spicing up your styling techniques from the "Updo King."

Hair: The Cutting Edge by Kristianna Nichols
Expressing yourself is easy this fall with these worldly, vibrant new looks.

Hair: Turn Same-Old Looks Into Sunny New Styles by Kristianna Nichols
Little adjustments can lead to big improvements. Turn same-old looks into sunny new styles with these hot tips.

In a Prom Panic? Hair's Help by Kristianna Nichols
Five simple ways to head off disasters on your big night.

Achieving Beauty That's All Yours by Kristianna Nichols
Remember the old saying, "Beauty lies within?" Still true, but adding a little makeup and a great haircut doesn't hurt.

A Breath of Fresh Hair by Kristianna Nichols
Endlessly captivating, flawless, and always in style.

Hair Styles for Summer by Kristianna Nichols
Hey, Sunshine! Your hair style says a lot about you... so why not be "cool" when the temperature is on the rise?

Back to Glamour: Hair Styles for Prom by Kristianna Nichols
Whether you have ultra short hair or a mane to your waist (or anywhere in between), look to the young stars of Hollywood for the hottest trends.

| | | | |
| --- | --- | --- | --- |
| | | For the complete behind-the-scenes story and all the details on this and other exciting competitive events from across America, as well as a wealth of advice to improve your chances of victory, be sure to order Pageantry today. | |
---
Home I Subscribe I In This Issue I Fashion Shoots I Classifieds I Links I To Advertise I Pageantry Mall
About Us I Our Writers I Newsline I Picture of the Week I Contest I Feedback | Join Club Pageantry
© Pageantry magazine 2004
Pageantry magazine contact and copyright information.








---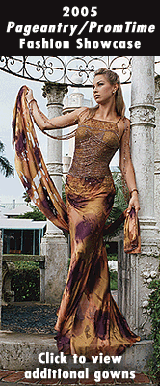 Crown/Heart Necklace Offer!

Click image for more information.