For a Breath of Fresh Hair,
Just 'Do It Your Way
Hair Styles by Kristianna Nichols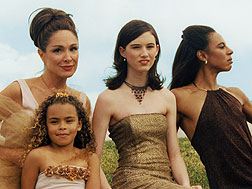 Kristianna Nichols, Tyler Porterfield, Hillary Higgins, and Yvonne Joyce (L-R).

Endlessly captivating, flawless, and always in style. How do beautiful people get that way? Remember, they usually are seen in their best light and have the help of professionals. For those with natural instinct and confidence, it is easy to be your own inspiration, to make bold statements, and get noticed no matter what your age or fashion sense. It is time to believe in yourself and be true to your best look. You have style — it might just need a little perfecting. This is the way to do it! Clean it up! Make it crisp! Keep it classic!

Be polished and use color to change your look. Rich, vibrant "lowlights" are a gorgeous way to add depth and texture to your hair The classic brunette is recreated with romantic up-sweeps, sleek bobs, and updated "pageant" hair (pulled up on the sides and down in back). Soften up the season's social events with hints of bronze, tans, and browns... they look great on brunettes.

My sensationally placed bun is a "do" that Audrey Hepburn made famous. You can be show-stopping with this less-is-more style. Simply pull your hair into a high pony, clip the tail forward, and smooth the hair back over the clip and secure it.

Even little girls can enhance their natural beauty with color, clips, and coifs. Tyler's hair is conditioned and finger-combed into place. Her bangs are held off her forehead in a stylish "Nicole Kidman at the Grammies" look.

Make an entrance with a cutting-edge bob. A severe side part and an ultra-shiny flip will make others stand up and take notice when Hillary walks in the room. This hair style is true to her natural beauty. She is sleek, classic, and confident. Start with a good blunt haircut. Simply blow-dry the hair with a round brush (in order to flip the ends up), use pomade or mousse to add lift, and finish it off with a gloss to eliminate fly-aways.

Yvonne never ceases to amaze us with this updated "pageant hair of the '80s" style. Yes, it is back, and it's better, and bolder than ever! Simply pull the front and sides of the hair over a hair-heightening comb for greater height and smoothness. Secure the comb with nude clips or decorative barrettes. The fuller you make the hair on top, the higher your cheekbones will look.

Break out of the basic black and rekindle your look with color. Try red: it's fresh and vibrant, and in any hue red is a fun and flirty way to make a statement (but make sure you are ready for all the attention).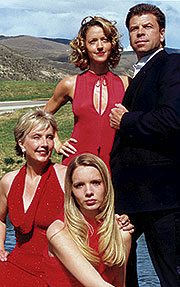 Bridgett Weller and Jeff Nichols, (L-R, standing), and Kathy Iverson, and Susie Pope (L-R, seated).

Nothing does more to highlight your features than a great cut and color. Kathy is gorgeous with her short, sleek style. It softens her overall appearance while drawing attention to her facial structure and striking attitude. To obtain her look, add mousse to the roots of your hair before blow-drying it, and use a light gel to tuck the hair behind your ears.

Create the ultimate look with a stunning Pearl Harbor-inspired hairdo. It's a timeless attention-getter. Full, healthy hair is the essence of a woman. Susie's style is created with a little smoothing gel and a blow dryer. A large curling iron adds the finishing touch to her ends. Use a gloss for added shine.

Bridgett's night out just got more interesting. She looks incredible with sculpted, soft curls. Ringlets are a romantic way to experience a new level of brilliance and finesse. Her layered, pencil-straight hair is transformed into a cascade of shiny volume with the use of "benders" or small hot rollers. For a more controlled face-framing effect, use the curling iron to put curls exactly where you want them. Add a "GQ" guy in a tux to complete the package. (Men have it easy, don't they?)

All these bold, beautiful women know what works for them, and you can, too. Just find the cut, color, and clothes that highlight your best features. Once you do, you are sure to feel good in your own skin.


'DO REMEMBER TO:
1. Wear a simple dress with a "fussy" hairdo or visa versa.
2. Finger-comb curls for a more defined ringlet.
3. Never brush wet hair; use a wide-tooth comb and start at the bottom.
4. Trim hair to keep split ends at bay and give a neater look.



Makeup: Cathy Montoya
Photos, hair, makeup, wardrobe: Kristianna's Design House


Kristianna Nichols is one of the country's new beauty experts. She is a former Mrs. America, NFL cheerleader, professional model and commercial actress. Kristianna has had her own TV talk show and was a popular entertainment reporter for the NBC affiliate in Indianapolis before moving to Vail, Colorado. She has hosted many TV shows, from Mainstreet USA to On The Move. She is the president and CEO of Noble Tress beauty company and the inventor of "Kristianna's Crown."