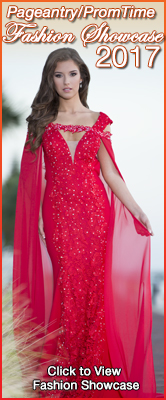 START ME UP: iPOP! attendees quickly fill up queues as agents, managers, and production company reps meet with the many talented students hoping for a chance to work in show business.
The 2006 iPOP! convention brings bright and promising John Robert Powers students up close to Hollywood's legendary siren's call.
When young Janice and her mother first visited a modeling school three decades ago, it wasn't a comforting experience. The woman who ran the school, Janice would later write, "looked me up and down with obvious displeasure, like this was some kind of joke or something." But then the woman's attitude changed, and she said, "Yes. Hmmm. I think we can work with Janet." "Janice," Janice corrected her, and then stood a while longer, thinking she still would be rejected. After the school director finished sizing her up, though, she declared, "Well, we have our work cut out for us, but I see a lot of potential here."
That young, insecure model turned out to be Janice Dickinson, who became one of John Robert Powers biggest success stories, with numerous modeling contest prizes, a decades-spanning career as one of the first supermodels and, in recent years, a TV reality show star.
The impressionable young modeling and talent students of John Robert Powers today have a big advantage compared to the one that Janice Dickinson had as a child. Today's hopefuls can attend a brand-new convention called iPOP!, where potential stars of runways, stage, and screen have the chance to catch the eye of hundreds of modeling agencies, TV and movie casting agents, personal managers, and producers who decide on who becomes famous.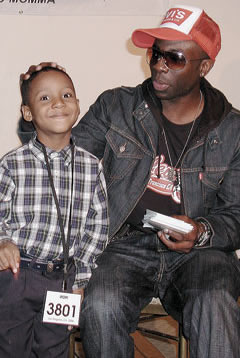 THE KID JAMS: Six-year-old JRP-Connecticut student Kai Rumcheran finds a fan in MTV's Yo-Mamma star Sam Sarpong, who was so impressed with Kai that he invited him to a live taping session on the day they met.
Held at the beginning of January at the Century Plaza Hotel & Spa in Los Angeles, iPOP! certainly couldn't guarantee anyone Janice Dickinson-type success, but at least the students from JRP and other modeling and acting schools at iPOP! knew they would be able to get a second, third, or fourth opinion about their potential for success from the numerous scouts, agents, and managers offering interview opportunities during the last days of the convention.
"It's a great way to be seen and to get the personalized coaching one needs," said Perren Page, a veteran Hollywood character actor and instructor at JRP-Norwalk, Connecticut. "It's also very valuable to see what your competition is all about…. And what better way than to go to LA and meet some movers and shakers."
Among the many recognizable names in attendance at iPOP! were Shaun Robinson, Access Hollywood correspondent and weekend host; Michael Maddox, producer and fashion designer; Tommy Fukuda, director of major fashion shows for Betsey Johnson, Donna Karen, and DKNY; Raymundo Baltazar, who appeared on Bravo's hit series Project Runway 2; and Sam Sarpong, star of the MTV show Yo-Mamma.
For many who attended the iPOP! training workshops, success could be measured in a number of ways, including:
• Picking up some new skills to bring back home and perfect;
• Being chosen for the Talent Showcase and Fashion Show, where a number of overall awards for modeling and stage performance could be earned;
•  Receiving call-backs from managers and agents who would interview hundreds of performers for client representation; and
• Being signed through actual contract offers for jobs in their areas of greatest performance potential.
TWO iPOP! 2006
SUCCESS STORIES
STEPHAN HAMPTON,
TEEN MALE MODEL AWARD

Stephan, a JRP-Salt Lake City student, is a Brigham Young University scholarship recipient who has the whole package — looks and brains to go with skills as both a model and actor. His 45 total callbacks — 36 for modeling and nine for acting — were the most ever given to a JRP male model performer.
VALERIE MONSON,
FEMALE MODEL AWARD

Valerie, a JRP-Salt Lake City student, is a University of Utah philosophy and art major who was a thespian in high school with aspirations to become an actor, and quickly moved into a leadership role. She received 15 callbacks at iPOP! — nine for modeling and six for acting, and was considering agency contract offers.
As the modern talent-development scene merges fashion and modeling with the music and entertainment industry, events such as iPOP! are providing students with far more options than ever in their quest for a foothold in performance careers. But a student still needs to have a degree of training and experience to impress the judges and agents, and that preparation is where the school directors and instructors at JRP earn their keep.
"Attending John Robert Powers before iPOP was so helpful," said Crystal Smith, of JRP-Austin, Texas. "My director, Sarah Uglum, set up classes specifically for iPOP! students, and we had meetings to determine how everyone was doing and how much one-on one-time we needed before the convention. If a student needed more than the special classes for iPOP! preparation, the directors would then set up another one-on-one class for us."
Kai Rumcheran, a 6-year-old acting student who attends JRP-Connecticut, could barely contain his enthusiasm on the day we met him in a talent seminar, in which he flubbed some of his lines but made up for it with a natural charisma with which he charmed everyone in the room. Later, we caught up with Kai and his family in a workshop given by Sam Sarpong, the rapper and MTV show host, who was so taken by Kai's personality and wit that Sam invited Kai to one of Sarpong's live taping sessions in an LA recording studio. "He's quite a kid," Sam told us afterward. "We're going to keep in touch when we get back to New York."
It is invaluable contacts such as Kai Rumcheran's with Sam Sarpong that give hope to the hundreds of students who attended the 2006 iPOP! convention. But there's also value in the hard lessons students learn as they come to realize experience often is the best teacher. "Going on to the runway in front of tons of agents was definitely one of the most nerve-racking things ever," said JRP-Austin's Crystal Smith. "You are in front of agents who have worked with A-list stars, and you have only been doing modeling for less than a year — that's scary! But then again, after you compete, you are so proud of yourself and feel so great you want to do it again. I absolutely love that feeling of confidence after you finish an audition."
Olga Pecanac, of JRP-Chicago, received Actress of the Year honors and also took the award in Monologues competition. Her comments are typical of those students whose training and support paid off at iPOP! "I am very proud of myself and very thankful that I received those rewards," said Olga, "but I couldn't have done any of it without the support of my family, friends, and the great training at John Robert Powers of Chicago."
Read More Modeling Articles
Spring 2013
From tattoos to tanning, aspiring models should put considerable thought into decisions that could possibly affect their long-term appearances.
By Eve Matheson
Winter 2012
BEING THE ENVY OF THE INDUSTRY
From London to Las Vegas, success knows no bounds for some of the biggest up-and coming names in modeling and entertainment representation.
By Eve Matheson
Fall 2012
Inspirational organizations like Models For Christ are becoming more valuable to the careers of aspiring models in need of direction.
By Eve Matheson
Summer 2012
Between the expertise of scouts at IMTA and the ever-changing methods of industry geniuses, there is plenty of advice out there for aspiring models.
By Eve Matheson
Spring 2012
For most people, a cruise is just a relaxing vacation, but this special cruise is packed with the modeling opportunities of a lifetime.
By Eve Matheson
Winter 2011
New York City and Washington D.C. played host to two historical events for the modeling and entertainment industries.
By Eve Matheson
Fall 2011
Thinking About Japan
After dealing with consecutive tragedies, Japan's modeling industry is ready to resume being a major international influence.
By Eve Matheson
Summer 2011
Your modeling career can be a short one if you don't take advantage of the right opportunities when they are presented to you.
By Eve Matheson
Hollywood hopefuls packed the house at IMTA with the desire to become the next Ashley Greene.
By Angel Anthony Mendez
The talented stars of Nickelodeon, Twilight and iPOP! once again raised money for the Starlight Children's Foundation.
Spring 2011
Some of the modeling industry's experts weigh in on what it takes for young talent to get to Italy.
By Eve Matheson
Winter 2010
Hard work and dedication are your tickets to achieving your goals, and even being on the front of Pageantry.
By Eve Matheson
The International Modeling and Talent Association provides some insight as to what makes their convention an amazing tool for aspiring models and actors.
Ryan Lionberger and Nicole Geiger were named this year's Mr. and Ms. Barbizon at the International Modeling and Talent Association convention in New York City.
The International Presentation of Performers [iPOP!] once again helped guide aspiring young models and actors to achieving their dreams of fame and stardom.
Christina Alvarez and Justin Luz walked away winners with the titles of Miss and Mr. iPOP!.
Fall 2010
Karen Lee has used her extensive background to develop a new series of modeling and acting workshops.
By Eve Matheson
Summer 2010
The modeling and entertainment industries show enthusiasm about a rebounding economy and more jobs.
By Eve Matheson
By earning the titles of Ms. and Mr. Barbizon, Meredith Masteller and Joey Rodriguez are staring at a wide open future.
iPOP! celebrates with the Make-A-Wish Foundation and the Starlight Children's Foundation at the bi-annual convention in Los Angeles.
The only person who can truly define the X-Factor known as "It" is you.
By Angel Anthony Mendez
Spring 2010
Fashion Week invades new cities and proves that even a slow economy can't stop the power of creative designers.
By Eve Matheson
Winter 2009
Coming together for a cause
The 2009 iPOP! convention in Las Vegas gave participants a chance to get noticed and give back.
Something for Everyone
IMTA returns to New York for this year's convention, featuring a priceless schedule of lessons for aspiring talent.
Limerick to Broadway
Irish eyes have a knack for spotting top talent at the IMTA convention in New York City.
Showtime in the Big Apple
Year after year, Showcase International brings together the top entertainment, modeling, and acting talent with the people who make stars.
Spring 2009
Maria Serrao has overcome doubt with determination, en route to establshing a career in a field that some told her she couldn't.
Fall 2008
Modeling isn't about where you have to live anymore, it's about where you want to live.
Summer 2008
Success can still be had in modeling's new era.
Fall 2007
Great runway models aren't born, they're made with a combinations of strong natural gifts, instinctive moves, and plenty of tough love from a coach like Michael Maddox.
Summer 2007
Many opportunities are opening up for women of color to leave a strong impression.
Winter 2006
Occasional strolls down a runway may spark an interest in expanding into full-time modeling, acting or pageant competition. Whatever the case, here are some expert tips to help you take the next steps toward achieving your goals.
Fall 2006
It Happens Every Spring - it can happen to you:

Modeling and talent agents convene each year at the Waldorf=Astoria on the lookout for the stars of tomorrow. With any luck, you too can be discovered.
Fall 2006
Made in Japan

: One of America's hottest exports in the Far East may be its fashion models. Here's why girls who cross the Pacific are practically guaranteed to profit from the trip.
Summer 2006
Star pupil, star maker: The lifeblood of the entertainment industry is people like Charlie Pasarel and his PMTS International, where so many benefit from his IMTA success as a performer, producer and mentor.
Summer 2006
face-to-face with stardom: The 2006 iPOP! convention brings bright and promising John Robert Powers students up close to Hollywood's legendary siren's call.
Summer 2006
Beautiful dreamers: Ms. and Mr. Barbizon winners discover the training and cool confidence required to reap Pageantry's rewards at their modeling convention.
Summer 2006
Our expert's radio call-in show appearances have elicited a number of common questions from prospective young models. Here's the version of her advice that you can conveniently tear out and keep.
By Eve Matheson
Spring 2006
In any competitive field rife with rejection, a young person's success often depends upon her ability to handle these challenges with maturity.
By Eve Matheson
Winter 2005
Meet the two models whose convention success landed them in the 2006 Pageantry Fashion Showcase.
Winter 2005
Members of a small Tennessee-based talent firm compete in front of some of the biggest hitters in the modeling and acting agency-management professions.
By Ethel Smawley
Winter 2005
The inaugural iPOP! show sought to infuse the fashion and modeling convention with a music-and-entertainment-industry twist.
Winter 2005
How to stay in the fashion modeling field, through jobs that make the fashion industry tick.
By Eve Matheson
Fall 2005
When you don't fill the bill as a perfect couture specimen, there's still a chance for success — if you have what it takes.
By Eve Matheson
Summer 2005
These top fashion photographers reveal the characteristics they look for in new models. Find out if you have what it takes.
By Eve Matheson
Spring 2005
Althought the media spotlights the bad apples, the reputable training centers know how to deliver on their promises.
By Eve Matheson
Winter 2004
What qualities are needed to send a working girl into the modeling stratosphere? Let this expert explain.
Fall 2004
How to boost your modeling career strategy by becoming a 'Parts model.
Summer 2004
How JRP took a diamond in the rough and shaped her into Miss Teen California.
Summer 2004
We take you behind the scenes as Miss Galaxy '04 Gina Ferrer turns an unpolished Texas teen into an "overnight" pageant success for MTV
By Gina Ferrer
Summer 2004
Commercial print assignments open up numerous opportunities even if you don't make it in high fashion.
By Cristina DeHart
Summer 2004
Hollywood, the epicenter of the entertainment world, welcomes the USA's bright new talents.
By Carl Dunn
Summer 2004
Acting and modeling contestants give it their all in NYC for agents and casting directors.
Winter 2003
With its proximity to a plethora of dream makers, IMTA/Barbizon in New York City offers an alluring combination - a chance to be seen, heard, and discovered by those in the modeling and entertainment industry's inner circles.
Winter 2000
The modeling industry is a business just like any other. You must understand how it works and what is expected.
By Eve Matheson
Fall 1999
My goal is to help parents and their children benefit from my family's years of experience and success in the field. Here are a few words of advice.
by Susan M. Halter