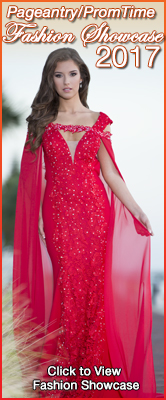 PAGEANT MODELING STANDOUT: Miss East Coast USA Teen NY 2005 Heidi Edwards, demonstrating a grace and wisdom beyond her years, was picked up by Model Management Group in New York City and appeared in runway shows during New York's Fashion Week.
In any competitive field rife with rejection, a young person's success often depends upon her ability to handle these challenges with maturity.
I have never been totally in agreement with the lament of the famous Irish playwright George Bernard Shaw: "Oh why is youth wasted on the young?" I think that in today's world our young men and women do not waste a minute of their youth. They are imbued with the spirit of enthusiasm, ambition, curiosity, courage, and the determination to take advantage of every moment and opportunity that life has to offer. Obviously life was a lot different in Mr. Shaw's day (1856-1950), and his mischievous, often caustic, sense of humor infused his writing.
Teenagers are the future of every profession. In the modeling world, they are the reason the industry exists. I am constantly researching the modeling industry and interviewing young models, and I am always impressed with their passion and determination. As this is the time of year when many young women are thinking of career paths, they can learn a great deal about professionalism from the young model. These girls must learn the ropes of their business quickly in order to survive in a competitive profession riddled with rejection. The same commitment applies to contestants in beauty pageants, prospective cheerleaders, aspiring actors, young people involved in playing sports, and in fact to all teenagers no matter what their goals. The dream, the need for patience and financial investment, the excitement, and the disappointments are the same.
Here are some invaluable tips for handling challenging situations gleaned from models, which will help no matter what career or interest you are pursuing.
Rude behavior.

Professional behavior and a good attitude are essential to success. Be reliable, punctual, adaptable, considerate, pleasant, and loyal. A bad attitude will end a career before it starts. If you have had a fight with your boyfriend, a disagreement with your parents, or you just don't feel like giving 100 percent, you must lose the pout and lack of energy that goes with it before you go on an interview, try out for cheerleading, or take any step in your career.
Shailah Edmonds: "I once got a job because I sat up straight in the waiting room with a smile on my face.
I have often been invited to sit with model agents during interviews with prospective models. They all told me that if a girl walked into the room and didn't smile, greet them, and show enthusiasm, they were just not interested no matter how beautiful she might be. Top international model, Shailah Edmonds, told me: "I once got a job because I sat up straight in the waiting room with a smile on my face. There were a lot of girls there for the same job, but I got it because the clients liked that first impression. You just never know who is watching you, or when."
Weight problems.

All teenagers must know how to handle excessive weight fluctuations. Anorexia and bulimia plague the modeling profession, and the industry is blamed unfairly for the rise in these deadly psychiatric problems. In many cases, young people have the problem before they become models.
Jules Graff co-owner of Isis Model Management in London, England, told me: "Bulimia and anorexia are not symptoms of modeling if a girl has it when she starts. A girl is not going to become anorexic just because she is a model. Models are naturally tall and thin. That is what is required for the job. That is why they are an easy target." These eating disorders can often be overcome with good psychiatric care.
How you look and feel depends greatly on a healthy lifestyle. Your face will show the first signs of fatigue, which can often be interpreted as a lack of interest or boredom. To constantly fight a weight battle is hopeless and dangerous. Talk to a nutritionist and learn what is right for you. There are 3,500 calories in a pound of body weight. To control weight you must understand the intake and output of these calories. Intake is the easy part! Output means exercise. Balance is everything. Time and effort spent on learning good nutrition is a good investment.
Exercise in moderation, follow a healthy and balanced diet, and get adequate sleep. We all need discipline and boundaries in our lives. Learn good habits while you are young and you will have less stress to deal with as you pursue your dreams.
Drugs.

Drugs are readily available, not only to young models but also to all teenagers, and their use is all-too-prevalent. To be caught with drugs overseas can mean being sent to prison and deportation. Drug use almost always leads to the user's ongoing downward spiral, resulting in unprofessional behavior, unacceptable appearance, unreliability, ill health, and even death. Don't become a statistic. Don't ruin your life. Say "NO" to drugs!
Industry scams.

There are rogues and self-styled experts in every business, and con artists can be so convincing. Models are easy targets, and the Internet multiplies the risks. Never before in civilization has good and evil traveled so quickly. The web can be extremely dangerous for eager young people who think that, by using the Internet, they can gain immediate success. Perhaps a few can, but more often scams are involved, because if something sounds too good to be true, it generally is. The solution? Don't answer advertisements without first consulting with your parents, who should check out all the details.
Insecurity.

Everyone is insecure in some measure. It is a scourge even in the rarified world of the super model. One beautiful top model told me: "We are always looking over our shoulders to see who the next new face will be." A little insecurity is good for us, for it keeps us humble and makes us nicer people. In order to keep a lack of self-confidence to a minimum, though, it helps to educate yourself in every aspect of your prospective career or interest. Also, having your wardrobe in good shape; keeping your hair, nails and teeth looking their best; and acquiring some general knowledge of current events will help to boost your confidence during interviews or auditions.
A little insecurity is good for us, for it keeps us humble and makes us nicer people.
The decision-makers want young ladies who can take care of themselves, hold a conversation, and answer questions or express opinions on current topics. All of the young models I spoke to offer the same piece of advice: "Believe in yourself and be yourself." A façade becomes transparent quickly. If you are prepared, look and feel great and are honest in your approach, you will feel confident.
Although you may not choose to pursue a modeling career, you can learn a great deal from the young model who deftly handles these challenging situations. Here's one final piece of advice that virtually everyone in the modeling industry would endorse: "Don't give up your dream!"
Eve Matheson is the author of The Modeling Handbook, a bestseller in the industry. She has been writing about the modeling and acting world for over twenty years. Her new book Model Scoop And Acting Info provides a wealth of information on how to have a happy, successful, safe career and is now available. Eve is a journalist and the mother of a former international model. She has worked as a model, and in radio and television as a writer and presenter. Eve lives with her husband, Ian, a plastic surgeon, in Tampa, Florida.
Read More Modeling Articles
Spring 2013
From tattoos to tanning, aspiring models should put considerable thought into decisions that could possibly affect their long-term appearances.
By Eve Matheson
Winter 2012
BEING THE ENVY OF THE INDUSTRY
From London to Las Vegas, success knows no bounds for some of the biggest up-and coming names in modeling and entertainment representation.
By Eve Matheson
Fall 2012
Inspirational organizations like Models For Christ are becoming more valuable to the careers of aspiring models in need of direction.
By Eve Matheson
Summer 2012
Between the expertise of scouts at IMTA and the ever-changing methods of industry geniuses, there is plenty of advice out there for aspiring models.
By Eve Matheson
Spring 2012
For most people, a cruise is just a relaxing vacation, but this special cruise is packed with the modeling opportunities of a lifetime.
By Eve Matheson
Winter 2011
New York City and Washington D.C. played host to two historical events for the modeling and entertainment industries.
By Eve Matheson
Fall 2011
Thinking About Japan
After dealing with consecutive tragedies, Japan's modeling industry is ready to resume being a major international influence.
By Eve Matheson
Summer 2011
Your modeling career can be a short one if you don't take advantage of the right opportunities when they are presented to you.
By Eve Matheson
Hollywood hopefuls packed the house at IMTA with the desire to become the next Ashley Greene.
By Angel Anthony Mendez
The talented stars of Nickelodeon, Twilight and iPOP! once again raised money for the Starlight Children's Foundation.
Spring 2011
Some of the modeling industry's experts weigh in on what it takes for young talent to get to Italy.
By Eve Matheson
Winter 2010
Hard work and dedication are your tickets to achieving your goals, and even being on the front of Pageantry.
By Eve Matheson
The International Modeling and Talent Association provides some insight as to what makes their convention an amazing tool for aspiring models and actors.
Ryan Lionberger and Nicole Geiger were named this year's Mr. and Ms. Barbizon at the International Modeling and Talent Association convention in New York City.
The International Presentation of Performers [iPOP!] once again helped guide aspiring young models and actors to achieving their dreams of fame and stardom.
Christina Alvarez and Justin Luz walked away winners with the titles of Miss and Mr. iPOP!.
Fall 2010
Karen Lee has used her extensive background to develop a new series of modeling and acting workshops.
By Eve Matheson
Summer 2010
The modeling and entertainment industries show enthusiasm about a rebounding economy and more jobs.
By Eve Matheson
By earning the titles of Ms. and Mr. Barbizon, Meredith Masteller and Joey Rodriguez are staring at a wide open future.
iPOP! celebrates with the Make-A-Wish Foundation and the Starlight Children's Foundation at the bi-annual convention in Los Angeles.
The only person who can truly define the X-Factor known as "It" is you.
By Angel Anthony Mendez
Spring 2010
Fashion Week invades new cities and proves that even a slow economy can't stop the power of creative designers.
By Eve Matheson
Winter 2009
Coming together for a cause
The 2009 iPOP! convention in Las Vegas gave participants a chance to get noticed and give back.
Something for Everyone
IMTA returns to New York for this year's convention, featuring a priceless schedule of lessons for aspiring talent.
Limerick to Broadway
Irish eyes have a knack for spotting top talent at the IMTA convention in New York City.
Showtime in the Big Apple
Year after year, Showcase International brings together the top entertainment, modeling, and acting talent with the people who make stars.
Spring 2009
Maria Serrao has overcome doubt with determination, en route to establshing a career in a field that some told her she couldn't.
Fall 2008
Modeling isn't about where you have to live anymore, it's about where you want to live.
Summer 2008
Success can still be had in modeling's new era.
Fall 2007
Great runway models aren't born, they're made with a combinations of strong natural gifts, instinctive moves, and plenty of tough love from a coach like Michael Maddox.
Summer 2007
Many opportunities are opening up for women of color to leave a strong impression.
Winter 2006
Occasional strolls down a runway may spark an interest in expanding into full-time modeling, acting or pageant competition. Whatever the case, here are some expert tips to help you take the next steps toward achieving your goals.
Fall 2006
It Happens Every Spring - it can happen to you:

Modeling and talent agents convene each year at the Waldorf=Astoria on the lookout for the stars of tomorrow. With any luck, you too can be discovered.
Fall 2006
Made in Japan

: One of America's hottest exports in the Far East may be its fashion models. Here's why girls who cross the Pacific are practically guaranteed to profit from the trip.
Summer 2006
Star pupil, star maker: The lifeblood of the entertainment industry is people like Charlie Pasarel and his PMTS International, where so many benefit from his IMTA success as a performer, producer and mentor.
Summer 2006
face-to-face with stardom: The 2006 iPOP! convention brings bright and promising John Robert Powers students up close to Hollywood's legendary siren's call.
Summer 2006
Beautiful dreamers: Ms. and Mr. Barbizon winners discover the training and cool confidence required to reap Pageantry's rewards at their modeling convention.
Summer 2006
Our expert's radio call-in show appearances have elicited a number of common questions from prospective young models. Here's the version of her advice that you can conveniently tear out and keep.
By Eve Matheson
Spring 2006
In any competitive field rife with rejection, a young person's success often depends upon her ability to handle these challenges with maturity.
By Eve Matheson
Winter 2005
Meet the two models whose convention success landed them in the 2006 Pageantry Fashion Showcase.
Winter 2005
Members of a small Tennessee-based talent firm compete in front of some of the biggest hitters in the modeling and acting agency-management professions.
By Ethel Smawley
Winter 2005
The inaugural iPOP! show sought to infuse the fashion and modeling convention with a music-and-entertainment-industry twist.
Winter 2005
How to stay in the fashion modeling field, through jobs that make the fashion industry tick.
By Eve Matheson
Fall 2005
When you don't fill the bill as a perfect couture specimen, there's still a chance for success — if you have what it takes.
By Eve Matheson
Summer 2005
These top fashion photographers reveal the characteristics they look for in new models. Find out if you have what it takes.
By Eve Matheson
Spring 2005
Althought the media spotlights the bad apples, the reputable training centers know how to deliver on their promises.
By Eve Matheson
Winter 2004
What qualities are needed to send a working girl into the modeling stratosphere? Let this expert explain.
Fall 2004
How to boost your modeling career strategy by becoming a 'Parts model.
Summer 2004
How JRP took a diamond in the rough and shaped her into Miss Teen California.
Summer 2004
We take you behind the scenes as Miss Galaxy '04 Gina Ferrer turns an unpolished Texas teen into an "overnight" pageant success for MTV
By Gina Ferrer
Summer 2004
Commercial print assignments open up numerous opportunities even if you don't make it in high fashion.
By Cristina DeHart
Summer 2004
Hollywood, the epicenter of the entertainment world, welcomes the USA's bright new talents.
By Carl Dunn
Summer 2004
Acting and modeling contestants give it their all in NYC for agents and casting directors.
Winter 2003
With its proximity to a plethora of dream makers, IMTA/Barbizon in New York City offers an alluring combination - a chance to be seen, heard, and discovered by those in the modeling and entertainment industry's inner circles.
Winter 2000
The modeling industry is a business just like any other. You must understand how it works and what is expected.
By Eve Matheson
Fall 1999
My goal is to help parents and their children benefit from my family's years of experience and success in the field. Here are a few words of advice.
by Susan M. Halter