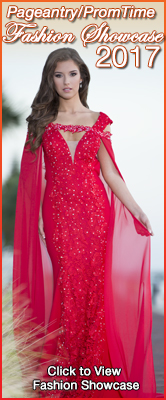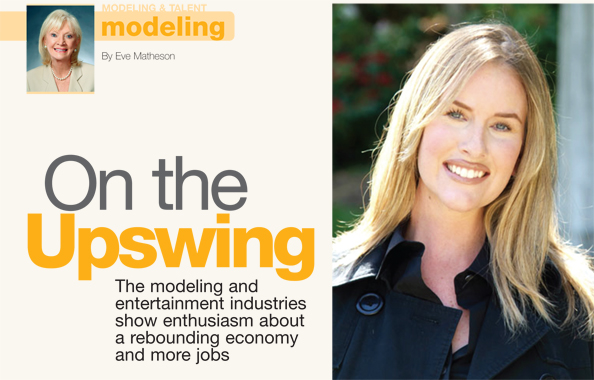 Fashion Flora: Über model agent Teresa Pollman owner of Image and Model Development in Medford, Oregon and international scout for Wilhelmina New York, Los Angeles and Miami.
The modeling and acting industry ushered in the new decade at the International Modeling and Talent Association (IMTA) convention in Los Angeles with a powerful, palpable sense of optimism and hope. All of the agents, managers and school directors I spoke to had shown great strength in adversity, and despite an alarming increase in competition in all aspects of the business and a marked decrease in the number of jobs available, they were very upbeat about the future.
I was acutely aware of the indomitable American spirit, being handed from one generation to another, at the glittering awards banquet on the last night. Young celebrities from film, television and the fashion world who had been discovered at previous IMTA events presented virtually every award. The famous agents, managers, photographers and acting coaches who had discovered them, and who years ago had themselves been the presenters, were happy to sit out of the spotlight and cheer them on.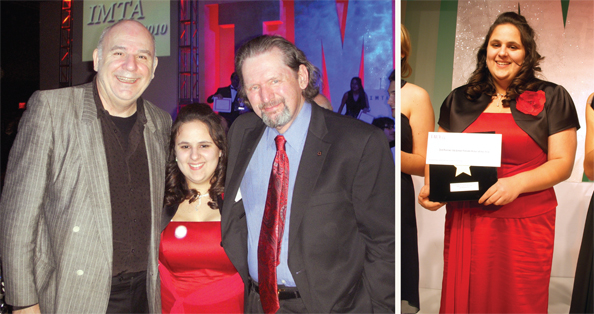 Radiant Crystal:

(Above) Modeling school and agency owner Charles Nemes (L) with scholarship recipient Crystal Varelis and acting coach Adam Hill (R) who presented the award. (Right) Crystal Varelis, award and scholarship winner.
I had the pleasure of sitting next to Adam Hill, [see Showbiz article page 30] an acclaimed actor and author and one of the best acting coaches in the business. Adam has been awarding scholarships to either his school in New York or the Promenade Theatre in Los Angeles for over 24 years. At this particular event, he awarded several scholarships, including a three year, $65,000 scholarship to the prestigious Wilkes University in Pennsylvania, to singer and actress Crystal Varelis of Whitewater, Wisconsin. Crystal had been brought to the convention by Charles Nemes, owner of the Barbizon school, and Royal Model Management Agency in Chicago. She won the Junior Singer of the Year award and was second runner up for Junior Actor of the Year.
Thespian and writer David Vando whose plays have been produced in this country and Europe, presented a total of $150,000 worth of scholarships on behalf of the world famous New York Film Academy where he has been teaching "Shakespeare for the Contemporary Actor" for eight years. Ten winners received $15,000 each for the three-year acting program. They were: Matt Barbetta, Kwanmetra Schley, Katherine Pulker, Sean P. Farris, Michelle Hollifield, Shelby Bastarache, Kristy Richman, Kenneth Huitt, Giovanna Ruffatto and Nick Sardo.
David told me: "My goal is to inspire a new generation of actors with my love for Shakespeare and the theatre, so that they in turn will pass it on to future generations. What I have found is they inspire me as I inspire them." Adam and David are the personification of optimism and hope.
A key ingredient for a model's success is to be represented by a vibrant, legitimate, well-established, hard working agency, with global connections. The world famous Wilhelmina Model Agency founded in New York in 1967 fits all the criteria. Former model Teresa Pollman, who owns a modeling school and an agency in Medford, Oregon, scouts for the Wilhelmina agencies in New York, Los Angeles and Miami. Teresa's credentials are impeccable and she is famous for her uncanny ability to discover the next high profile model or actor. Teresa graciously took time from her hectic schedule to answer questions I frequently receive from parents and models.
Q. Given today's huge competition, what sets a model apart in an interview with a client?
A. Her personality. When a model is with a client and she doesn't have a great personality, there is another terrific girl down the street who does. With the way the economy is, and because the business is so competitive, a girl has to be able to convince the client that she is perfect for the assignment. An agent can only do so much. I tell girls to make conversation; be prepared with a topic, think of something that has happened within the last three years that is really funny, interesting and a good story. If they play an unusual sport, have an unusual hobby, or do something that sets them apart from everyone else, they can use that as a topic. Agents and casting directors see hundreds of kids at an event and when they get home they will remember something that is unique.
Beautiful World:

(Above) Teresa Pollman in Shanghai, China with Haylee Godfrey who started modeling for Teresa at the age of 10 and has modeled all over the world. (Left) Exotically beautiful Monica Mcgrew was discovered by Teresa.
Q. What should a model wear to a casting or interview? Is makeup a no-no?
A. Natural is the way to go. My girls wear skinny jeans, tank top and heels. Hair should be worn down and look natural, or pulled back in a ponytail. No makeup, except for maybe a bit of lip gloss and mascara.
Q. What is the difference between modeling in New York, Los Angeles and Miami?
A. The New York market is edgier and wants girls who are a bit taller and thinner with not as much shape. We want models to be able to do everything—shows, editorial and commercial work.
Miami is a secondary market. The girls I would send there have a great body, perfect skin, beautiful teeth and hair. New faces go during the three months before the high season, which starts in January, for development, and to build up their books. We do everything necessary to get them ready for that high season. As in New York, they don't need to have a car to go to appointments. They can walk or take a bus. In Miami, many models rent bikes.
Los Angeles is a very commercial market. The challenge here is transportation. A model needs a car, or a parent who can come to LA to drive her around. This isn't always possible.
Q. What makes a good agent?
A. Someone who is self-motivated, does research on the industry to find out what type of model each designer wants to show his creations, and who is willing to work more than 9 to 5. A good agent will nurture and really take care of the models and be aggressive and confident when negotiating fees with clients.
Eve Matheson is the author of The Modeling Handbook, a bestseller in the industry. She has been writing about the modeling and acting world for over 20 years. The newest edition of Model Scoop And Acting Info is now available and provides a wealth of information on how to have a happy, successful, safe career. Eve is a journalist and the mother of a former international model. She has worked as a model, and in radio and television as a writer and presenter. Eve lives with her husband, Ian, a plastic surgeon, in Tampa, Florida.