Pageants Are Big Business Online

Web Watch by Deborah Richardson

So, you've studied Pageantry's tips and advice from cover to cover and poured over our web site at www.Pageantrymagazine.com. Your beauty secrets are in place, you've chosen an amazing gown, and your talents are perfected. No longer a diamond in the rough, you are polished and shining. You are the most beautiful "you" you can be (and between you and me, you just may be the most beautiful "you" in the world.)

Now is the time to share that brilliance, and entering a pageant is a great way to publicly celebrate and display the culmination of your years of hard work. This issue's Web Watch is devoted to Pageantry's favorite topic — PAGEANTS, of course! The following pages, arranged alphabetically, represent our select choices from among all pageants. One is sure to be right for you.
**All URL's listed below are active links. Click the web address or the relevant pageant web site image to link directly to the individual pageant site.**


All American Girl & Boy
pageantwin.com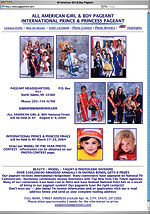 This web site is home to two pageants — All American Girl & Boy as well as International Prince & Princess. Navigating this site is a breeze, with all information one click away. The pageant's executive director, Tricia Hoffman, provides pageant details online, as well as a complete listing of dates for regional and state events currently being booked. Click on the "photo contest" link for contest details and to print an entry form. Links are also provided for viewing photos of the pageant's 2004 model search and a complete listing of past winners' names.



America's Classic Miss
americasclassicmiss.com


Vibrant spotlight hues offset a deep black background, combining for an aesthetically pleasing read. As the page loads, take notice of three crown animations at the far right hand side of the page — one each for National Supreme, State Supreme Queen & National Queen, and State Queen. Look quickly as the animation does not repeat.

Links off the main page take the visitor to view national pageant information. Find out what you could win by entering this pageant system as well as what to expect from the pageant itself. A main link to the Virginia State pageant acts as a portal to anything and everything you want to know about the pageant. Discover the current schedule, enter the pageant with their on-line entry form, view a complete list of state winners and photos, send e-mail, and last, but not least, let them know your thoughts by signing the guest book. Back at the National pageant home page, link over to the America's Classic "Cover" Miss Photo Contest and Baby Miss Cover Contest. Submit your favorite photo directly from the site, or submit your national pageant entry form, or resume. Before leaving the site, don't forget to check out the second portal on the site, where you can view an extensive message board hosted by www.voy.com.


America's Fabulous Faces
americasfabulousfaces.com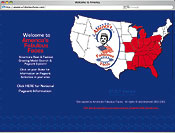 As a visitor you are immediately greeted by a theater-style flash animation at the left-hand side of the page, drawing your attention to directions on how to use the site map positioned on the far right. If you are in luck, your home state will be an active link colored in red on the United States map. Each state link loads its own web page with navigation and information specific to one of the individual state pageants available. Each state home page is slightly different. Some have letters from the director, while others have photos, or schedules posted. However, each state page contains a submission form for inclusion in the pageant's mailing list, as well as contact information for the state's director. Navigation on each individual state's home page is fairly uniform. You can link to fill out and submit an entry form, as well as pay entry fees (through Pay Pal). Also on the entry form link are a schedule and detailed information about each pageant.

Don't miss the photo gallery. America's Fabulous Faces has several high-quality photos of recent pageant winners — yours could be next! Still have questions? Click over to the site's extensive message board or send an e-mail straight to the director to erase any question marks. If you are ready to leave your mark, or would like to interact with others who have, check out the site's message board. Grab a cup of coffee to savor as you pour over abundant message boards posted by many of the site's more than 50,000 visitors.


America's National Teenager
nationalteen.com


The America's National Teenager Scholarship Organization site opens with a patriotic and inspiring Flash animation, so be sure to have the latest Flash plug-in installed in your web browser. The site is cleanly and professionally designed, and navigation to vital information is clearly defined by links at the top of the home page. The site doesn't end at face value. Want to be a contestant for one of the many scholarship prizes offered? All the resources you need to get started are obtained by clicking the "Contact Us" and "How to Enter" links centered at the top of the page. Use the handy drop-down menus to find your state and obtain relevant contact details. Not sure if this pageant is right for you? Click the "Testimonials" link to read what others have to say and the "FAQ" link to find answers to your questions. Don't miss the Photo Gallery of great pics from previous events. Make sure pop-up windows are enabled on your browser — clicking on a thumbnail will enlarge the image in a new window. America's National Teenager was founded in 1971 and is open to girls ages 12-18 whose academic achievement, community involvement, communication, leadership skills, and individuality are what set them on the path to becoming "Tomorrow's Leaders...Today!"


American Coed Pageants, Inc.
gocoed.com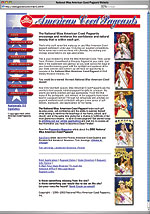 American Coed's home page also sports a clean, patriotic design. This site is exceptionally well-planned, with obvious and easy-to-use navigation and excellent layout — befitting a pageant that is now in its 20th season. Whether you are four years old or 20, you will find an age-appropriate contest to participate in; Coed, Teen, Jr. Teen, Preteen, Sweetheart, and Princess crowns possibly await you. There is a "no makeup" rule for girls under 13 years old. The site's photo gallery (click "Nationals '03") contains an impressive collection of hundreds of photos to spend an afternoon perusing. Click any of the text links to view a separate page of photos in a table; once there, another click on an individual photo will enlarge it. After you've finished opening the images of contestants, click on "Pageants." Once there, click on your state name to send an e-mail addressed to your state's pageant director. Know everything you need to know and want to apply? Click once on "Application" and you can print your own entry form for mailing.

By far, the most inventive and interactive feature is an online forum where you can e-meet others in the field and get the scoop on the Coed pageant system, with categories such as National Pageant Updates, Pageant Events and Competitions, Pageant Age Divisions, and even a live chat room.


Beauties of America Pageant
beautiesofamerica.com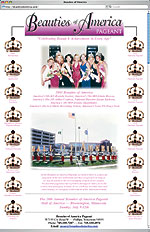 Completely befitting a pageant, crowns serve as graphical navigation. Beauties of America has been holding pageants for 19 years, in Florida, Ohio, and even on a cruise ship! It is now located in Minnesota, under the guidance of Susan Jackson. This pageant offers competitions for women in the same age groups by decades from teens to 60 plus years old. To find a state pageant, click the bottom-most crown on the right-hand side column. Once the page loads, find your state on the map and click it for photo and contact information. Take advantage of this pageant's completely digital entry form. Fill out your information and one click on "Send" and you're a contestant. Don't miss the link to prize information, also at the lower end of the right hand column. Unique to this web site is a delegate newsletter available for viewing once you become a member of Beauties of America. Extensive photos of past winners are available for viewing.


East Coast USA Pageant
eastcoastusapageant.com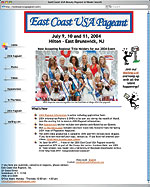 East Coast USA's web site opens with a group photo of the winners and a quick look at what's new for returning visitors. Click on the "2004 Pageant" link to find everything you need to know about this pageant. It offers competitions for all age groups as well as young boys, including Baby, Mini Miss, Little Miss, Jr. Miss, Young Miss, Teen Miss, Miss, Ms. Ms. Woman and Ms Petite, each with awards listed in the "Prizes and Titles" link. Once you are sure that this pageant is right for you, download, print, fill out, and mail in your application. Photos of winners can be found at the "Photos" link and also at the "Appearances" link. Also available online is a peek at the 2004 promotional video and an opportunity to order your own copy of a recent pageant competition video DVD. Want to know who won the 2003 titles? Click on "2003 Pageant" for complete details and an explanation of the pageant ranking system and titleholders. Also tucked away on this page is a link to the pageant's newsletter.


Galaxy Pageants
coronationinc.com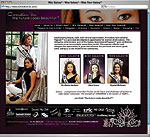 Wow! The home page for Mrs. Galaxy, Miss Galaxy, and Miss Teen Galaxy is elegantly gorgeous in purple hues befitting royalty. Be sure you have enabled pop-up windows in order not to miss specific pageant news and advertisements. Click anywhere in the central image area of the splash page to enter the full site featuring Galaxy's three queens. Each of the three photos is a portal to further information about each queen; read each queen's personal message and biography, view portfolio and appearances photos, and follow a link to a personal web site. Don't skip the "What's New" link, where you will discover clips of the winner's noteworthy achievements — there are plenty of news and happenings to report. Now, here's a test of your pageant trivia knowledge: Which empress' crown jewels inspired Galaxy's crown jewels? Hats off if you already know the answer, but if your trivia is a little rusty, click on the "History" link for the answer.

This site continues to impress with its wealth of detailed and relevant information. "Pageant Week" spells out exactly what you can expect from the upcoming event from the moment you arrive to the moment the new queen is chosen. A wealth of knowledge about each delegate is available through the "Delegate" link. View photos of all delegates, appearances, portraits, and portfolios. Tucked away in the delegates link is the web site's interactive feature — a Galaxy e-group hosted by Yahoo Groups. Become an instant expert on entering the pageant — any question you could possibly have is sure to be answered at the "How to Enter" link, as well as an online entry form and payment option. This web site is a tough act to follow.


Miss America Organization
missamerica.org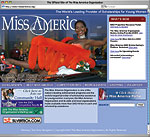 And now for a pageant that needs no introduction — Miss America, the leading pageant providing millions of dollars in scholarships available not just for the winning Miss America, but for over 12,000 young women who compete at the state and local levels as well. From the home page, you can join the Miss America Organization's mailing list, connect to the MAO Properties portal, and link to sign up and participate in a read-only web conference.

Navigation through the main site is achieved through drop-down menus lined up horizontally across the top of the screen. Discover the history of the pageant, the scholarships offered through the Miss America Organization, and a complete list of past recipients, including the exact prizes awarded. Be sure to spend some time browsing the scholarship directory link. Each scholarship available links to a page outlining the history, availability, requirements, how the recipient is selected, and monies disbursed.

Want to meet Miss America? You virtually can... run your mouse over the text "Meet Miss America" and click on the drop-down link "Meet Miss America 2004," Ericka Dunlap. Read about her platform statement, "United We Stand. Divided We Fall Behind: Celebrating Diversity and Inclusion," see where she has traveled, and view her photo gallery. You can also read up on the lives of past Miss America titleholders, as well as the history of Miss America dating back to the 1920s.

When you are ready to compete, follow the link to "Competition Info," then find out what's required for you to enter at "Become a Contestant." "State Contact Info" contains a drop-down menu for each state, where you can find competition dates and contact info for your state director. Be sure to check regularly, because plans do change. While you await your competition date, learn more about corporate Miss America, read the FAQ's, and glean useful facts from the "Competition Results," "National Contestants," "Preliminary Lineup," "Competition Info," "Ticket Info, Parade," "Telecast," and "Judging" links.

There is always something happening at Miss America, so be sure to check out the press releases and upcoming events under "News and Events." If you want to own a piece of Miss America memorabilia, the shopping link has photos, videos, jewelry, competition books, and other merchandise available for purchase.

Following through in Miss America Organization's effort to better the community and nation, the site offers opportunities for you to get involved personally. Do spend time browsing the volunteer links. Get involved and see how you can contribute and make a difference.


Miss Christian Pageant
butlerministries.org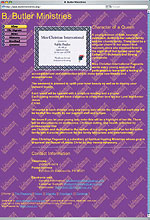 Upon entering butlerministries.org, you are greeted with cheery yellow and vibrant violet colors. Navigation is effortless to follow, comprised of six links in the top left-hand corner of the page. A woman of faith can bring or find her heart and soul in this pageant intertwined with the Christian faith. Read further details about the mission of this pageant directly on the home page. Link through "Pageant" to obtain relevant details on the four age divisions: Miss Pre-Teen Christian International, Miss Junior Teen Christian International, Miss Teen Christian International, and Miss Christian International. Check the "Press Release" link often. The focus of the pageant is summed up on the "Ministry" link with their mission statement. Also tucked away on the "Ministry" link are contact telephone numbers and mail and e-mail addresses. The site has a handy feedback forum for you to submit your thoughts.


Miss Teen America
missteenamerica.com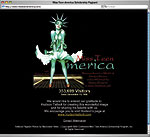 Miss Teen America's web site opens with a splash page displaying an artistic rendering of Miss Teen America as Lady Liberty. From the splash page, choose to visit the three pageant divisions: Teens (ages 14 to 18), Junior Teens (ages 11 to 13), and Teeny (ages 0 to 10). Each of the pageant divisions are linked together by the navigation menu on the left side of the page in its own frame. You will find links there to a comprehensive collection of resources. Get the latest pageant news, browse the abundant archives, and keep up with current information about each of the state pageants — everything you need is at your fingertips. Click on "How to Apply" to view fees, to see what is included with your entry, and to be added to the mailing list. Also from this page, download a PDF application, print it, fill it out, and mail it to the pageant address listed on screen. Do read over the "Rules and Regulations" link before applying.

Follow the "Judging" link to better understand what is required from you in this pageant. Percentages of the total score are marked each for the application, verbal expression, formal expression, talent, modeling, verbal presentation, physical fitness, and photogenic categories.

Between pageants, get your fill of current pageant events by linking to "In the News." See what Miss Teen contestants, winners, and associates are doing. There is also a link to the "Picture of the Week" as featured in Pageantrymagazine.com. ;-) While on the news page, be sure to sign the guest book. Don't miss the archives, and if you just can't get enough, you can even shop for Miss Teen America merchandise at the "Logo Boutique."


Miss USA Pageant
missusa.com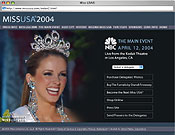 Upon entering this site, you are greeted by photo links of Miss Universe, Miss USA, and Miss Teen USA. For the purposes of this article, only the Miss USA pageant was reviewed. Susie Castillo's photo welcomes you upon entering the Miss USA segment. Across the top are the navigation buttons, and to the central righthand side of the page are quick links to the site's points of interest. Especially nice is a list of state delegates in a drop-down menu. Selecting a state will bring up a page featuring that state's delegate; each delegate is honored within the Miss USA pageant system. Of course, the main spotlight is on the winner, and you can link to a page detailing Susie's reigning year at the "Miss USA – A Year in the Life" link. You are also provided access to upcoming events at Miss USA. All dates are kept current, and this can be a relevant and useful resource for anyone following the Miss USA pageant events.

The "Become the Next Miss USA" link is a call for contestants. Use the drop-down menu to choose your state, fill out the required information and submit it. The appropriate state director will respond to your application directly. Brief qualifications for applicants are also listed on this page. The last featured link on the home page is the Miss USA store. Photos of the 2003 delegates, the official Miss USA Swimsuit Poster, a Miss USA logo bag, and official program book are all available for purchase online!

That's just the beginning of discovering this site. Across the top of the home page is a link to view press releases relating directly to the Miss USA pageant. The date listed on the main press release page is the date the release was issued. Click on the press release link for event-related dates. Of course, you won't want to pass up "The Main Event" link. Find out where the pageant will be hosted, who the hosts will be, the prizes to be awarded, and how to purchase tickets for the event (for friends and family to watch you compete, of course!) Don't miss the "History" link, where you can read up on the pageant's beginnings and impress everyone with your knowledge.

And now for the "Fun Stuff" link! Check out exclusive backstage photos, glean beauty tips from the inner circle, read about the perception vs. the reality of pageants, and check out the state crowns to be awarded. The Miss Universe Organization produces Miss Universe (missuniverse.com), Miss USA (above), and Miss Teen USA (missteenusa.com). Be sure to spend time at these other valuable sites that advance and support today's women.


Miss Teen USA
missteenusa.com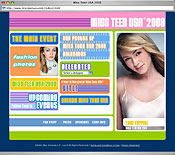 Entirely befitting the sparkle of youth, the Miss Teen USA web site is joyfully and brightly colored. Let's start with "The Main Event" link in deep cobalt blue. A wealth of information is at your fingertips. Read press releases of the big event — where is was held and all the details. So, what is a year in the life of Miss Teen USA like? Find out at "Following Tami In Upcoming Events". Discover the highlights and view photos of her year as Miss Teen USA. Check back often as the page is updated regularly.

Follow the link "Miss Teen USA 2003". Read Tami's captivating bio for an inside glimpse of this beautiful young woman's life. Learn about Tami's preferences — there's a cute mouse rollover at "Meet Tami". Pass your mouse over one of the 4 color blocks to reveal the answer. Tami's "charitable alliances" link focuses on the issues teenagers face today, including Sparrow Clubs, D.A.R.E., ShiNE, and others. Don't pass over the wealth of Tami's fashion photos. Each thumbnail enlarges when clicked to a beautifully professional shot. You can even take a trip back in time to become reacquainted with Miss Teen USA 2002, Vanessa Semrow. Back to the home page, choose any state from the drop down menu to read about the relevant state's delegate.

If you are interested in becoming the next Miss Teen USA, link over to "How to Enter". Select your state to fill out a relevant application and a state director will contact you.

Miss Universe
missuniverse.com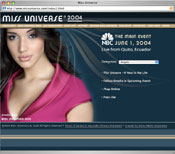 The site opens with a Flash intro showcasing the country of Ecuador, the future site of the Miss Universe 2004 pageant. As you enter the site, you are greeted by the beautiful and talented Amelia Vega, Miss Universe 2003. Clicking first on "Press Info" takes you to relevant press releases and related articles. Moving to the right across the top, gold navigation bar, click "Miss Universe 2003". Read an interesting bio that serves a great lead-in to the additional links on this page. Click "A Year In The Life" to follow the highlights of a remarkable woman's past year as she progresses the cause of her charitable alliances dealing with world wide HIV/AIDS awareness. The "Fashion Gallery" displays modeling photos of Vega. Click on any photo to enlarge it in a new window. Click on "Upcoming Events" for an abundant listing of Vega's appearances as her year of service draws to a close.

A bit of trivia for you — how did the Miss Universe Pageant get it's start? Check your answer at the "History" link at the top of the page. Also view past titleholders and awards, but don't miss the "Scrapbook" link. It is an inventive showcase with photos and text of 50 years of Miss Universe history. (Click the decade to view addition photos on the timeline.)

So, who will be Miss Universe in the future? Could it be you? If you would like more information or are ready to enter the pageant, click "Become Miss Universe" and the appropriate National Director will contact you.

Navigate back to the home page to view the second and extensive section of the site. Pull the drop down menu next to "delegates" to become familiar with the women who competed in the pageant. Read a short bio and also discover each delegate's interests. Fans can email the page to a friend for viewing.
Mrs. International Pageant, Inc.
mrsinternational.com and missteeninternational.us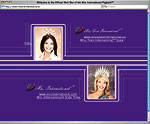 For those of you who missed the opportunity to compete in a pageant before raising a family, the Mrs. International pageant was specially developed for you! The Mrs. International mission is to promote today's married women, their accomplishments, and commitment to family and marriage.

The web site opens in warm shades of purple befitting a queen, using modern navigation and Flash media to present all the recent news and special information you need in a concise and easy-to-read format. If your web browser isn't up-to-date, be sure to download the Flash player when prompted so you can see the latest news, video clips, promotions and prize giveaways!

The "Pageant Info" link has a drop-down menu, with links to pageant details, the Trunk Show dates, a breakdown of the judging criteria and percentages of the total score, and contact information. Learn all about the current Mrs. International and view her appearance photos at the "Mrs. Intl. 2003" link. Two valuable resources are the "Directors" link, where you can locate your state director, and the online store, where you can purchase memorabilia.


Ms. Petite International
goelite.com/elite/index.htm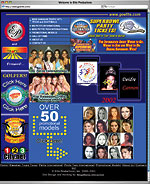 The Ms. Petite International is a truly international pageant for women 5'6" and under. Across the top of the screen are links for Ms. Petite International, Ms. Petite Teen International, Ms. Petite Texas, and Ms. Petite Teen Texas. Click on "Pageant Details and Judging Procedures" to read qualifications for competing as well as the judges' scoring breakdown. The "Register to Become a Contestant" link connects you to an online application form. A representative from Elite Productions, Inc. will contact you with additional information about your involvement in the pageant. Once you are registered, "Information for Registered Contestants" supplies a wealth of information you will need to prepare for your big day. Be sure to check out the photo gallery and past winners' links, as well as the pageant history link.


National American Miss
nationalamericanmiss.com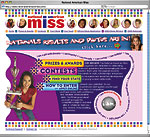 Upon entering this site, you will be greeted with bright, cheerful colors and flashing squares of light befitting a youthful pageant. Featured on the site are four links. "Prizes and Awards" links you to a detailed list of what you can receive by entering the National American Miss pageant. "Contests" links you to a breakdown of the judges' scoring percentages and what each judge looks for in each scoring category — a definite plus for being prepared. "Find Your State" links you to a list of states, where you may pick your home state from the list to find dates for each of the Miss Teen, Miss Junior Teen, Miss Pre-Teen, Miss Jr. Pre-Teen, and Miss Princess divisions. "How to Enter" links you to the state registration form. From this page, you can link to FAQ's and read the pageant privacy policy before filling out your form completely online using National American Miss' very nice and technically sophisticated entry form. Other text links at the top of the page display photos of the team you will be working with and a list of the 2003 state winners. Last, but certainly not least, view a streaming pageant video.