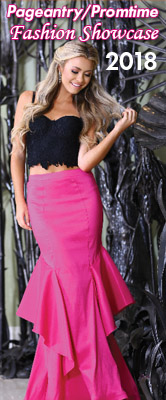 This quarter Web Watch is going to let you know about the extensive resources that our website provides and how it can benefit you. You already know that we are 'The Bible of the Industry," and that we are the premier source of information in the beauty pageant, modeling, fashion, and competition industry. With up to 32 million hits per month, we are also the premier online source of information when it comes to the beauty pageant, modeling, fashion, and competition industry. Much of the content from the current issue of Pageantry will be available online for you! So following is a rundown of what our web site has to offer.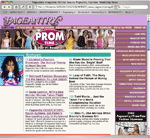 START HERE: The Pageantry homepage.
Homepage and Table of Contents
When you visit our web site you will have instant access to the table of contents of the current issue. The content will be organized in the same fashion as the one in our magazine. You will easily find what you are looking for under the categories of Spotlight, Features, Your Look, Modeling & Talent, Personal Advice, People Watching, In Each Issue, and News & Views.
Look for article titles that are underlined. This will be a visual cue that will show you which articles from the current issue are available online at this time. Much of the exclusive content from every issue is available for you to enjoy at your leisure or while on the road. We select an excellent group of articles from each issue that will give you a complete sample of the essence of our magazine. Whether you are beginning your journey in competitions, fashion, or showbiz, or you want to add to your knowledge, or you want to search for the hottest designer gowns and hairstyles for social occasion, competitions, or prom, our web site has something for you.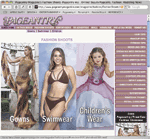 ZOOT SHOOT: Our Fashion Showcase.
Fashion Shoots
One of the most prominent aspects of the industry, the Fashion Showcase not only features the most talented models, but it also puts the spotlight on the best styles available to wear on the red carpet, at prom, or in competition. Whether you are looking for the perfect evening gown, the "it" swimsuit, or the perfect outfit for your little angel for that upcoming competition or audition, browse through our Fashion Shoot section and I know you will find the item that will "call out to you" and give you the fashion edge.
Our Fashion Shoots section has three spotlight showcases for you to browse. The Gowns, the Swimwear, and the Children's Wear sections all feature some of the most fabulous styles out there.
Our Gowns section features all the unique photos from our annual Pageantry and PromTime Fashion Showcase. You'll spend hours browsing page after fabulous page of dresses by top manufacturers. Click on each dress and you'll get a larger view in a separate pop-up window. You can continue to navigate all the dresses designed by the same manufacturer right in the same window. You can then close the window and continue to browse the remaining designs. I know one of these has your name written all over it, so keep looking until you find the one that's perfect for you!
Summer is almost here. Are you looking for a swimsuit upgrade? Look no further than our annual Summer Swimsuit Showcase. All the top industry names are here. Sporty? Sweet? Sensational? All the top styles are here, too, so no matter what swimsuit style you're looking for, we have it all for you.
Is your little one starting a journey into competitions? Already capturing little crowns and little universes? If you're looking for the outfit that will make your little one shine and make you proud at that next competition, look through our Children's Wear photo spread. Cute, sweet, and sophisticated, it's all here, so start browsing because the perfect outfit for your little one is here!
Advertisers
The Advertisers section is an invaluable resource. This section contains a full listing of all the products and services that will give you the leading edge in the next competition, will make you look like a billion bucks, or will give you ideas for your next audition. If it's a product or service that's essential to the world of beauty, fashion, or talent, you'll find it in the pages of Pageantry to help you get to the top. The listings include full contact information
Listings are arranged by categories, and there is a master list that contains all categories together.
To Advertise
Want to be included in our exclusive list of promotional partners in the pages of Pageantry and become part of the "who's who" of the industry? Our web site has a handy online form that you can use to ask us every detail that you wish.
Links are available to our electronic ad specifications and guidelines, and even our distribution overview. You can use these resources to prepare a top-quality printed promotion piece to be included in the pages of Pageantry. Everything you need to know about approved programs, ad proofs, image colors, photo formats, and image resolution is included to help you get it right — the first time. There are also some tips and tricks that will help you work faster and achieve a top-notch piece. All issue release dates are included and the dates that you should pay attention to when submitting your piece. All ad sizes available are listed as well as important information such as margins and bleeds. Our distribution overview page will give you a glimpse of the vast coverage that Pageantry offers. In other words, where you can find copies of Pageantry — which is a very long list of places. Whether a specialty retail store, modeling school, or newsstand, you'll be sure to find a location near you.
Newsline
This is where you can keep coming back and find something new all the time. Reading tidbit after juicy tidbit, you'll be in the know and stay up-to-date with our complete industry coverage. From the biggest pageants to Hollywood happenings, it's all here for you to enjoy 24 hours a day, seven days a week, all just a click away.
Do you have an inside scoop that you want to share with the entire industry? Do not hesitate to send your newsworthy info to: Pageantry magazine. P.O. Box 160307, Altamonte Springs, FL 32716-0307 Attn: Newsline. Or e-mail our Editor at editor@pageantrymag.com and we'll take care of the rest.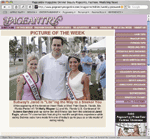 IT'S A SNAP : Our Picture of the Week.

Picture of the Week
Send your favorite picture(s) to Pageantry and possibly see yourself on the web site! Every week we publish a new industry photo that is inspirational and has interest to our readers. We welcome pictures of you at special events or with celebrities to be considered for publication.
If you want to send us your picture for consideration, here are some suggestions. Please identify each person's name in the picture and any past or present titles they may have. Don't forget to include yourself! Include the date, location, and name of the event with a brief statement about anything unusual or exciting. (The more eventful or exciting, the higher the chance that it will be published.) Please do not send the only picture you have. Due to the high volume of photos received each week, Pageantry cannot return photos. Remember, your accomplishments could be the inspiration that drives someone else to achieve their dreams. So, send your favorite photo or photos to us, and see yourself on the web site and possibly in the magazine!
HISTORY LESSON: Our 25th anniversary.
About Us
If you're curious about what makes us tick, who we are, and why we're here, go to the About Us section to learn every detail. The main page has a very detailed overview of what we do and why we do it. Be sure to check out all the areas that we cover, as well as sneak peeks at some of the celebrities that we've featured, and a preview of some of our writers.
As the original publication in the industry, we have a long history to be proud of. Check out our 25th anniversary celebration, including an appearance in the Hollywood blockbuster Miss Congeniality, where we were dubbed "the Bible of the Industry." Learn how we mastered media exposure before cable TV, how we've served pageant competitions both big and small ever since our humble beginnings, our coverage of more celebrities that you can shake a stick at, and the Family Tree that has been the backbone of our close-knit group of friends.
Our 20th anniversary page gives you a play by play of how our publication started under the leadership of our founder, Carl David Dunn, in 1980, and how it has grown to one of the coveted top positions in the event and fashion publication industry. This page also tells of the beginnings of PromTime, which is now a force to be reckoned with regarding the annual prom celebrations across the nation.
We have a page completely dedicated to our contact information, so it's always right at your virtual fingertips. You'll find our mailing address, our physical address in case you want to pop in for a quick visit, and all the pertinent emails for you to contact us about any topic that you wish. We also have a page dedicated to our exclusive industry expert writers, where you'll enjoy a brief bio of every individual who contributes to our publication. The list is organized by the genre that each person specializes in.
Article Archives
Hair Tips Archive
Here's one you should bookmark yesterday. Spring, summer, fall, or winter, we have a gi-normous archive of tons of hair articles that have appeared in Pageantry. Perfect for social occasions, prom, auditions, Swimsuit competitions, and Evening Wear competitions, this archive is one of the single most visited pages in our extensive web site. It should be no wonder since it covers all the bases and it contains the top hairstyles that are so essential for so many occasions. There are also tips that will help you do your hair faster, cuter, and more fashionable. It covers curls, sleek looks, fresh looks, makeover tips, prom-specific tips, and much, much more!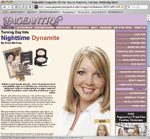 MAKEOVERS: Cosmetic ideas galore.

Makeup Tips Archive
You're going to get a lot of use out of this editorial archive. It is also one of the most visited pages in our web site. Do yourself a favor and bookmark this page as well. It is such a valuable resource; we often hear how much our readers enjoy going back to it again and again. It's full of makeover tips, makeup tricks, beauty tool advice, and fabulous ideas that you can use to create new looks. It's all here in this archive of makeup articles directly from the pages of our magazine. Keep your skin, eyes, lips, face, and nails in tip-top shape month after month with our expert tips straight from the source.
Fitness Tips Archive
Yep, summer is just around the corner and we all know what that means! Time to wear shorts, tank tops, swimsuits, and all the warm-weather gear that goes with it. With all the fashionable clothes that you can wear this summer, you want to look your best, right? Right.
We've gathered a list of articles directly from the pages of Pageantry that will make it easy for you to transform your physique into a statuesque work of art. You'll find articles that target specific areas of the body. Want to look good in your prom dress, or during evening gown competition, or during your next starlet audition? Work those shoulders, arms, and abs! Swimsuit competitions play a critical role in reflecting how much you value the physical attributes that you have and how much you invest in your fitness and health. The all-body, personal trainer, or slimming-down articles should help you shape up in no time at all.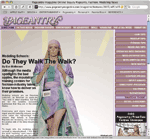 MODEL SEARCH: Fashion your success.

Modeling Tips Archive
Pageantry's modeling tips archive will keep you busy and turn you into a red-carpet diva in no time. This archive is packed with industry-exclusive articles on the who, what, when, and where of modeling. I'll tell you this much: it's all about the education and the networking. We regularly feature modeling schools that have spawned big-time stars, and we cover the modeling conventions that they attended when they were discovered by a seasoned scout. Are you ready for the big time? Bookmark this page too, and after you've read and printed every article for safekeeping, check back often for additional content that is regularly added to the list with each issue of Pageantry.
Breaking into Showbiz Archive
In the era of reality TV, regular folks appear before the public eye much more often than, say, 10 years ago. But how many of them become stars? We all know how quickly the elimination rounds separate those with skills, knowledge, and talent from those who didn't do their homework before their "big break." Pageantry is dedicated to help you on your path to stardom by providing you exclusive insider articles that give you the core of what you need to know to succeed in the entertainment industry.
We'll provide you with key aspects that you need to focus on to gain the cutting edge such as your education, voice, acting, modeling, public relations, as well as great tips and do's and don'ts. Be sure to check back regularly for additional advice!
Web Watch Archive
We often receive inquiries as to where our readers can go online to find out about many industry must-know resources. That's why we took the initiative to provide you with a quarterly list of industry leaders that you'll only find here in the pages of Pageantry — except, of course, on our web site. You didn't think we'd forget, did you? Every issue is packed with valuable information that will save you endless hours of online time such as physical trainers, designer swimwear, modeling and talent resources, evening gown retail stores across the country, social occasion gown manufacturers, pageants, modeling and talent competitions, and competition crowns and accessories. As we report on the extensive industry-leading resources that the web has to offer, we want to also provide you with a way to access it all together.
Pageantry & PromTime Fashion Showcase
Here at Pageantry we are dedicated to cutting-edge fashion, especially when it relates to haute couture and glamour. The globally celebrated evening-wear competition and senior prom, being two of the largest manifestations of the world of high fashion, are the particular areas we cover best. Every year we feature the Pageantry and PromTime Fashion Showcase, a celebration of the hottest designer gowns, dresses and apparel, along with the cutest and latest hairstyles that will make you the belle of the ball. Additionally, of course, what girl could do without accessories?
Visit our promtime.info site and revel in the glory of our annual Pageantry and PromTime Fashion Showcase, which comes direct from the colossal 32-page pictorial in the pages of Pageantry's Spring Edition. Every year we shoot the latest and greatest on location and we give you the choice of a lifetime (I know, decisions, decisions…). However, the added bonus with the online version is that you will always be a click away from contacting any of the manufacturers featured. If the skies part and light shines on your perfect dress while browsing for that special gown, all the information you need to contact the people who will make that dress yours might be included. How's that for instant gratification?
Promtime.info is here to keep you on top of all the latest on prom trends, dos and don'ts, prom makeovers, jewelry, prom planning, hairstyles, location decorating, preparing-for-prom fitness, and the art of etiquette.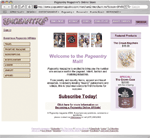 ALWAYS OPEN: The Pageantry Mall.

Online Store
Okay ladies; begin your shopping warm-up routine, because here is a great opportunity to shop till you drop. Only Pageantry Mall gives you everything you need all in one place. Keep your outfit in mint condition with a garment bag, or your crown in tip-top shape with a sturdy crown case. You'll also find numerous books and videos that will help you with everything from producing a pageant and becoming a beauty queen to working the runway.

Pageantry Mall is also the place where you can purchase back issues of our magazine — and boy do they go fast, or subscribe and receive every issue of Pageantry at your doorstep. And remember, Pageantry subscriptions make great gifts! Don't forget to check out all the gorgeous jewelry that will surely put that special touch on your individual look for your next competition or audition.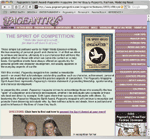 FOR SOMEONE SPECIAL: Spirit Award.

Spirit Award
Our page with the scoop about the Pageantry Spirit Award — an award that acknowledges outstanding qualities such as character, achievement, personal growth, and a willingness to promote the positive aspects of competition. The Pageantry magazine Spirit Award best represents Pageantry 's mission statement of promoting friendship, sportsmanship, and character development.
Contest & Prizes
Every issue of Pageantry gives you a chance to be included in the pages of the magazine — plus a chance to win a great prize from the Pageantry Mall! Here's how it works: Check this page for our quarterly Web Q&A question and submit your answer electronically right on our website, and we'll select the best answers to include in the pages of Pageantry. The winners each receive a prize from the Pageantry Mall.
Director's program
Here's your chance to make your next event a rousing success! It's also your opportunity to receive a free complementary issue of Pageantry for each contestant, an award certificate good for a 1-year subscription, free advertising from our subscription brochure program, and much more! Details, of course, are on the page! Follow the link on the right hand navigation bar!
Calendar
As the premier source of information in the industry, we're keeping our promise to keep you absolutely informed with a nationwide calendar of events. Keep track of all the competitions in your area, as well as the ones that you plan to attend across the country! If you want your next event listed in our calendar, send a quick e-mail to our editor and we'll be happy to update our calendar to include yours, too!

Magazine Submissions Guideline
Pageantry magazine is pleased to invite you to participate in the magazine by submitting your event and program news articles, letters, and photos so that you can be part of the magazine!

You may send photos and captions to run in the following sections: Patter, Personalities, Celebrity Spotlight, Pageantry Spirit Awards, Watching the Winners, and Talent Watch. Submitted articles run in the Competition Clips, Letters, and Pageantry Salutes sections.

With the widespread use of e-mail, digital cameras, and fully digital publishing technology, we list a number of suggestions that will ensure the usability of your materials in Pageantry.

Feedback Form
Pageantry welcomes your input. If you have any comments or questions regarding any previous stories, articles, editorial, fashion pictorials, or advertising, please feel free to share your thoughts with us. Is there a particular topic or area that you would like to see more coverage of? Do you have any story ideas of your own? Or is there anyone you'd like to see featured in our pages?

The Pageantry staff spends a portion of each morning reading the mail. We care what you think. Please complete the online form to make your opinion known.

Specialty Outlets
This page will give you a full listing of all the exclusive locations around the country where you can find the latest issue of Pageantry, except newsstands and bookstores, as well as contact information for those who want to become part of our exclusive list of national distribution outlets.

Club Pageantry
Do you want to make sure you receive special offers and information on exclusive Pageantry merchandise, subscriptions, contests, drawings, online chats, and breaking news? Now it's easy! Just follow the link to the sign-up form for Club Pageantry, and join this fast-growing group receiving these exclusives available only to club members.

More than ever, the articles, photos, archives, and links available at www.Pageantrymagazine.com offer value extending well beyond the magazine's subscription price. Browse it as much as you desire, and please be sure to let our advertisers know you found them at the Pageantry web site. In that way, you will be helping us to reach our potential as your partner in beauty, fashion, talent and modeling success

Rafi Pérez is the Art Director and Webmaster for Pageantry magazine.

w