Click on the underlined web address or the photo of the site to visit that site.
As the busy summer pageant season approaches, choose your suit now.
Summer is almost upon us. As the weather heats up, so too does the competition. Whether you are peeling off your winter clothes to lie in the sun, or if you're preparing for one of the many pageant events held during the summer... now is the time to choose a swimsuit, and Pageantry is here to help.
Perhaps you didn't know where to buy a "pageant suit," or maybe you're looking for something that looks "off the rack." In either case, the swimsuit manufacturers presented in this article have just what you're looking for.

Peli offers many styles for both lifeguard and pageant professionals.
Peli Performance Wear www.epeli.com
Since 1983, Peli has designed for professional athletes, aquatic professional personnel, and titleholders demanding the most appropriate gear. Peli stresses the quality and durability of their fabrics, but above all their comfort. Like their saying goes, "We wear our products to work!"
For pageant participants they offer a wide range of products. Click on the "Peli Pageantry" navigation button to see their pageant-appropriate styles. These styles maximize support and fit for a flawless impression. The styles are a one-piece monokini, a two-piece trimmed top with a sport bottom or optional boy (leg style) bottom, an adjustable keyhole and a halter keyhole, and a double-strap bandeau. All suits are available in red, royal, white, or black. They also offer the following accessories: Gel Cups, Triangle Cups, Cone Cups, Acrylic Shoes, Beige Shoes, and a Skirt to wrap around the suit bottoms. You might even find what you're looking for in the "Peli Guard" area, the lifeguard line, which features even more women's styles.
Ordering is easy, with an 800 number, or a PDF form that you can print and fax back. Individuals may request a free catalog online. Group orders, are handled by Tamara Thacher, owner and head designer. Here's how it works... Peli will work with directors in selecting four or five styles of the directors choosing. Then a catalog is sent to the contestants with the pages tagged with the style options selected by the director.
Peli also has a slide show featuring "Peli Events" which features their trade show booth, as well as studio photos of their swimwear. "Bodybuilding" features female bodybuilders in their swimsuits. The "Pageantry" slides show contestants in Peli swimsuits, and also some "behind-the-scenes" photos of Tamara Thacher, at a variety of events such as: Miss America 2002 and 2003, Miss California USA, and Teen USA.

Lady M's many styles.
Lady M Swimwear www.ladymswimwear.com
Michael Valley is the owner and head designer for Lady M Swimwear. Michael's company has been manufacturing swimwear from their Honolulu, Hawaii, factory for over 15 years. The Lady M pageant swimwear line was introduced in 2001. Says Michael, "The idea was to create a line that provided easier ordering for retail stores. We have 'hanging stock' for faster turn-around, and now over 60 stores carry the line." As an added bonus, each suit is delivered in a quilted, Hawaiian-print travel bag at no extra charge.
The line now consists of approximately 40 styles. While new styles are introduced two times a year, don't feel you have to wait for the new line to get something different -- customized rhinestone designs can be added to any of their suits. Lady M recently added eight new designs and a children's line. The children's line features four scaled-down versions of the best-selling conservative styles from the adult line. Some of the new adult styles feature velvet fabric, and one style even has flo-gels built right into the suit.
While the web site features many of the styles in the line, it is intended primarily as a tool for retail stores to service their customers by telling them to "visit the site, and we'll order whatever you like." There is no pricing, color, or size options given online; that information comes from the local retailer. To find a retailer near you, e-mail your city, state, and telephone area code to Michael at michaelvfashions@msn.com, and he will reply with the one nearest you. Group sales are available for pageant directors, and are also handled through the local retailers.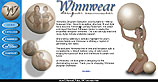 Winnwear's splash page theme is carried throughout the site, and in their printed catalog.
Winnwear Swimwear www.winnweardesigns.com

Winnwear Designer Swimwear was founded in 1996 by Sueanne Winn. Sueanne, a former Miss America contestant who owns a retail fashion store, started the line by customizing suits for her retail customers, and it took off from there.
While Winnwear selects the finest European fabrics for their swimwear, structure, and fit are also of primary concern. Their suits are fully lined, and many styles include underwire support. Shimmering millennium metallics highlight this year's fashion trends, and Winnwear is offering a myriad of glimmering new styles. A click on the "Fabrics" button will take you to a page of small swatches. A click on any swatch takes you to a larger view in a pop-up window which will give you a good look at the texture of the fabric.
The pages of the website mirror the company's printed catalog. A click on "Catalog" takes you to pages entitled Time to Shine, Glitz & Glow, Dazzle & Sporty, Charm & Flare, and Wild & Groovy. This is the area to request that they send you a catalog. On the "Contact" page, they list their address and phone number. Also included is a handy map that allows you to click on your state to find the store nearest you. For group sales or trunk show information, call Sueanne at the number listed on their site.

Glamoursuits catalog area is for ordering.
Glamour Suits www.glamoursuits.com

From the company's inception in 1980, excellence in swimsuit design has been Glamour Suits' primary focus. While their slogan touts "Swimsuits with Style for the Modern Woman," recently they have had numerous requests to expand their swimsuit line to include a variety of swimsuit accessories.
One good reason to visit the site is to take advantage of their monthly specials such as 10 percent off of red swimsuits in February for Valentine's Day, and similar savings on green swimsuits in March in honor of St. Patrick's Day.
Shopping at Glamoursuits.com is easy. All two-piece swimsuits are $150 (your choice of top style and bottom style). If ordered separately, tops are priced at $100 each, and bottoms are $50 each. It's that easy. Orders can be placed in three ways: by e-mail, phone, or writing to the address listed on the site. A wide variety of payment options are available.
Jamye Shaw www.jamyeshaw.com
While Jamye Shaw Swimwear may be the newest swimsuit line to be featured within the pages of Pageantry magazine, she is by no means a novice. Jamye Shaw's pageant experiences began in the late '70s as a favor to a friend. This led to more requests, and she cultivated a nationwide reputation for her exacting work, spread mainly by word of mouth. Jamye has recently focused her energies on designing and manufacturing her own line of swimwear, which will soon be available to the public.
Jamye's site is currently under construction, so a review is not included in this article. However, Jamye tells us that her new site will feature photos of her swimwear line, including many custom and made-to-order options. A listing of local retail stores will also be provided. Group sales will be handled through the retail stores.
- - - - - - - - - - - - - - - - - - - - - - - - - - - - -
No matter which of these manufacturers' websites you visit, you are sure to find a swimsuit that will have you looking your greatest for that next big event.
---