Jewelry and Sashes and Crowns, Oh My!

Web Watch by Deborah Richardson

While we may not have the yellow brick road and ruby slippers at our disposal, we have selected a handful of products and manufacturers who bring their own wizardry at creating that special finishing touch — be it a winning crown, a perfect piece of jewelry, or a satin banner displaying your title — for that extra sparkle as you walk down your own red carpet path.
**All URL's listed below are active links. Click the web address or the relevant pageant web site image to link directly to the individual pageant site.**


Allen's Crowns
www.acrowns.com

An industry leader since 1975, Allen's Crowns has recently updated their web site to include an online ordering system. To view available products, click "Online Catalog," which takes you to an online storefront. Product category links listed to the left-hand side of the page include tiaras, adjustable crowns, round crowns, king crowns, scepters, crown pins, sashes, ribbons, jewels and logos, display cases, medals, and trophies and awards — plenty to choose from! Each category loads individual thumbnail product shots, basic product information, and, if available, customization options. Click on the product image to enlarge it, and read additional product details. General shopping links are listed across the top of the page in the purple field. You can create an account, search products, view a complete product list, and use the shopping basket for checkout and purchase. Directors can call the toll free number for information on quantity discounts.

Allen's Crowns wants to hear from you! Click the "Feedback" link to submit your input. Or, if you prefer, telephone numbers, e-mail addresses, and other contact information are listed on the home page. To request a free paper catalog of products, click "Catalog Request" to have one mailed to you. Many sales questions relating to ordering, shipping, and returns are answered at the "Terms of Sale" link.
Banners Plus
www.pageantbanners.com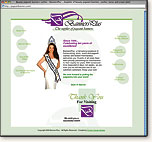 Banners Plus has a very clean, easy-to-navigate site devoted to the creation of banners and sashes for pageants, prom, homecoming, or other event. They are proud of their quick turn-around time on orders.

Banners Plus was founded in 1994 by Tamara Burks. In the 10 years since, they have employed skilled craftsmen and continue to use the highest quality materials to bring an array of banner style selections for your event. To read more about the company's mission statement, click the "Profile/Mission Statement" link at the top of the right-hand column. Any banner is sure to become a keepsake or family heirloom for the recipient. At the left-hand side of the page, click "Banner Styles" to view six different types of available banners. Each banner style is described in detail and prices are listed within each category. Special customization options are also available and many styles offer custom color choices, so be sure to read to the bottom of the page for this information.

Next, click on "Tiaras and Pin Styles," which is located under the previous link. Here you will find a multitude of tiara styles and crown pins to match. Click on any item to enlarge it. Each tiara or pin is labeled with its product number, size, and price for ordering convenience. The third product category on the site showcases ribbon-ruffled numbers at the "Contestant Numbers and Rossettes" link. If, after viewing the available products, you do have questions, a "Frequently Asked Questions" link is provided, as well as contract information and a question/comments form which can be submitted online. When you are ready to purchase your products online, click the "Order Form" link, to fill out the form, and submit it. As it is displayed on the Banners Plus website, they "look forward to putting the pageantry into your event."
Dina, Inc.
www.dina-inc.com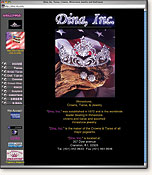 Dina, Inc. was founded in 1972 and has a reputation as one of the worldwide leaders in providing rhinestone crowns and tiaras and assorted rhinestone jewelry. Navigation is a breeze on this site, with all major links accessible from the left-hand side of the page. "Tiaras," and "Doll Tiaras" all open separate pages with photos of products available for each category. Each photo is large enough to reveal details, and is labeled with the product name, dimensions, and price. Individual doll's crowns specific to certain pageant systems are labeled as such. Clicking on "Crowns" loads a page of masculine and feminine crowns to select from. At the very bottom of the page is a "Next" button. Don't miss the additional crowns available on the following pages. Gold-finish and colored-stone options are also available for certain crowns. The "Crown Pins" link showcases a large variety of pins set with rhinestones, pearls, and crystal stones, while the "Scepter" link showcases a range of styles and shapes. There is even a link for Christmas items. When you are ready, click on "Order" to purchase your items online.
EarringMaster™
www.earringmaster.com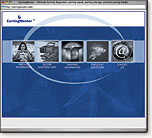 EarringMaster™ provides an ingenious and useful solution for storing and organizing multiple pairs of earrings. (Can a girl really have too many earrings?) This product is a thick, durable sheet of plastic with lots-and-lots of holes punched through it — perfect for 35 or more pairs. Click the "Product Information" link at the top left of the page to see this fantastic invention for yourself. It even has a built-in hanger for easy storage, and an optional case to secure and protect your earrings while traveling. If you'd rather not hang your EarringMaster™, a tabletop stand is also available. All orders are transacted through a secure server (click "Secure Shopping Cart" to place your order.) This product even has Oprah's seal of approval — and with such a practical and valuable use, we're sure it will soon have yours, as well!
Futuron Company
www.futuronwedding.com
At the time of this writing, Futuron is hard at work putting together their new website. Look for it online soon. Futuron Company has been supplying the nation with a large collection of bridal, pageantry, prom, quinceanera, and special occasion accessories for nearly 20 years. As importers, wholesalers, and distributors, Futuron provides an array of styles and pieces at great price points. Futuron's most popular lines include headpieces (pageantry and bridal), gloves of every style and color imaginable, scepters, and jewelry. Additionally, Futuron will be introducing their new collection of dyeable salon shoes.

Futuron Company is constantly searching for new and unique pieces to provide their customers with a fashion forward collection. Striving for diversity in products, Futuron Company provides a collection that will give their customers choices.
Glitz
www.glitzonline.com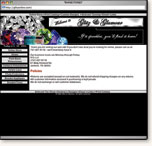 If it sparkles, you'll find it at GlitzOnline.com — an appropriate motto for this extensive web site. Clicking on the "Online Store" link (left-hand side of the page) brings up so many product options, you'll feel like a kid in a candy store! Australian rhinestones, beaded applique, beaded trim, beads, buttons, pearls, fringe, fabric, rhinestone jewelry, shoes and boots, lace, photo protectors, tanning... and that's not all! Appropriately, a search link is provided to help find the perfect product you are looking for. However, if you prefer to browse at your leisure, click on "Product List" to view a complete listing. Each product is displayed with its order code and a photograph. Clicking on the image or the description to the right of the image will enlarge it and provide pricing and additional ordering details. Some rhinestones have a price of zero dollars — after clicking "Add to Cart," pricing is listed next to the size of rhinestone you wish to purchase. After you are done shopping, click "Check Out" at the top of the screen to create an account, or log in if you already have one. Fill out a simple form and you are ready to glitz up any outfit or craft!
Merchants Overseas, Inc.
www.merchantsoverseas.com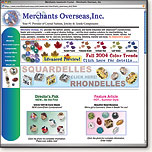 A leading provider of Swarovski crystal stones, beads, and components for the fashion, jewelry, accessory, and textile industries, Merchants Overseas, Inc. has provided a wide range of diverse findings since 1950. Merchants Overseas is the largest authorized 5-star dealer of Swarovski crystals in the U.S. facilitating immediate shipment of any order. Featured on the home page are fall 2004's color trends, squaredelles and rondelles, bicone beads, crosses and pendants, and chains. Move your mouse over the links at the left-hand side of the page to take a peak at the drop-down menu options. Under "Swarovski Crystals," choose from a complete product list, new products, a stone and pearl color chart, a size chart, and summer 2004's color trends. "Components" offers sterling silver options, crystal options, and base metal selections. You don't want to pass by "Special Offers," where you can find spectacular picks, birthstones, and closeouts. Certain areas of the site are restricted to wholesalers and retail stores. To set up an account, use the "Contact Us" link.
Sassy South, ltd.
www.sassysouth.com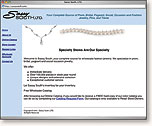 Founded in 1987 and located in the Atlanta Apparel Mart in Georgia, Sassy South, ltd., is committed to delivering quality merchandise at fair prices. On the web site, you will find a complete source of jewelry, pins, and tiaras in the pageant, prom, bridal, social occasion, and fashion categories. Sassy South carries unique designs and an extensive selection of merchandise, with over 100,000 pieces in stock year-round. Click "Online Catalog" to the left of the page to view an online version of their richly photographed print catalog. Quick links to each merchandise category are located above the page images, and choosing one sends you to the start of that category; choices include Prom, Social Occasion and Pins, Pageant Pins, Glamour, Cubic Zirconia, Pearl and Cubic Zirconia, Bridal Couture Collection, Bridal, Hair Goods, Tiaras, Gloves and Children, and Basic Daywear. As you browse, a click on any page image will enlarge it for better product detail.

If you are a retail outlet, click on "Wholesale Accounts" to read about Sassy South's sales terms and shipping policy. Then return to the home page and click on the "Catalog Request Form," which will take you to a printable fax-back form to let you order a free printed color catalog. If you are not a retailer, write down the style numbers for the products you would like to purchase and click on "Store Locator" to find the names of the nearest retail stores, locations, and telephone numbers.
Tiara Enterprises, Inc.
www.tiaras.com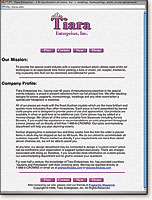 With over 60 years of experience, Tiara enterprises is proud to provide a fine line of tiaras, crowns, scepters, medallions, rings, and jewelry set with the finest Austrian crystals and assembled by hand. Utilizing the complete Swarovski color inventory, including Aurora Borealis, each piece is sure to become a treasured keepsake. Click on "Pins" to view a thumbnail image of available merchandise, as well as product names, dimensions, and SKU numbers. You will need to click on the thumbnail image to enlarge it and match the product number to its item. Likewise, clicking on the pink "Crowns" link at the bottom of the page brings up several thumbnails of grouped products. Each is listed in a table with its thumbnail, which, when clicked, takes you to a larger image for more detailed viewing and where you will also find the product SKU number. Click on the "New" link to view Tiara's latest addition to its crowns, tiaras, and pins. The home page provides contact information to let you speak directly with a company representative about pricing and ordering.