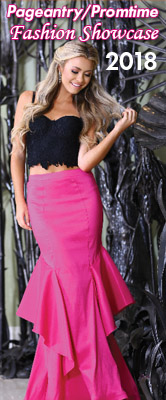 Web Watch by Deborah Richardson

Alright girls, you know you dream about it — walking into a room and suddenly all eyes are captivated by your presence, your exquisite beauty. It is no secret that what you wear goes a long way toward making the difference between a so-so appearance and the spotlight. The difficulty, though, sometimes lies in finding the gown that was made just for you amidst the thousands of available choices. With the convenience of the Internet, you are more likely to find your perfect gown, narrowing your choices, without using your valuable time in vain. You can spend more time trying on the gowns you've chosen.

Each retail location offers its own personalized touches and special services to make shopping for your attire a pleasant and rewarding experience. Some may even be nearby in your own back yard, others are well worth the travel. So, read on to discover the retail locations that we at Pageantry magazine feel are a must-see.

**All URLs listed below are active links. Click the web address or the relevant pageant web site image to link directly to the individual pageant site.**

Adora, Inc

Adora's New York-style urban elegance web site is your first hint that this web site offers high style in both pageant and prom styles. All aspects of pageant fashions are covered, including formal wear, interview, swimwear, appearance and talent attire, as well as shoes and jewelry and everything else needed for your competition. Thumbnails in the online gallery show just a few of the styles Adora has to offer. Visit the store, or contact them for additional options. If you still haven't found that perfect gown, Adora can produce your custom design.

Known for their exceptional knowledge and friendly atmosphere, Adora is also the only recognized pageant store in Indiana, and honored to be the official gown sponsor for Miss Indiana USA, Miss Indiana Teen USA, and Mrs. Indiana America. As you scroll through Adora's web site, you will recognize many of the beautiful ladies as past and current title holders.

The Arlington Dress Shop

Located in Little Rock, Arkansas, Arlington Dress Shop has been in business for over 11 years, and has dressed pageant contestants from all over the nation, including New Mexico, Illinois, Missouri, Mississippi, Louisiana, and Arkansas. The Arlington Dress Shop specializes in special-occasion clothing, carrying interview suits, swimsuits, evening gowns, cocktail attire, sportswear, talent costumes, and much more for all of your special-occasion needs. In addition to stocking all the major designer lines, if The Arlington Dress Shop doesn't have what you're looking for, they can make it for you! Please browse their catalog of photos, or their Custom Gowns to view current inventories. Each image enlarges with enough detail to know exactly what you are getting. Jessie Davis, the new owner of The Arlington Dress Shop, is no stranger to pageants; having won numerous titles and bringing numerous years of pageant experience to the business, she has the experience you need to help you dress your best.

Catan Bridal & Fashion

As you shop Catan Bridal & Fashion, you will see for yourself why they are a leader in the retail fashion industry. At 54,000 square feet, Catan Bridal & Fashion is a "true fashion experience." You will find the finest couture selection in northeast Ohio; exclusive gown and dress lines only available at Catan Bridal & Fashion. You can also browse the latest selection of prom, homecoming, and social occasion fashions. See weekly fashion and trunk shows on location, and when you find your perfect dress, an on-site alteration department will make your gown fit perfectly. Catan Bridal & Fashion offers an extensive jewelry and accessory collection to complement every dress or gown you choose. If you are shopping for an upcoming wedding, bridal partners are on-site to help you make many of the decisions associated with your wedding day or special occasion.

Cinderella's Pageant Salon

Scott Gray and Cinderella's Pageant Salon, Ltd., a pageant fixture in the Northeast, have dressed many local, national and international winners. Cinderella's carries a full line of bridal, brides maid, formal wear, and pageant attire, including gowns, suits, and swimwear. The web site offers directions to the store as well as competition photos showcasing gowns provided to both national and international winners for the years of 1997 through the present, illustrating their mission, which is to give personal assistance to each of their clients so they may dress their best.

Dee's Studio Ltd.

We love gowns at Dee's Studio. Located in Gresham, Oregon, Dee's is fast becoming the premier gown shop in Oregon, dressing winners such as Miss Teen U.S.A. Tami Farrell and Miss America 2002 Katie Harman. Dee's studio is about pageants, employing Darla Harman, mother of Katie Harman, and Miss Oregon 2003 April Robinson. In the shop's pageant room, located on the upper level, you can have all the privacy you desire while trying on gowns, and walking the store's runway, with its mirrored walls. Many clients come in just to practice their walk, and the staff is available to give advice and encouragement. Watch for a schedule of pageant seminars with an impressive list of pageant winners speaking on their area of expertise.

Dee's Studio carries all the top designers, with a fabulous collection of performance gowns, swimsuits, and interview suits, as well as gorgeous jewelry and accessories. Clients often return because of their fantastic prom selection. Because they sell exclusively to each client, Dee's customers know that they will not see their dress on anyone else.

Elizabeth Michaels

When every detail counts and service is a must, you need the very best. Elizabeth Michaels prides themselves on customer service and personalized attention. They understand that nothing is unimportant. Elizabeth Michaels is owned by Jane Engelke, who has more than 10 years experience as a competitor and a winner, and she understands the need for great selection, quality, pricing, and knowledge. You will find your complete pageantry needs with custom designs, top-line pageant designers, swimwear, interview suits, gowns, shoes, jewelry, accessories, and more. Operating the shop by appointment-only, Jane is able to give individual attention to every client. Once you have made your selections, alterations and custom fittings are available. Elizabeth Michaels can also help with your personal consulting and photography needs.

Encore Pageant Apparel

Encore Pageant Apparel.com, one of the only specialized formal and pageant wear consignment stores on the Internet, has a goal — to make pageantry affordable for all. And it is succeeding, offering high-end designer pageant gowns, business and interview suits, swimsuits, resort/casual wear, talent apparel, and custom accessories at prices well below market cost. Pageant contestants can purchase last season's and barely worn gowns for half, or even one-third, of the original cost, and use them in competition or for a formal event. The fashion retailer currently boasts clothing consigned by more than 250 former pageant competitors, debutantes, and retail stores from across the United States and internationally.

Encore Pageant Apparel.com offers a pageant-friendly, safe environment where competitors are able to not only purchase clothes but access local and national pageant information, spa items, and seminar instruction. The web site also boasts pageantry links and a bulletin board for Boot Camp for Beauty Queens, the company-sponsored weekend-long pageant-training seminar.

The Encounter

Nestled in a cove near the Greenbelt walking trail in Tennessee is one of the most exciting women's clothing stores in the Kingsport, TN area. Newcomers are often surprised to find this New York-style boutique right in this great mountain region, but after more than 27 years in retail, The Encounter knows the fashion needs of women. The main navigation areas of the site are "Pageant Dressing," "Business Dressing," "Wedding," and "Prom." In each of these areas, The Encounter presents thumbnail photos of the gowns and business wear in their lines. A click on any thumbnail will open a larger image of that particular style.

Testimonials have become part of The Encounter's "history of fashion." The needs of women and their wardrobing have changed. For those who are discouraged with today's self-service economy, you will be delighted with the personal attention the capable staff provides to each customer.

Gregory Ellenburg

Beautiful one-of-a-kind gowns are what Gregory Ellenburg has become known for, though major pageant designer gowns and competition swimwear are also available. You will also find a beautiful array of suits and designer knit suits. While Gregory has a staff of knowledgeable employees to help you choose the perfect wardrobe, he has a degree in Fashion Design from the prestigious Fashion Institute of Technology in New York City and attributes his ability to get the perfect fit to his knowledge of total garment construction. Gregory's true talent lies in getting to know the contestant and her desires and using that collaborative effort to make her dreams come true.

The Pageant Shop By Michaels

With the introduction of their web site in 2001, The Pageant Shop By Michaels quickly became a frequent stop for the discerning pageant contestant. Each salon is clearly marked: Pageant, Consignment, Prom, Bridal, and Accessories in a neat and easy-to-navigate layout. The selection of high-end consignment apparel is nearly impossible to beat and the web site is constantly being updated and requires frequent visits to stay on top of their ever-changing inventory. If you see an item on the consignment page that is not in your preferred size and/or color, owner and operator Sarah Moses can almost always order a new gown to your exact specifications. The interactive Consignment Salon allows for searching based on size, color, designer, price, and style. Password-protected access is available to allow clients to list and sell their personal gowns on their "own" consignment page, so, the inventory is constantly changing and things sell fast!

A full-service pageant salon, The Pageant Shop by Michaels also carries interview suits, competition swimsuits, prom gowns, shoes, and jewelry. Be sure to make a stop at their web site, because you never know what you might find!

Queen Anne's

Queen Anne's is the newest pageant retail location in the Northeast, but its owner, Sylvia Gomes Duarte, is a longtime successful pageant competitor who has serviced pageant contestants throughout the country as a result of this web site. It features many of the store's in-stock gowns, suits, swimsuits, shoes, and even accessories. Ordering can be done by phone, and fast, friendly, reliable service can help you find anything you're looking for — even if its not on the site — at a competitive price. Shopping around for that great designer gown can save you hundreds. Also, be sure to visit the evening gowns page for the latest styles, and the clearance page, which features national competition-level gowns at half the cost. Check in often, because this page is constantly being updated. Every shoe height and type can be found on the shoes page, along with a description of materials and pricing. A consulting page describes the services available.

Queen Anne's prides itself on experience, a great selection, and customer service that is friendly, reliable, and tailored to you. Service is one-on-one with a professional, and finding everything you need for pageant competition at Queen Anne's makes this web site a must-see.

The Crowning Touch

Located in New Bedford, MA, The Crowning Touch, Inc. is New England's first and only full-service pageant boutique. They have become a leading wardrobe provider to many local, state, and national pageant winners of any age, providing clothing for every phase of competition, as well as consulting services and much more. The shop operates by appointment only, providing undivided attention from the staff for guidance in merchandise selection for any budget. You will find your perfect selection appropriate for the pageant system you are entering.

For the complete behind-the-scenes story and all the details on this and other exciting competitive events from across America, as well as a wealth of advice to improve your chances of victory, be sure to order Pageantry today.
w