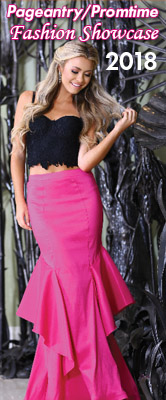 It's the middle of social occasion season, and you're ready to find that perfect gown. Here's our short list of premier shops to consider.
So many gown designs, so many shops, so little time... isn't that the challenge? You'd like to find just the right style to look your best, you're wondering what's new this season, and maybe you'd like to shop around and see if there's a way to save a few dollars and still shine in the spotlight during your next competition, convention, premiere, or special social occasion. To meet all these needs, Pageantry is bringing you this select list of nationally recognized fashion design and retail shops that provide shoppers a chance to preview their offerings on their web sites. Browsing their lines, styles, and credentials could be as simple as typing in their web site name in your web browser and clicking "return."
We've already been there and done that, and we're thrilled with what we've seen and read. So whether it be your next homecoming, debutante ball, pageant, or whatever fashionable soiree you're heading toward in the coming year, we're sure you'll find what you're looking for in these particular shops. Once you drop in, please be sure to tell them we sent you.
Adora, Inc.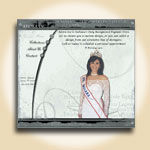 PAGEANT RECOGNITION: Adora's offers a full range of competition necessities.
Adora's New York-style urban elegance, set in Seymour, Indiana, is your first hint that this business offers high style in both pageant and prom gown lines. In fact, Adora is Indiana's only recognized pageant store, with the ability to create a custom design or match you with the perfect gown from an extensive line of designer styles. Designer names offered include styles from Claire's Collection, Winnwear, Nicole Bakti, Lady M, Landa, Stephen Yearick, Sherri Hill, Banu, Fredrico Leone, and Saugus, among others.
All aspects of pageant fashion are covered, including formal wear, interview outfits, swimwear, appearance and talent outfits, as well as shoes, jewelry, and accessories — indeed, everything you may need for your competition engagements.
On the Adorainc.com site, thumbnail photographs are just two clicks away from the home page, with three main groupings of links labeled formal, interview, and swimwear found on the Collections page. Each photo gallery represents just a small number of examples of Adora's full selection of designer and custom creations. Once you find a thumbnail photo of a gown, swimsuit, or interview suit that catches your eye, one more click of your mouse will bring up a separate window with a larger image of that item.
Adora has earned its reputation over the years as an official gown sporsor for Miss Indiana USA, Miss Indiana Teen USA, and Mrs. Indiana America. Many beautiful past and current titleholders can be recognized in the fashion photos on Adora's web site. To learn more about Adora, you may call or e-mail the shop, or, by all means, stop by the shop on East Tipton in Seymour, Indiana.
The Crowning Touch Inc.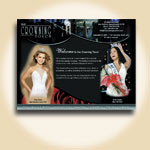 PERSONAL TOUCH: The Crowning Touch hones a look to fit a client's personality.
The Crowning Touch Inc. is a full-service pageant boutique located in New Bedford, Massachusetts, that is nationally recognized for dressing contestants with style and professionalism while also delivering impeccable alterations for a custom-made fit. A leading wardrobe provider to many local, state and national pageant winners, The Crowning Touch is the official wardrobe sponsor of several Miss America and Miss and Miss Teen USA state pageants.
The Crowning Touch's web site provides information about the boutique, and is organized into Wardrobe, Consulting Services, Sponsorships, Upcoming Events, Testimonials, and Contact page categories. An extensive number of in-person consulting services are described on the site, with packages tailored to each individual client.
For example, each customer is shown a wide variety of merchandise fitting her set budget. The staff strongly believes it is not the cost of the clothing, but the fit and match to the contestant herself, that will make the winning difference. The Crowning Touch uses its extensive knowledge of various pageant systems to help guide clients toward finished looks that stand a better chance of success in those programs. The company also seeks to improve its clients' competitive abilities by enhancing their best attributes, working on a "by appointment only" basis.
The Crowning Touch stocks a large selection of new designer and couture fashions, as well as an assortment of swimsuits, interview suits, talent and arrival outfits, jewelry, and shoes. Consulting services include: wardrobe consulting, custom designs, fitting and alterations, color analysis, pageant coaching, and bookings with photographers, makeup artists, and pageant coaches. The business also conducts more than 10 trunk shows a year, traveling to various states to accommodate out-of-town customers.
Debbrah's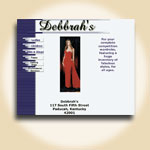 ONE FOR ALL AGES: A nationwide customer base that knows who to rely on.
With a complete competition wardrobe line, featuring a huge inventory of fabulous styles for all ages, Debbrah's of Paducah, Kentucky, makes a convincing case for itself as a wardrobing source for every level of experience or age-group of competition.
Debbrah's has been creating winning designs since 1990, specializing in custom and one-of-a-kind creations with an on-staff designer. With more than 6,000 feet of inventory, this shop carries the top designer lines in cutting-edge collections of evening gowns, interview suits, swimsuits, jewelry, and accessories.
The web site opens to a slide show with a parade of styles that suggest the many aspects of competition wardrobing available at the store. Web links take you directly to sections covering Ladies, Children, Film & Stage, and Teen fashions. Shoppers will need to visit the store to view the broad selection of items, though orders can be shipped worldwide.
Debbrah's store provides a friendly environment for contestants to not only purchase clothing but also access pageant information, referrals for coaching, and photography. The staff at Debbrah's is known for their excellent customer service and individual attention to details. The results are proof of their success: Debbrah's has wardrobed contestants from every state, at all levels of competition, and has had winners in all of the national pageant systems, including Miss America, Miss USA, and Miss Teen USA.
Elizabeth Michaels
WHEN DETAILS COUNT: The Elizabeth Michaels staff works hard so you won't.
Elizabeth Michaels' base of operations is Vienna, West Virginia, but its sphere of influence in creating signature styles extends throughout the United States, making Elizabeth Michaels a convenient stop for anyone seeking "Style, Fun and Perfection," as its web site tag line promises. The shop's core philosophy is equally simple: "At Elizabeth Michaels, we pride ourself on customer service and personalized attention. We understand that every detail counts and nothing is unimportant."
The company web site is useful to familiarize yourself with the various fashions and services offered, and to make contact with its consultants by phone or through the online e-mail form. Pages on the site present photographic testimony to the company's pageant, prom, and bridal fashion success stories. To take advantage of all that this shop has to offer, you're going to want to meet with the people who run it in person. Appointments are recommended in order to achieve custom-made results.
Elizabeth Michaels provides pageant wardrobe and accompanying services to local, state, and national winners, with a large fashion selection from top designers in competition gowns, talent outfits, interview suits, swimwear, and arrival wear. An in-house seamstress can customize whatever garment you can imagine to make you look your best. Elizabeth Michaels representatives attend national, state, and local pageants to keep current with ever-changing pageant trends.
Built with pageants in mind, the store has rooms dedicated to walking, talking, smiling, and more while wearing every outfit in order to make sure that everything is perfect. You can also arrange for workshops, consulting, and national photographers shoots at various times of the year.
The Encounter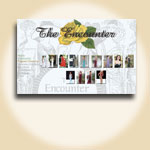 SERVICE ENCOUNTER: A 27-year record of pleasing beginners as well as winners.
When Sherry and Hunter Quillen of Gate City, Virginia, go shopping at The Encounter, located in Kingsport, Tennessee, they are attracted by its unique variety of styles, from suits to casual wear. "We always find formal selections to make us look beautiful for our special occasions," they write, "and most of all we love Ethel."
The Quillens, like many people, have come to appreciate The Encounter's co-owner, Ethel Smawley, whose caring personal service and knowledge of the fashion scene give her boutique a decisive business advantage in the central Tennessee region and beyond. Opened in 1976, this high-fashion design house brings together quality fabrics with unique styles by many of today's leading designers. After more than 27 years in the retail trade, Ethel and Tom Smawley and The Encounter staff have earned the loyalty of a knowledgeable clientele who have come to appreciate their unique retail concept and the broad selection available at this 6,000 sq. ft. store — with everything from fun casual wear, to A-to-Z pageant wardrobing, and even a full-service wedding department.
When Karen Gibbons-Brown, executive artistic director of Indiana's Fort Wayne Ballet, needed a cutting-edge professional wardrobe, she turned to The Encounter, saying, "The Encounter understands my needs. Ethel completely clothed me when I represented the United States in Paris. I know I can count on them."
At every turn, the store has a broad selection of fashions to suit all tastes, which, along with a high level of professional service from a well-trained staff, makes the shopping experience at The Encounter a delight in these days when "customer no-service" is more often the norm. Ethel works closely with gown designers such as Sheri Hill, Jovani, Claire's Collection, Sue Wong, Cassandra Stone, LaFemme, and others to deliver the personalized results that are required in today's highly competitive world of pageant competitions and modeling. For an extra edge, The Encounter also organizes pageant workshops and seminars, and takes pride in serving the needs of local fair pageant participants with the same care it brings to its consultations with state Miss USA or Miss America winners.
The Encounter's web site home page splashes its well-known yellow rose graphic logo across the screen, and links below it take you to photo previews of Pageant and Business Dressing, Weddings, Prom, and customer service pages. Drill deeper and you'll find specific examples of the shop's competition or social occasion styles. A click on any thumbnail will open a larger image of that particular style. When you are ready to shop, though, you won't want to go about it from a remote computer terminal. That would mean doing without the signature service for which Ethel Smawley has become famous.
Gregory Ellenburg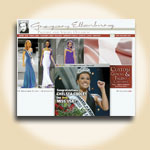 THE MIDAS TOUCH: Gregory Ellenburg has dressed so many of the best.
Since opening his doors in Greenville, South Carolina, in 1997, Gregory Ellenburg has achieved an impressive list of winners in a short time. In 1998, he custom-designed the gown that Vanessa Minnillo wore at Miss Teen USA, and that same year he dressed Jill Nicholson, who won the Miss United States Teen Pageant in Orlando, Florida. He dressed Chelsea Cooley when she was Miss NC Teen USA and when she competed and won the Miss United States Teen Pageant in 2002.
After developing a great working relationship with Chelsea through the years, Greg designed her gown this year when she achieved her Miss USA 2005 victory. He also designed the gowns worn by Miss Petite International 2001 Kelly Pope and Miss Teen USA 2004 Shelley Hennig.
Greg earned a degree in fashion design from the Fashion Institute of Technology in New York City, and worked for Stephen Yearick for six years prior to opening his own shop. That background is what sets his shop apart from most others. In addition to offering custom-made gowns, the shop also stocks major pageant designers such as Sheri Hill, Claire's Collection, Tony Bowls, and Stephen Yearick.
As his list of winners has grown, Greg now attracts clients from across the U.S., including two Miss Virginias, Nancy Redd and Mariah Rice, Miss Georgia USA Erin Haney, Miss Georgia Teen USA Brandy Drake, Miss Georgia Monica Pang, and Miss North Carolina Kirstin Elrod, who was last year's 2nd Runner-up at Miss America.
With that kind of track record, it's little wonder that Gregory Ellenburg has also become a popular prom shop, with expectations of carrying more prom dresses than ever for the 2006 prom season.
The shop's web site consists of a well-constructed home page with links across the top that take you to Greg's Biography, Prom and Pageant lines, a Gallery of photos, and a Winner's Circle, as well as links and contact info. You can even join his mailing list to receive news and special offers. Choosing the Pageant link brings you to links leading to designers' web sites of the lines the shop carries.
The Gallery link gives you a choice of Miss America, Miss USA, Swimsuit, and Costume subcategories, where you'll find dozens of photos showing Greg's styling creations. The Contact link gives you an easy e-mail form that lets you send a question, comment, or appointment request to the business. When you do, Greg and his staff will respond with the vast knowledge and experience that has resulted in Gregory Ellenburg's unprecedented success in dressing winners.
The Pageant Shop by Michael's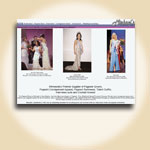 CONSIGNMENTS OPTIONS: New and used lines mean no budget left behind.
At the Pageant Shop by Michael's, a full-service pageant salon located just north of Minneapolis in New Brighton, Minnesota, the staff specializes in the leading pageant apparel, and is dedicated to working within any client's budget to deliver the best customer service and apparel for her individual situation. Now, with the recent addition of its interactive online consignment page, Michael's has become one of the leading salons for finding new and used pageant gowns. The web site's consignment shop is constantly changing as new items become available.
Whether you're in the market for new or previously worn fashions, the goal at Michael's is outstanding customer service and satisfaction, achieved by making sure every client gets exactly what she wants at a price she can afford. Owner Sarah Moses is constantly researching new lines and thinking outside the box to bring the best the world has to offer to her clients. "It's most important to me to be on the cutting edge of fashion and pageant trends" she says. "Clients are interested in getting the hottest designs, not the been-there-done-that styles."
Working closely with contestants in all the major pageant systems, Sarah uses a deep working knowledge of what makes these systems different from one another to suggest wardrobe choices that are appropriate for each system.
The company's list of pageant winners, locally and nationally, is extensive and can be found on the web site, which is broken into salons, with links across the top of the home page leading to bridal, pageant, prom, consignment, accessories, and wedding consulting products and services.
The Pageant Shop by Michael's home page celebrates recent success and events with photographs. An extensive pageant page features thumbnails of gowns that the store carries, along with links to designers' web sites and a gallery of photos showing clients at events and modeling their Michael's dresses. Unlike the new dresses sold through the store, the web site's consignment dresses include descriptions, additional information, photos, pricing, and a "buy" button, allowing you to begin your purchase via an e-mail form.
Salon Kray Chic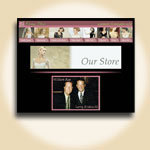 THE ON-SITE DUO: Kray Chic owners William Ray and Larry Kralowski.
This Farmington, Michigan, shop, newly owned by William Ray and Larry Kralowski, is a sophisticated salon where some of the premier designer lines are on exquisite display. The partners' goal is to provide all its customers with an exceptional experience as you plan for your very special day, with major lines for brides, bridesmaids, mothers of the bride, pageant participants, and those women bound for special occasions. Offering the very latest styles of gowns and accessories, along with personal customer service that will have you saying "wow," is how William and Larry hope to put Salon Kray Chic on your "must visit" list.
Salon Kray Chic's sleek black-background web site pages place all of those shopping categories across the top of its splash page, and with drop-down lists, you'll be able to zero right in to specific name-designer lines. Each of those receives a photo and description, such as this one for Tony Bowls: "Tony Bowls is a master designer who will create an award winning design just for you! Tony has dressed winners in the pageant world for years. Not only will you look unique, but the style and bead work on these dresses is truly a masterpiece." For your convenience, the site even includes the salon's hours of operation and a local map to help you get right to their Grand River Avenue address.
The Pageant Tree and Bridal Branch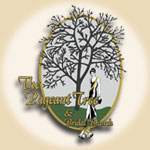 SALON CERTIFIED: The marriage of premier products and customer service.
The Pageant Tree and Bridal Branch mission is simple: to help each customer find "the one." Keeping that goal in mind means the shop, located in Alabaster, Alabama, must provide excellent customer service, have a broad knowledge base, and maintain current styles. Being a "Certified Full Service Bridal Salon" allows brides to feel confident knowing that the shop takes its role seriously and understands what the customer wants. Pageant contestants, be they entered in local school competitions or on up to national events, will find the gowns and accessories at The Pageant Tree and Bridal Branch to meet any formal wear need. The store's newest venture brings that commitment to the prom market, with one of the largest selections of formal wear in the Birmingham, Alabama, area.
Clients will find a wide variety of gowns from which to choose. Sizes range from 3 months to adult. Two lines of custom gowns, Feisty LaRaye in children gowns and Tony Bowls for Mon Cheri for the adult contestants, are offered, as well as jewelry, shoes, and other accessories to complete the look. In the bridal lines, the shop carries eight lines of couture gowns, as well as selections for bridesmaids, flower girls, mother of the bride and groom, and even stylish tuxedoes from the largest supplier of tuxedoes in Alabama, Mr. Burch Formalwear. Customers can expect options galore, because of the shop's ability to recommend and special-order the perfect custom gown. Alterations are available and taken care of in the salon.
With 20-plus combined years of customer service experience in the retail industry, The Pageant Tree and Bridal Branch is able to provide and recommend the best for its customers, and the staff continually seeks to improve and build upon their knowledge by attending seminars and staying current on trends and fashion. Several of businesss customers have won state titles as well as county and local events.
The business' web site offers shoppers the opportunity to review gowns available for purchase at the salon. The elegant, easy-to-navigate site provides the information and links so that browsing is a pleasant experience. After customers narrow down their choices online, a visit in person to The Pageant Tree is recommended. There, clients will find three large dressing rooms, a runway, and huge wall-mounted mirrors to allow for the best viewing of the gown.
The Pageant Tree web site comprises long lists of web links to web sites of the major fashion designers' lines it carries, thus providing an extensive entrée to shop around among some of the nation's leading social occasion fashion design offerings. From its own site, you can request travel directions from your location to The Pageant Tree and Bridal Branch store in Alabaster, so that with a couple of clicks of your mouse you'll have a Mapquest guide to The Pageant Tree's front door. How's that for service?
Coni & Franc
422 High Street, Morgantown, WV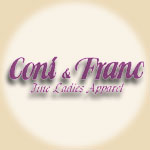 SILVER SERVICE: In 25 years, Coni & Franc strives to meet all clients' needs.
Coni & Franc, a Morgantown, West Virginia, institution going into its 25th year in the formal wear business (which is not on the web), has earned the admiration of two generations of customers through its delivery of professional, courteous, and personal service. With a goal of making the shopping experience easy and pleasurable, owners Connie and Frank Merandi have built a comprehensive shop that pampers both bridal and pageant clients, and in doing so have sought to simplify the often-complex decision-making process that confronts all of us facing formal wardrobing choices for important events in our lives.
Coni & Franc wants its clients to feel everything will be taken care of, whether they are dressing for everyday activities, careers, conventions, presentations, debutante balls, presidential galas, the Academy Awards, a star on the Hollywood Walk of Fame, a pageant competition, or a wedding. In addition to a comprehensive line of formal gown designs, the store can provide one-of-a-kind creations, interview suits, arrival and honeymoon outfits, cocktail wear, talent costumes, bathing suits, shoes, hosiery, custom jewelry, and matching accessories. If you can't find a dress or jewelry item in stock, the store can design it in-house or make the necessary alternations.
The Merandis have extensive training and experience, with Connie having a bachelor's degree in textiles and clothing and Frank having a bachelor's degree in marketing and business, both from West Virginia University. Over 25 years, the couple has provided wardrobing and personal-style services to participants in activities ranging from county fairs and first communions to state and national beauty and scholarship competitions, with customers not only from in-state but also Pennsylvania, Virginia, and Maryland as well. Well-known for their prominent fund-raising activities, the Merandis this year were selected as two of the Top 100 most influential people in Morgantown.
"It's a joy to help people be their best from childhood events and continuing throughout their lives," says Connie Merandi.
Rafi Pérez

is the Art Director and Webmaster for Pageantry magazine.

w