Parting Thoughts on a Year Gone By
Miss Teen USA BLOG by Tami Farrell
"I now move ahead in life knowing one person really can make a difference — that 'impossible' is really only something 'possible' that hasn't been done yet."
– Tami Farrell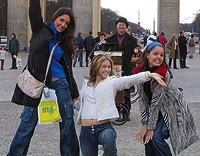 Tami's other life in NYC: "ANGELS" ON TOUR Tami is joined by Miss Universe '03 Amelia Vega (L) and Miss USA '03 Susie Castillo in a fun Charlie's Angels pose during a visit to Berlin's Brandenburg Gate.

It has taken more than a week since I first sat down to write this, my final article, for Pageantry magazine, as Miss Teen USA. It has been the most difficult of this series of four articles because of the magnitude of activities I have been involved with throughout this past year.

Watching my soon-to-be-ex-roommate Amelia Vega pack up her room and prepare to give up her crown during the June 1st Miss Universe 2004 competition, I realized then for the first time that my own reign would be ending only a few short months thereafter. A kind of reality suddenly struck me, and I realized why I was having a dose of writer's block on the angle of my article. This would be my final blog as Miss Teen USA!

I have come to realize that the curtain will fall and that I will have to step gracefully out of the spotlight. This is my time to say good-bye. After being blessed with such an amazing year, it seems nearly impossible to express all that is in my heart. How can this short article serve justice to the amazing people I have met or the life-changing experiences I have had? To begin this final chapter of my fairy-tale year, I must look back upon the beginning.

The Life-Changing Moment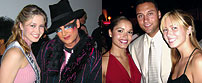 At a Viva Glam event with Boy George (left); Tami and Miss USA '03 Susie Castillo up close and personal with NY Yankee man about town Derek Jeter (right).

It was August 12, 2003, when delegates in the 2003 Miss Teen USA competition began to disappear all around me. In what felt like mere minutes, I found myself standing next to Alicia Selby, Miss Tennessee Teen USA, waiting to see which one of our lives was about to change. With the announcement of my name, I was off to New York, where I arrived just in time for the 2003 New York City blackout. What a great beginning!

I adjusted to my new life and new home in New York in only days, and I enjoyed the photo shoots, movie premiers and television interviews, which became a part of my daily life. I met and befriended so many celebrities and people I had only hoped to be able to meet after reading about them in magazines. In a matter of months, I became a big-city girl, and with this big-city life came big responsibilities as well as big opportunities.

While living in New York, I used my scholarship to attend the School for Film and Television in New York City, which has been a priceless opportunity for me to enhance my skills as I continue to pursue a career in acting. I have also spent countless hours working with a vocal coach, and I am proud to confess that I am in the process of recording a demo CD. I know that none of this would have been possible without the amazing opportunity I was given in winning my title.

Realizing the Possibilities
Walt Disney once said, "It is kind of fun to do the impossible!" This year has drastically changed my view of what is really possible. I could have never imagined that a 19 year-old girl from Phoenix, Oregon, could serve as a spokesperson for MADD (Mothers Against Drunk Driving) and a chairperson for the Sparrow Club (a national non-profit organization of school-based clubs that assist children in medical crisis), or help raise millions of dollars for charity. I now move ahead in life knowing one person really can make a difference — that "impossible" is really only something "possible" that hasn't been done yet.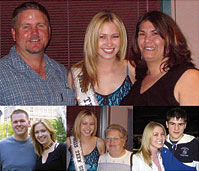 Tami's mom and dad, Stephanie and Tim Farrell (top R-L), welcome their daughter back home in Phoenix, Oregon, after months in the Big Apple. Big brother Shawn (above left), little brother Ricky (above right), and Nonnie (grandma) Glendorris Farrell (above center) all helped shape Tami's Teen-USA-winning personality.

As I prepare myself for my final curtain call, it occurs to me that I may never again work with such an incredible group of people. The Miss Universe Organization has become like a family to me. They have been my constant support system, and their love and encouragement has given me the strength I need to continue to follow my dreams. I can never thank them all enough for what they have done for me throughout this past year.

I must also mention that I would have not made it to this point in my life without the constant support of my parents, brothers, and friends. I want to thank them all for their confidence in me as I continue pursuing my dreams. Above all else, I send all my love and thanks to God, for it has been His will that has made this all possible. And, finally, to all of you who have cheered me on, thank you for your continued support, smiles, and comforting e-mails. They have been a source of personal strength from the beginning, and I will treasure the memories forever.



Miss Teen USA 2003 Tami Farrell writes this column exclusively for Pageantry magazine. The popular Miss Oregon not only won the national title last August, she also captured the Miss Congeniality Award as well. As a youth advocate focusing on self-esteem, anti-violence, and anti-drug issues, Tami is working with organizations throughout the U.S.A. to help communicate the importance of safe living, educational, and social environments.


| | | | |
| --- | --- | --- | --- |
| | | For additional stories like the one you've just read and all the details on this and other exciting competitive events from across America, as well as a wealth of advice to improve your chances of victory, be sure to order Pageantry today. | |
---
Home I Subscribe I In This Issue I Fashion Shoots I Classifieds I Links I To Advertise I Pageantry Mall
About Us I Our Writers I Newsline I Picture of the Week I Contest I Feedback | Join Club Pageantry
© Pageantry magazine 2004
Pageantry magazine contact and copyright information.