PHOTO BY MISS UNIVERSE L.P., LLLP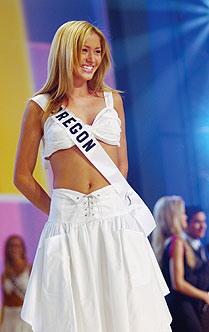 Tami Nichole Farrell, Miss Oregon Teen USA 2003, shows her cheer after being named one of the 15 semi-finalists.
By Fred Abel
Tami Farrell proves that a shining personality is pretty special, as Oregon takes its third Miss Teen USA title in the pageant's 21-year history.
Walk down memory lane with me for a moment, and consider some of the remarkable past titleholders of the major American pageants. Which winners immediately spring to mind? For me, it's always the ones whose strong personalities stand out: Shawnae Jebbia, Summer Bartholemew, Brandi Sherwood, Ali Landry, Kimberly Pressler, and Lynnette Cole of Miss USA. I am sure I'll be adding the 2003 Miss Teen USA titleholder to my "most memorable pageant winner" list.
An effervescent 18-year-old Oregon teen was crowned Miss Teen USA 2003 in the exciting two-hour finals, broadcast live by NBC from Palm Springs, CA, on August 12, 2003. The 5-foot-9-inch, 18-year-old, blue-eyed blond Tami Nichole Farrell, an admitted tomboy from a small town, Phoenix, OR, not only won the pearl-and-diamond-encrusted Mikimoto crown but also the admiration of her other 50 competitors, who chose her as Miss Congeniality as well. This was the state of Oregon's third Miss Teen USA winner, with successful entrants in 1988 and 1990. Oregon is the only state to have captured the title more than once.
First Runner-up Miss TN Alicia Selby smiled and hugged Tami as soon as she heard co-host Mario Lopez call Tennessee as 1st Runner-up. Adding to the on-stage dazzle, as co-host was Brooke Burns of NBC's Dog Eat Dog, who also had a warm hug for the popular winner. Joining Tami and Alicia as Top 5 finalists were Jacklyn Pezzotta (NJ), Alicia Jaros (MI), and Jacqueline Bruno (MA). Jacklyn also garnered the Photogenic Award in online voting.
This year's Miss Teen USA telecast made for a fast-paced, exciting, polished two hours of television, as Miss Universe Organization (MUO) co-owners Donald J. Trump and National Broadcasting Company picked up where they left off with their fabulous Miss Universe success in May. Mario Lopez and Brooke Burns made a winsome couple as co-hosts, and the appearances of pop singers Jessica Simpson and Justin Guarini were well presented so as not to bog down the pace of the competition.


For the complete behind-the-scenes story, as well as a new and exclusive column written by Miss Teen USA '03 Tami Farrell, a report on the pageant's academic "over-achievers," details on other exciting competitive events from across America, and a wealth of insider tips to improve your chances of victory, be sure to order Pageantry today.