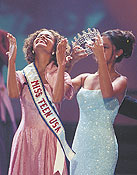 Ashley Coleman's dream comes true as the coveted crown is about to be placed.
by J.J. Smith
The Miss Teen USA pageant has a new look, a new feel, a new attitude and a new queen. Right from the beginning, the 17th Annual Miss Teen USA Pageant started out with a bang in Shreveport/Bossier City, Louisiana, and it never let up. From the hip opening number to the nail-biting finale, the pageant showed a remarkable turning point in the redefining of pageantry. The new attitude might be described as out with the old and in with the, well, young, hip, sleek, and contemporary!
Over 200 million viewers watched the production's cutting edge opening segment as head-spinning breakdancers competed for attention with "extreme" bicyclists performing gravity-defying aerial feats. Adding to the on-stage energy, gymnasts performed every type of round-off-flip-flop-double-back twists that a body can be put through. In the midst of all this, 51 of the nation's most accomplished teenagers introduced themselves to the world, all hoping for the dream of becoming Miss Teen USA.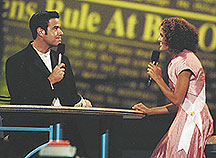 MTV's Carson Daly added another exciting dimension to the pageant's new look.
Host Carson Daly of MTV's popular "Total Request Live" kicked off the competition by announcing the delegates who would continue as Top Ten contenders. A spectrum of celebrity judges, including rap artist Coolio and U.S. soccer star Tisha Venturini, would decide in the final showdown who would get the crown. The teen adrenaline was so thick that it could practically be cut with a knife as all the delegates held their collective breath and waited for the names to be called.
Wearing a variety of sporty outfits by designer Tommy Hilfiger, the hopes of only ten would continue. Kristen Walthers of Nevada heard her name called first, followed by Rachel Boston (TN), Kristi Glakas (VA), Lexie Kemper (KY), Misty Giles (TX), Sara Dusendang (MI), Sarah Thornhill (LA), Khosi Roy (MD), Ashley Coleman (DE) and finally, Danielle Demski of Arizona. Before a standing-room-only audience stood the ten girls who had a chance to be the last Miss Teen USA of the decade and century.
The first competition highlighted each girl's stage presence, as each answered sometimes comical and sometimes serious multiple choice-type questions. Each girl guided herself through this event with the personality and poise that had gotten her this far, and the audience sounded its appreciation. When round one was complete, Miss Maryland Khosi Roy and Delaware's Ashley Coleman held the top two spots with Swimsuit and Evening Gown competitions looming ahead.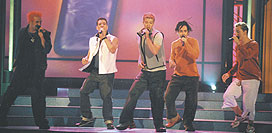 Teenage-idols 'N Sync performs for the audience
and millions of TV viewers.
To give the audience an opportunity to become better acquainted with each delegate, clips called "Me on TV" were interspersed throughout the broadcast showing in-depth and personal areas in which the girls are active. Louisiana native and teen singing sensation Britney Spears was featured throughout in pre-taped segments titled "Britney's beat" that featured sites and points of interest in and around the host cities Shreveport/Bossier City as well as the entire State of Louisiana.
The home state was well-represented, as their own former Miss USA Ali Landry joined co-commentator Julie Moran who revealed Julie's pregnancy. Part of the new feel of the show came from Ali and Julie, as they fearlessly announced their own personal preferences, thoughts about the contestants, and opinions of who may or may not do well and why. As they mentioned, "We are saying what you are probably thinking." The two pageant pros' straightforward comments and reasoning behind many of occurances on stage brought a fresh touch of reality to the pageant, especially since no one knew which directions the judges were going to take.
Throughout the Swimsuit and Evening Gown competitions, the girls from Maryland and Delaware continued their interchangeable one-two battle for first place until it was time to decide who would join them among the Top Five. The other lucky girls capturing a spot were Louisiana's Sarah Thornhill, Michigan's Sara Dusendang, and Danielle Demski from Arizona. Each of these contenders would answer questions "Ripped from the Headlines" as they were dubbed, to test their knowledge of current events. Once all had responded, the judges went to work to decide which three would answer the final question of the contest. The lucky three left standing were Misses Delaware, Louisiana, and Maryland.
The question each faced was as thought-provoking as it was controversial: "Soccer star Brandi Chastain is a hero to teenage girls. She recently posed nude holding only a well-placed soccer ball. How do you feel about that?" Each finalist answered with poise and honesty, and not surprisingly, none of them agreed with the actions of the soccer champion in a role-model position. These teens proved that they can think on their own.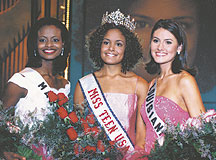 Ashley Coleman stands proudly with
(L) 2nd Runner-up Khosi Roy and
(R) 1st Runner-up Sarah Thornhill.
Vanessa Minnillo, the South Carolina darling who dazzled everyone a year ago to become Miss Teen USA '98, stepped onto the stage to present the special awards. The Clairol Natural Instincts Exotic Style Award went to Colorado's Morgan O'Murray. Miss Virginia Kristi Glakas was presented the Hoya "Make Every Wish Come True" trophy, and the Congeniality award was picked up by New York's Morgan Maholick. Then Vanessa took to the stage in her farewell walk and tear-inducing speech, as she and millions of others waited to see who her successor would be. With little hesitation, Carson Daly announced the results. "The Second Runner-up, Maryland!"
As Delaware's Ashley Coleman looked up and Louisiana's Sarah Thornhill looked down, clasping hands and hoping for the best, the moment arrived. "The First Runner-up, Louisiana!" The somewhat partial Louisiana audience graciously applauded, as 18-year-old Ashley Coleman took her place in the pageant history books as the first and only national titleholder in any major pageant system to hail from Delaware. As the crown was placed on her head she glowed.
In her bio, Ashley said that her most treasured possession was "a pendant that shows the title Miss Delaware Teen USA '99. It is a constant reminder of a goal that I achieved." Guess what her new most treasured possession is?
To read more stories like this one, subscribe to Pageantry TODAY!