Girls in jeans and motorized machines help redefine
the pageant for TV's pop-culture youth market.
Vanessa Semrow debuts as Miss Teen USA '02
By Fred Abel
Skater boys and dudes on motor scooters crisscross the neon-lit stage. Giant ready-for-replay video screens hover off to one side. Round, frosted lights on lamp posts cast runways in a golden glow. And in a booth above and behind the stage, a DJ sits at a sound console, manipulating the hip-hop beat that will, for the better part of its two-hour CBS telecast, drive the youth-oriented 20th Annual Miss Teen USA Pageant.
As the owner of three major pageant events, the partnership of CBS Television Network, Donald Trump, and the Miss Universe Organization has had the bucks behind it to really do things in a big way. The Miss Teen USA 2002 show was no exception. A slick set and a punchy sound track kept pace with the 21st-century's teen pop-culture scene. Co-hosting the event were youthful recording stars Willa Ford (MTV co-host of I Bet You Will) and 'NSYNC band member Chris Kirkpatrick (newly coifed in a Mohawk hairdo that was quickly covered up with a knit cap after his intro with the spiky 'do).
To further attract a young TV audience, the producers booked rapper Bow Wow and Swedish girl-group quartet Play for live appearances between the pageant's competitive segments. Although the locale, South Padre Island, Texas, took a low profile this time compared to past years, the renowned destination of college-age Spring Breakers still managed to be a logical teen pageant site.
Whether because of economic realities or due to the end of the Miss Universe/CBS partnership (Donald Trump has reported a deal with the NBC Television Network for TV rights to Miss Universe, Miss USA, and Miss Teen USA next year), competition-stalling, promotion-minded segments posing as entertainment were mercifully brief this time around, leaving more opportunities for judges to view and weigh the semifinalists' live performances.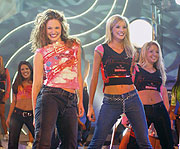 A lively dance number by contestants.
Indeed, this year's Teen USA production seemed to be one of the better-paced shows in memory. The confusing, hyperkinetic digital tricks of past productions were jettisoned, and the bulk of the air time went to the contestants rather than the camera crews, celebrities, and sideshows. From the moment when the 51 delegates appeared wearing freshly minted designer duds — colorful tops and polished jeans — until the hosts' final "good nights," you never lost the sense that you were watching a pageant.
Of course, by the second TV commercial break, 41 of those bright-eyed, bubbly candidates whom viewers met at the show's outset were quickly sent packing in favor of the 10 semifinalists. This year's hopeful set of survivors were: Jennifer Morgan (California), Ashley Nicole Bickford (Connecticut), Kimberly Harlan (Georgia), Tara Elizabeth Conner (Kentucky), Michelle Attai (Maryland), Alla Ilushka (Minnesota), Marley Delduchette (New York), Alysha Castonguay (Rhode Island), Rachel Renee Smith (Tennessee), and Vanessa Semrow of Wisconsin. All 10 assembled backstage around Willa Ford for a few breathless comments as she tried to gauge their excitement.
Moments such as that helped bring the semifinalists closer for home viewers. Another welcome addition to the competition had the semifinalists reappear to walk the runway in outfits of their own choosing, while audiotaped mini-profiles that the teens had made prior to the show were aired. This use of the competitors' clothing choices helped reveal each semifinalist's individual personality, and demonstrated the Trump/CBS TV pageant savvy at its finest.
A creative twist done mostly for show came during the swimsuit/fitness competition. Each semifinalist arrived on-stage wearing sunglasses, which she took off and dropped into the hands of a guy on a motor scooter. He then revved his engine and drove across the stage to wait for the bikini-wearing Top 10 contestant's stroll across the runway, during which the average swimsuit score for each semifinalist was flashed on the TV screen. Each young woman then sat ever-so-daintily sidesaddle on the scooter's back seat, and away she went.
To enhance the evening gown competition, the lofty, neon-lit stage backdrop was darkened, leaving the beautifully attired young women bathed in warm-toned spots and soft, diffused lamps atop tall poles placed on-stage as though they were street lights. Except for the disconcerting skater boys crossing between the competitors and the TV cameras, nothing was allowed to detract from the Miss Teen USA evening gown semifinalists.
The unflappable Willa Ford ably handled the Top 10 interviewing segment. The competitors reached into a bowl and picked a question composed by a fellow Teen USA contestant. Some pageant observers consider the semifinals questions to be a "luck of the draw" situation. Often, though, it's more pluck than luck, especially if a candidate fields a potentially tough question and rises to the occasion with a better-than-expected answer. Such was the case for the delegates from Wisconsin, Kentucky, Maryland, Georgia, and California, who went on to be chosen as Top 5 finalists.
Still in their evening gowns, four finalists waited offstage wearing sound-cancelling headsets, while the fifth came back onstage to field the final interview question, which Chris Kirkpatrick lobbed at each of them: "If you could be a guy for a day, what would you do?" The most memorable response came from Maryland teen Michelle Attai, whose answer came right out of TV's Oprah-land; she said it would be nice to get into the head of a guy for a day so that she could then figure out what guys were thinking.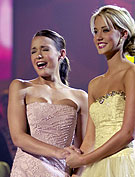 Hand in hand, Vanessa Semrow and Jennifer Morgan (L-R) react as they absorb the announcement of Jennifer as 1st R/U and Vanessa as the new Miss Teen USA.
Alas, that unique answer wasn't enough to put Michelle over the top this year. In the judges' estimation, the overall results boiled down to a choice between a bubbly California girl who was born to wear a bikini and a graceful Midwesterner who managed to do everything well without rocking her own boat. In reverse order of finish, then, as Chris Kirkpatrick read the names, the judges placed Georgia's Kimberly Harlan 4th Runner-up, Maryland's Michelle Attai 3rd Runner-up, and Kentucky's Tara Elizabeth Conner 2nd Runner-up. As the two remaining candidates grasped each other's hands, Kirkpatrick paused to heighten the anticipation before declaring Californian Jennifer Morgan 1st Runner-up. Miss Teen USA 2002, Vanessa Marie Semrow of Wisconsin, let the elation of her triumph well up from inside, until it poured out through her expressions of jaw-dropping shock, grateful smiles, and tears of joy. Vanessa became the first contestant from Wisconsin to win the title.
While Vanessa Semrow's future in that victorious moment seemed clear, it remains to be seen where the new team of NBC and Trump's Miss Universe Organization will take Teen USA's telecast in the years ahead. To some degree, CBS/Trump led the show into uncharted territory in terms of pageant traditions, airing contestants' videotaped personal conversations (moderated this year by former Massachusetts Teen USA winner and newly-hired Entertainment Tonight reporter Maria Menounos) about self-image, dating, teen sex, and the like. Viewers can only hope that, with a new start at NBC, Miss Teen USA receives an infusion of new and tasteful ideas, and that the core of the show — teen pageant competition — is allowed to flourish at center stage.


PHOTOS BY MISS UNIVERSE L.P., LLLP
---