By J.J. Smith

ALL PHOTOS COURTESY OF MISS UNIVERSE L.P., LLLP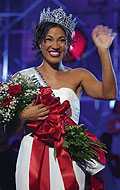 Waving to the crowd, Marissa Whitley enjoys her first moments as Miss Teen USA 2001.
Leaving behind the pageant atmosphere that once ruled the planet, the Miss Teen USA telecast leaps light years ahead with a youth-oriented production.
How times are changing in the world of pageantry in the infancy of the new millennium. Even the Miss Teen USA pageant has ventured into uncharted territory with a new look, a new attitude and a new format. Host and MTV VJ Brian McFayden noted, "Even though this is a competition, we like to think about this as one huge, massive party" And true to his statement, that is just what viewers got.
The party was held in South Padre Island, Texas, a nationally renowned destination for Spring Break revelers. If there ever was a town that could handle a party the size of Miss Teen USA, it is South Padre Island. The opening number featured all 51 contestants draped in and around a multi-level, steel framework stage set as dancers swung and twirled from ropes. As the delegates introduced themselves, spotlights and special effects added to the high-energy atmosphere. Singer Mandy Moore joined McFayden to provide incidental banter, and after the top 10 semifinalists were announced, Mandy asked some of the other 41 girls their opinions throughout the show.
The 10 semifinalists were: Gloria Almonte (New York), Jacqueline Drakeford (District of Columbia), Jillian Dornbush (Indiana), Paige Egan (Louisiana), Marianna Zaslavsky (Massachusetts), Marissa Whitley (Missouri), Shannon Hulbert (Washington), Brandy Drake (Georgia), Casey McClain (California) and Katherine Perello (Texas). The contestants were dressed identically as the pretty dresses of yesteryear were replaced by black jeans, spaghetti-strap tank tops, and chunky high heels.
The first of four "mini-concerts" that were interspersed into the production featured Usher, Better Than Ezra, Jagged Edge and Mandy Moore, all performing tunes from their latest releases.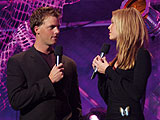 Co-hosts Bryan McFayden and Mandy Moore provided a youthful energy to the night's events.
Viewers saw pre-taped vignettes showing the contestants in casual seaside conversations expressing their views on topics such as self-image, plastic surgery, self-confidence, dating, breaking up and that former taboo subject, premarital sex. The range of maturity exhibited by girls between ages 15 and 18 was interesting to note.
Fueled by adrenaline-inducing music, the quickly executed scored events such as the swimsuit/fitness and evening gown/style segments rushed by. The "celebrity" judging panel was dotted with reality-TV notables, including Elisabeth Filarski, a contestant on the CBS show Survivor, the Australian Outback, and Krista Stegall, recently voted off Big Brother 2. The panel's choice for tops in swimsuit/fitness went to home-state favorite Katherine Perello. Marissa Whitley, from Missouri, impressed the panel in the gown/style segment.
Only five contestants would survive to compete in the question-and-answer round. The teens from Massachusetts, New York, Texas, Indiana and Missouri were called. Each girl answered one toss-up question from host McFayden before answering a more in-depth question provided by one of the other contestants.
Missouri's Marissa Whitley showed maturity with her handling of a question about whether school uniforms are a good or bad idea and why. "Well, I have mixed emotions about school uniforms," said the 18-year-old from Springfield, "because on one hand the kids that can't afford the Calvin Klein and the Polo jeans won't feel the pressure to go out and maybe even steal those clothes, and on the other hand, we need self individuality, and I think that really adds that without school uniforms. So I can go either way on that."

These lucky five contestants have almost reached the final frontier as they anxiously await the judges' decision on who will be the next Miss Teen USA. They are (L-R): Marianna Zaslavsky, Miss Massachusetts Teen USA 2001; Katherine Perello, Miss Texas Teen USA 2001; Marissa Whitley, Miss Missouri Teen USA 2001; Jillian Dornbush, Miss Indiana Teen USA 2001; and Gloria Sophia Almonte, Miss New York Teen USA 2001.
The judges esteem for Whitley rose further with her answer to the evening's final question: "President Bush's daughters Jenna and Barbara have had well-publicized problems with underage drinking. Have they been treated fairly by the media?" Whitley tactfully answered, "I think that when you are in a position like they are, you are automatically a role model for the rest of the teenagers in today's society. So I think underage drinking is a huge problem and for them to be caught doing that, it not only lets themselves down, but it kind of puts a damper on the whole system and the teenage community as well."
As the judges votes were being tallied, Miss Teen Georgia Brandy Drake was awarded the Clairol Herbal Essences Style Award while Sarah Warner of Oregon nabbed the Congeniality Award voted by her fellow contestants. The Caboodles Cosmetics Photogenic Award was presented to Indiana's Jillian Dornbush shortly before she was announced as fourth runner-up. She was followed by Katherine Perello of Texas as third runner-up and Massachusetts' Marianna Zaslavsky came next. Gloria Almonte bowed out at first runner-up as Marissa Whitley began her odyssey as Miss Teen USA 2001.

---