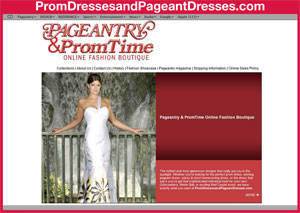 A One-Stop Online Source
The Pageantry and PromTime Online Fashion Boutique is one of our newest endeavors, in that it allows girls to view the entire collections of the featured designers within Pageantry and PromTime, not just the showcased dresses from the award winning photo shoot. By clicking on a featured dress directly from the online photo shoot or by visiting the online boutique and shopping by designer or style collection, the perfect dress or gown can be shipped directly to your door. In another industry first, in reviewing the ease of site navigation, it was decided to help the consumer shop by including a "Sort by Price" function. As the recognized leader in the glamour lifestyle industry, what better way than to use our 30-year history of firsts and industry trust than to help fulfill the dreams of young ladies as they search for the perfect dress? But alas, it is not just the dress. Following the overwhelming positive reception to the original offerings of the signature designs of the leading design houses, the Pageantry and PromTime Online Fashion Boutique took another bold step in partnering with other industry affiliated companies such as footwear designers (shoes) with more genres to be introduced in the near future.
The Pageantry and PromTime Online Fashion Boutique:
PromDressesandPageantDresses.com is a partnership between Pageantry, leading designers and nationally recognized fashion boutiques from throughout the country. Once the dress is selected from the online boutique, the dress is located with the help of the designers and partnered boutiques and shipped via FedEx directly to the consumer. It has been a true win-win situation for the fashion and glamour lifestyle industries. Whether looking for the perfect pageant dress or gown, prom dress, homecoming ensemble, gowns for that special red carpet event, modeling competition or just about any social occasion need, the Pageantry and PromTime Online Fashion Boutique was designed to further enhance and strengthen the family brand of Pageantry and the glamour industry as a whole.

Giving Back to Those Who Give
In addition to assisting young ladies and women of all ages in acquiring the dress of their dreams, Pageantry went one step further in forming the Pageantry Charitable Alliance, the only industry wide affiliation of its kind. According to CEO Carl Dunn, "After espousing the virtues of the glamour industry and the positive attributes of personal development and community or charitable service volunteerism, we were fortunate enough to be able to form the first alliance, teaming industry leading organizations and the Pageantry and PromTime Online Fashion Boutique. A portion of every sale is donated to the referring affiliate's general scholarship fund. We could think of no better way to continue to give back to an industry that gives so much to so many." When a featured dress or product is ordered, followed by entering a unique and special code for an approved alliance member, the charitable donation will then be awarded to the organization based upon their promotional code.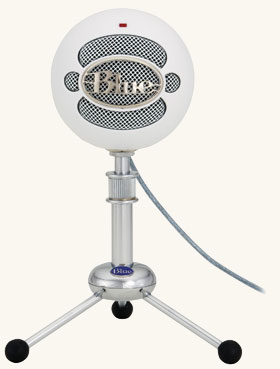 Casting Our Readers
As the August markets approach, the staff at Pageantry has been working feverishly to prepare to launch its first podcasts, and it's something that we couldn't be more excited about. You can't turn on the radio and demand to hear something, but with the Pageantry Podcast, you can download any of our exclusive weekly interviews to your home computer, laptop and even your iPod or iPhone and access them anytime you want. It's like having your very own prerecorded radio show at your fingertips. Come August 2009, you'll be able to hear Pageantry's premier podcasts, featuring one-on-one interviews with the top designers in the industry.
From there the sky is the limit. You'll not only be able to actually hear the interviews that are featured in the pages of Pageantry, but you'll have access to many more podcast-only interviews with our many contributing writers and experts, prominent figures from the pageant and modeling and talent industries, and so many other personalities who have stories that we want to share with our readers—and now our listeners.
To receive email updates on each new podcast, as well as Pageantry Newsline notices and other exclusive updates from Pageantry, all you have to do is subscribe to our RSS feed. An RSS Feed is a very simple way of keeping our readers and fans informed when we are featuring new online content. With the click of a mouse button you can have the updates appear directly on your web browser tool bar.

Pageantry as a Social Networking Butterfly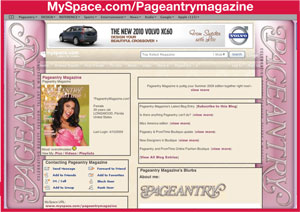 The emergence of social networking web sites has been a helpful tool, not only to friends and family members uniting through these online communities, but they've also been instrumental in allowing people to follow their favorite celebrities, TV shows, movies, music artists and, in this specific case, publications. Pageantry's MySpace profile has been quite popular within the "Place For Friends," and we've greatly appreciated the daily attention that we've received from our 4,770 (and growing) friends. Whether just to stop by and send a friendly message, or to view our latest photos from the Pageantry and PromTime Fashion Showcase, or simply check out what's going on with our profile and friends, we can't get enough of the thousands of daily visitors who can't get enough of us.
And it doesn't stop at just MySpace. As Pageantry continues to expand its online presence with the podcasts, RSS feeds and online boutique, we will also be jumping on the Internet's latest craze with our very own Twitter profile. You'll be able to follow us daily as we post our photos of the week, news updates and random exclusive updates on our latest issues as we work on them.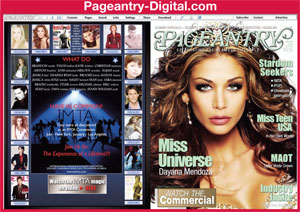 Let's Get Digital
Of course if we're talking about all of these wonderful online utilities that we have at our disposal, we have to mention our one-of-a-kind Pageantry digital edition. You can now read each new issue of Pageantry at Pageantry-Digital.com, but unlike other online editions, you're actually looking at the magazine as it was printed and published. This gives our readers the luxury of always having access to our industry-leading interviews and all of our extensive expert advice and analysis.
With the Pageantry digital edition, our readers are a click away from downloading each issue of Pageantry on to their desktop or laptop computers, and the entire magazine can even be viewed from your iPhone. The digital version also offers the option of subscribing, which, in addition to the bounty of content available through the RSS Feed, makes for a quite plentiful and effortless viewing experience for our readers and fans.
In-Print, Online and Beyond Your Expectations
As the keeper of the industry flame, Pageantry magazine over the years has brought its partners a number of other innovations that continue to flourish into our next 30 years.
The Pageantry Spirit Award, for one, provides recognition for individuals, competitors, event organizers and supporters, who, through their inspiring leadership and deeds, uphold the generosity of spirit that is the heart and soul of the pageant industry.
Another prominent and worthwhile Pageantry promotion is the Pageant Directors' Program, which provides competitions large and small with opportunities to promote themselves and boost their profitability while they also say, "Thank you," to their contestants with complimentary copies of the magazine, certificates of recognition and other gifts (crown cases, pageant pins, wardrobe carriers, etc.) from the publisher's growing Pageantry Mall offerings.
30 years have passed since Pageantry magazine was created as a simple newsletter to spread the word about what was happening in the pageant world. Thirty years from now, we hope that people will look back and remember what Pageantry was still aspiring to become, and then marvel at how much it has exceeded even that