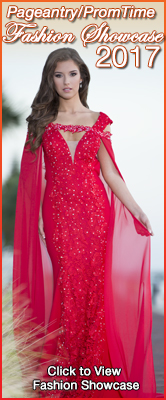 O

nly three girls know the feeling. Meghan Miller, Maria DeSantis and Caitlin Brunell were the first three girls to have been crowned Miss America's Outstanding Teen. It's an exclusive club for sure, but one that will certainly expand its membership. On August 16, in Orlando, Florida, this club welcomed a fourth member at the 2008 Miss America's Outstanding Teen Pageant.

It was a collection of crowns so large that the tourists on International Drive could have confused it with a jewelers' convention. Newly crowned Miss America state delegates, former state titleholders and many women who have worn the crown of Miss America made their way to the Orange County Convention Center's Linda Chapin Theater to see this young teen pageant grow, and to take part in and show their appreciation of the week's festivities honoring these teen state delegates and their hard work, as well as to praise reigning queen Caitlin Brunell for her considerable year of selfless work.

As the week's events were a reminder and celebration of the considerable dedication Caitlin showed to her crown and platform, so was the pageant a quest to find a girl with the potential and spectrum of talents to fill Caitlin's shoes. And with a jolt of energy that quest began, as the 52 delegates took the stage for the opening performance—a song and dance number led by Caitlin's vocals, infused with the color and personality of High School Musical.

Performance Art:

Between the special guest performances and the talent competition, the 2008 MAOT Pageant featured a variety of artistic genres, from vocals and ballet to tap routines and Latin ballroom.

The 52 delegates were introduced, as they entered the stage dressed in classic white gowns and carrying the flags of their respective states, as well as the District of Columbia and the U.S. Virgin Islands.

Teaming up to be the collective voice of the evening's festivities were Disney entertainer Billy Flanigan, who has performed in the shows Tarzan Rocks and Finding Nemo: The Musical, and perhaps the most highly admired woman in the entire Linda Chapin Theater, Miss America 2008 Kirsten Haglund. Billy and Kirsten spent the evening entertaining the audience with a rhythmic flow of witty banter, as well as melodic performances of their own.

While it was Caitlin's last night of her reign, the show was hardly a farewell to the celebrated teen queen. Above all else, it was a reminder of the example she set and the standard that the pageant has evoked in the four years it has existed, not only through Caitlin but the two queens before her. As Billy and Kirsten introduced the reigning queen, it was clear that her presence was larger than the stage and would be a prominent theme of the evening.

Then There Were 10:

As quickly as the evening began, with the 52 delegates dressed radiantly in white (below), the judges had to select the Top 10 (above), which included (L-R) Crystal Lee, Julia Rae Schlucter, Sloane Roberts, Sydnee Stottlemyre, Taylor Fitch, Jasmine Alexis, Sydney Capello, Alicia Clifton, Joanna Guy and Lexie Overholt.

But even in celebration of past and present, determining a winner is a must and the 52 delegates were soon reduced to 10 girls. The Top 10 Outstanding Teens were introduced as California's Outstanding Teen Crystal Lee, Pennsylvania's Julia Rae Schlucter, Arkansas' Sloane Roberts, Missouri's Sydnee Stottlemyre, South Carolina's Taylor Hanna Fitch, DC's Jasmine Alexis, Texas' Sydney Capello, Oklahoma's Alicia Clifton, Maryland's Joanna Guy and Virginia's Lexie Overholt.

Fit to Advance


After the judges were introduced (see page 54 for an interview with MAOT celebrity judge Kenny Santucci), it was time for the Top 10 and the rest of the MAOT delegates to have some more fun with the Lifestyle and Fitness production, ultimately leading to the Fitness competition. With sporty outfits and athletic poses, the Top 10 delegates showed off their—and certainly their trainers'—hard work.

Following the Lifestyle and Fitness competition, Kirsten showed off the vocals that helped her achieve her goal of becoming Miss America as part of a special performance. Billy then reintroduced the Top 10 delegates with his own vocal performance, while they gave the audience the first glimpse of their evening wear. As an added bonus, the delegates were escorted by their state princesses.

As each remaining delegate was judged on her individual evening wear selection, the formal atmosphere allowed for a segue into an interaction with the panel of judges, as the girls drew the names of the distinguished judges, who then asked the corresponding delegates a question. The Evening Wear session was indeed a lesson in multitasking for the girls, but it was merely a catapult into the part of the evening that not only displays the fruits of their labor but the passion through which they deliver it.

Split into two segments, the Talent competition allowed for the girls to distinguish their personalities through their abilities, and for the judges and audience alike to get a good look at their individual charisma and charm. California's Crystal Lee and Virginia's Lexie Overholt performed timeless ballet en pointe routines, while Arkansas' Sloane Roberts and Oklahoma's Alicia Clifton turned in energetic tap performances. Missouri's Sydnee Stottlemyre delivered a soulful lyrical dance, and DC's Jasmine Alexis added some extra spice with a Latin ballroom dance. South Carolina's Taylor Fitch performed a piece of musical theater, and Pennsylvania's Julia Rae Schlucter and Maryland's Joanna Guy belted out vocal performances to round out the evening's spectrum of talent.

And with that, the Top 10 had to become five. The judges narrowed the field down to five finalists, undoubtedly a tough decision having seen such spectacular effort and determination from the Top 10 delegates. But when their scores were tabulated, the five finalists were Pennsylvania's Julia Rae Schlucter, Arkansas' Sloane Roberts, Missouri's Sydnee Stottlemyre, South Carolina's Taylor Fitch and Maryland's Joanna Guy. Those five girls would then move on the remaining decisive portion of the pageant—the Conversation.

Choosing a Queen:

From five there can only be one, and while the Top 5 certainly featured spectacular ladies, it was South Carolina's Taylor Fitch who rose above the rest to be crowned the 2009 Miss America's Outstanding Teen.

More Than Words


As he'd done all evening, Billy kept the girls at ease with his professional charm and contagious smile. He once again welcomed the finalists, asked them how they were feeling and even jokingly played a game of matchmaker for his teenage son, whose model card he so conveniently had in his coat pocket. But it was down to business, and the girls each had one more question to answer, one more opinion to articulate and one more opportunity to open themselves up to the judges, the audience and their peers. Once the Conversation was complete, once the girls had opened their minds and hearts, the ultimate decision was left in the hands—and numbers—of the judges.

After a few special presentations and performances, as well as the presentation of over $15,000 from the Miss America's Outstanding Teen organization to its platform charity the Children's Miracle Network, it was time for the presentation of some very special awards, recognizing the hard work of some of the delegates throughout the week.

The Miss America's Outstanding Teen Pageant presented additional awards to: Alabama's Haley Ates, Non-finalist Talent; North Dakota's Ariana Walker, Non-Finalist Evening Wear and Interview; South Carolina's Taylor Fitch, Scholastic Excellence; Maryland's Joanna Guy, Academic Life; Pennsylvania's Julia Rae Schlucter, the B. Don Magnus Spirit of America Award; and West Virginia's Bethany Lojewski, Community Service. Awards were also given to Arizona's Kelsey Hartley, Tennessee's Madyson Foster and South Dakota's Carrie Wintle for excellence in ad sales for the pageant's book.

After those girls received their special recognition, the spotlight once again returned to the reigning queen, Caitlin Brunell, as she said farewell to an admiring and thankful audience, pageant staff and especially the stage of delegates. As it had rightfully been all week, Caitlin's Closet was once again championed for its success in providing girls with prom dresses when they otherwise would have had none. Caitlin spoke her praise of the MAOT organization and its staff and gave thanks to the many people who supported her, especially her family. Caitlin's words and actions have been an inspiration throughout the year to the 52 girls who were competing to follow in her footsteps.

Carolina's New Crown


As always, from five there had to be one. Thusly, the runners-up were announced. Missouri's Sydnee Stottlemyre was named fourth runner-up, Maryland's Joanna Guy was announced as third runner-up and second runner-up went to Arkansas's Sloane Roberts.

Two girls remained, clutching each other's hands and wishing each other luck through their nervous laughter and restrained tears of joy and anxiety. It seemed like minutes to the audience, and certainly a millennium to the two girls on stage, but destinies were secured when Pennsylvania's Julia Rae Schlucter was announced as the first runner-up. Only South Carolina's Taylor Hanna Fitch remained.

She tried to somehow collect her eruption of joy and disbelief, and all the while the audience, delegates, judges and pageant staff welcomed their new queen.

For the complete behind-the-scenes story and all the details on this and other exciting competitive events from across America, as well as a wealth of advice to improve your chances of victory, be sure to Order Pageantry today.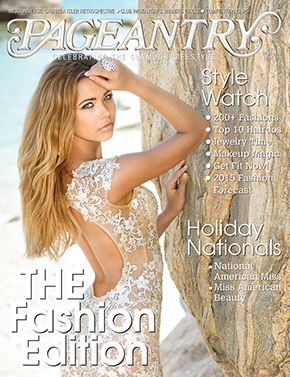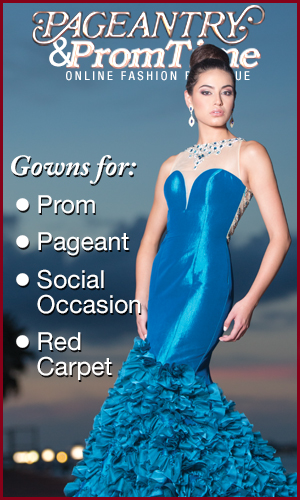 YOU CAN GET IT ALL!
Click and see for yourself!