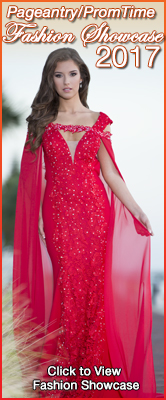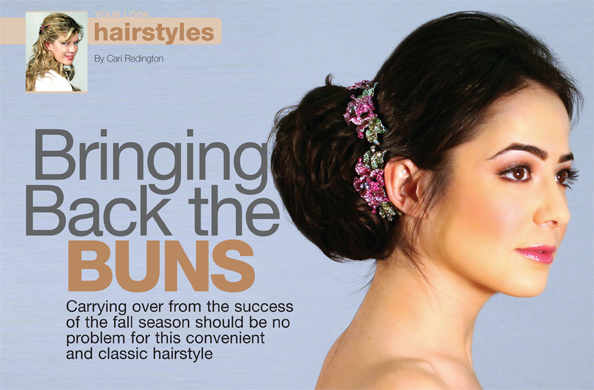 The romantic side-bun was an immensely popular look for fall, and we think that you'll continue to see it on the red carpet and for prom this spring. But while the popularity rises at the world's biggest glamour events, many of us wonder how we can achieve the fabulous looks. In this case, it's not very hard at all. In fact, Dominique Lerma, Miss Costa Rica 2010-11, will show you how to create this style in 4 easy steps.
Step 1: Extensive Efforts
To add volume to the top with out teasing, Dominique is using a SoHo hair extension which can be used for volume, extensions or as a ponytail [SKU: "Sarah" available at www.SoHoStyle.com]. This volume/extension piece can be worn together or easily snaps apart into two separate pieces.
Here, Dominique uses the top section by first making a part just behind her bangs, sweeping this hair forward and inserting the extensions on the top of her head at this part. Then, she sweeps the hair in front backwards, over the extensions, making a nice "poof" of volume without teasing.
Step 2: Getting Low
For the side bun, gather your hair into a low side ponytail, as shown, secure it with an elastic hair band and then twist it into a bun and secure it with a second hair band.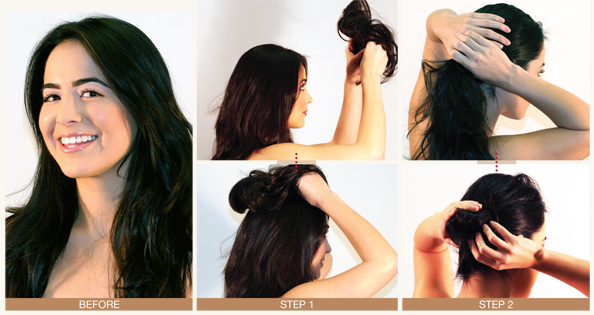 Step 3: Touching All Bases
To get an extra full, more elegant bun, use the bottom half of the "Sarah" volume extension piece or any clip on hair extensions. Attach these around the base of the ponytail and twist the extensions around your existing bun.
Step 4: Holding Patterns
Secure the bun using bun sticks or combs. To get a firm hold, insert the stick or comb into the edge of the bun with the teeth parallel to the floor, then turn the stick 90 degrees, as shown, and insert fully. You can hold a bun securely with two medium sized combs or 5-6 bun sticks.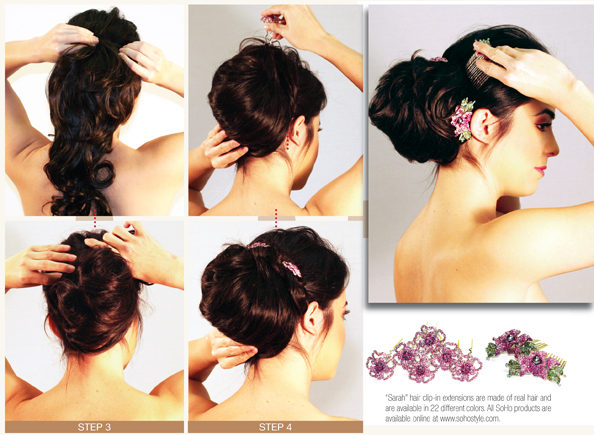 Cari Redington is the National Sales Director for SoHo Fashion, a Los Angeles based manufacturer and retailer of high end and special occasion hair accessories. Since the company's inception in 1998, we have expanded to include approximately one hundred self-branded retail locations in the U.S. and are currently expanding into the boutique channel and internationally. SoHo, a name that symbolizes originality and creativity in the art community, has been our inspiration to produce distinctive hair accessories for our clients. It is our mission to enhance the beauty and style of women with distinctive, high quality hair accessories. Whether your style is trendy, classic or casual, our hair jewelry adds a little glamour for any occasion. All of our original designs are made from casted metal or lightweight moulded celluloid and accented with Austrian crystal. Inspired by nature, seasons, culture and trends, our aesthetic is constantly evolving. Please visit us at one of over 100 locations throughout the U.S. or online at www.sohostyle.com, to view the full product line and experience our impeccable customer service.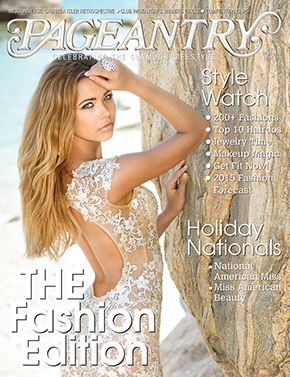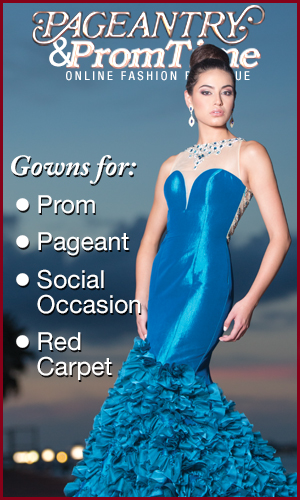 YOU CAN GET IT ALL!
Click and see for yourself!