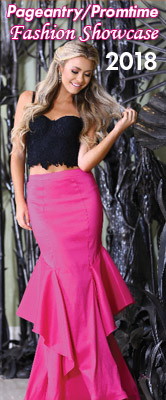 Even with her girl-next-door beauty, early modeling successes, and a major national pageant title under her belt,


Miss Teen USA 2003 TAMI FARRELL

discovers there's no guarantee that Hollywood acting roles will follow. What her experience does teach, though, is patience—a lesson that all star-struck hopefuls should know by heart.

WAITING

IN
THE

WINGS

W

hen I was a little girl playing Barbie's, my Barbie was always a super model/actress/singer. I can still remember the look on my friends' faces when I announced my career choices. I would then roll out a red sock as my red carpet, and my Barbie would climb to the top of my pink-and-green cassette player. With all eyes on me, I would begin a live concert with the help of Amy Grant or Mariah Carey—whichever tape happened to be in my cassette player at the time.

I dreamed big. As a little girl, the reality of what Barbie would have had to go through to obtain the lifestyle of a star was far from my thoughts. My only concern back then was what was happening in those brief moments of my adolescent youth. I knew deep in my heart I would someday make my childhood dreams a reality.

Growing up on a map dot in Oregon in a town called Phoenix, I was challenged by the idea of discovering what the world outside had to offer. While in elementary and middle school, I was approached by several modeling agents from New York, Los Angeles, and Seattle. My parents held tight to my innocence, though, and rejected the offers. This only fed my desire to be a star. When I was 14, I went on vacation with my best friend, Ashley, to California, staying with her aunt, who lived in a quiet neighborhood near the beach. While playing in the ocean, her aunt asked if we minded wearing some surfing gear, because she needed photos to help her pitch an advertising idea. A few weeks later, back in Oregon, my parents received a phone call from Ashley's aunt. She explained that the surfing company loved her marketing pitch, and they also loved me. My Mom, Ashley, and I were then flown to San Diego a few weeks later for my first official modeling job (not to mention, my first time on an airplane!).

Taking Flight


Over the next few years of high school, I booked a hair show, two runway shows in San Francisco, an advertisement for a workout bar, and my first commercial. In 2003, I got a taste of celebrity, when I won the Miss Teen USA competition. I left my hometown for the bright lights of New York City, and I quickly learned what it meant to be a "frequent flier." During my year as Miss Teen USA, I traveled throughout the United States, as well as to other countries, as a youth advocate. I walked the runways for New York's Fashion Week, mastered the red carpet at premieres and parties, and even became friends with celebrities. I signed autographs, made television appearances, and helped raise over $21 million for charity. I was trained by one of the most amazing acting schools in New York, and was blessed to get to record for the first time with a music master. I lived that entire year in a dream.

For the complete behind-the-scenes story and all the details on this and other exciting competitive events from across America, as well as a wealth of advice to improve your chances of victory, be sure to Order Pageantry today.
w