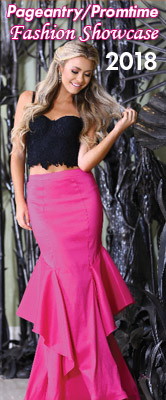 How to Star in Your Own Success Story

As this pageant-savvy agent tells it, your Hollywood destiny rests in your own hands as well as with other key industry players. Knowing your part in the process can make all the difference.

By Dawn Reese

F

irst, here is one key piece of advice for anyone interested in breaking into show business: Get some good training so that you actually know what you are doing when an opportunity comes along. That's just one of numerous lessons I teach to the many acts that I have represented. As a former Mrs. New Mexico in the Mrs. America pageant system who works as a talent agent and also has her own radio program based in Miami, Florida, I am a strong advocate of pageant participation as a means of receiving such training.

I believe strongly in the pageant industry, because I would not be where I am today if it was not for teen pageants I had entered. But these days, we can't just capture a crown and expect stardom to be handed to us. No, there's still a lot of learning to do, and I've had the chance as a magazine reporter covering Hollywood and the entertainment industry to learn from some of the top people in the business. Here, then, broken into a question-and-answer format, are the points I want you to remember as you pursue your dreams of stardom.

What advice have your gotten from the power players you've interviewed?

I interviewed Robert Evans, who was head of production at Paramount Pictures for many years and had a string of hits with Rosemary's Baby (1968), Love Story (1970), The Godfather (1972), and Chinatown (1974), and wondered what advice he had for young film director hopefuls. In a nutshell, he hollered "Action!" Here's what he said: "Dawn, tell them to get out there, take their digital cameras and start shooting, and submit their work to the film festivals." Successful people with famous names often don't mince words. Joe Jackson, who is Michael Jackson's father, has appeared many times on my show, and he advises young talent to "get out there, be known, and strike." Do something everyday to get to where you want to be — in other words, always be looking to take another step toward your ultimate goal.

What are some of the key tools to getting ahead?

Initially, it's all about one thing: Image. One of my mentors used to say, "Image is everything," and he had a point. A power resume and great pictures of yourself are the building blocks of your image success. Next, make sure you have enough training, with theatrical acting classes being perhaps one of the most important enrollments you can choose. Also, from many years in this business, I can assure you of the importance of networking. I interviewed Ben Gazzara, who is a legend in TV and film and started out in amateur acting at a Boys and Girls Club, where someone discovered him in a play. He spoke of putting in time making phone calls to agents. Being a talent agent, I make a ton of calls every day to get work for my talent, so I know this is a key to success. Start a list of VIPs through your networking efforts, then pick up the phone and dial. People need to know you're out there.

What about the recording industry? How can I break into that field?

Let's talk about the record industry, where competition is fierce and getting noticed by someone who can help your career is a long shot. All the talent in the world won't guarantee success. I had the opportunity to promote a major artist and help book his tour. You may have heard of him — Lil J (otherwise known as Jonathan McDaniel — who played the character of Devon on nine episodes of That's So Raven). We did a three-week tour with the highlight placed on one song, titled "It's the Weekend," which spread a positive message to young people about staying in school. He had a top-selling CD with Hollywood Records. If a promotional angle such as this one can benefit a new artist like Lil J, why not find a similar message for your music that might help get your foot in the door of the tightly guarded record industry. There's no sense in waiting for things to happen; you need to make them happen!

Don't you need an agent to get anywhere in the business?

Yes, and one key to your success is to find yourself a good agent. But you're still going to have to help that person or agency group give you a boost. Here's one example: I sent my TV-show clips to a top casting director, and gave her a list of agents' names to contact. The casting director called one of the agents on my list, the agent called me, and, to make a long story short, when I read for the movie role as a reporter, I asked the casting director why she called that one agent. She said, "I only like to work with that one." Lucky for me, the one she liked was on my list.

Another time, I sent my son's "blond surfer boy" picture to an agency, but heard nothing back until, six months later, I submitted his photo again and the agent called right away asking to see my son. When I asked her what had made the difference, she said, "Oh, we had too many blond surfer boys at the time." You see my point? Your involvement counts, and if at first you don't succeed… well, you know the rest.

How can I be sure that my agent is doing enough for me?

Here's one way: Keep track of the photos you give to your agent. After a period of time, ask the agency to tell you how many pictures are left in your file. If you gave them 20 to start with and six months later, with hardly any auditions, you discover that 18 photos are left, find yourself another agent. Conversely, it is also up to you to provide the agency with more photos of youself if they are submitting yours often and are about to run out. Jobs and auditions come in every day, and you don't want your career delayed because your face wasn't in front of the right person at the right time.

For the complete behind-the-scenes story and all the details on this and other exciting competitive events from across America, as well as a wealth of advice to improve your chances of victory, be sure to Order Pageantry today.
w